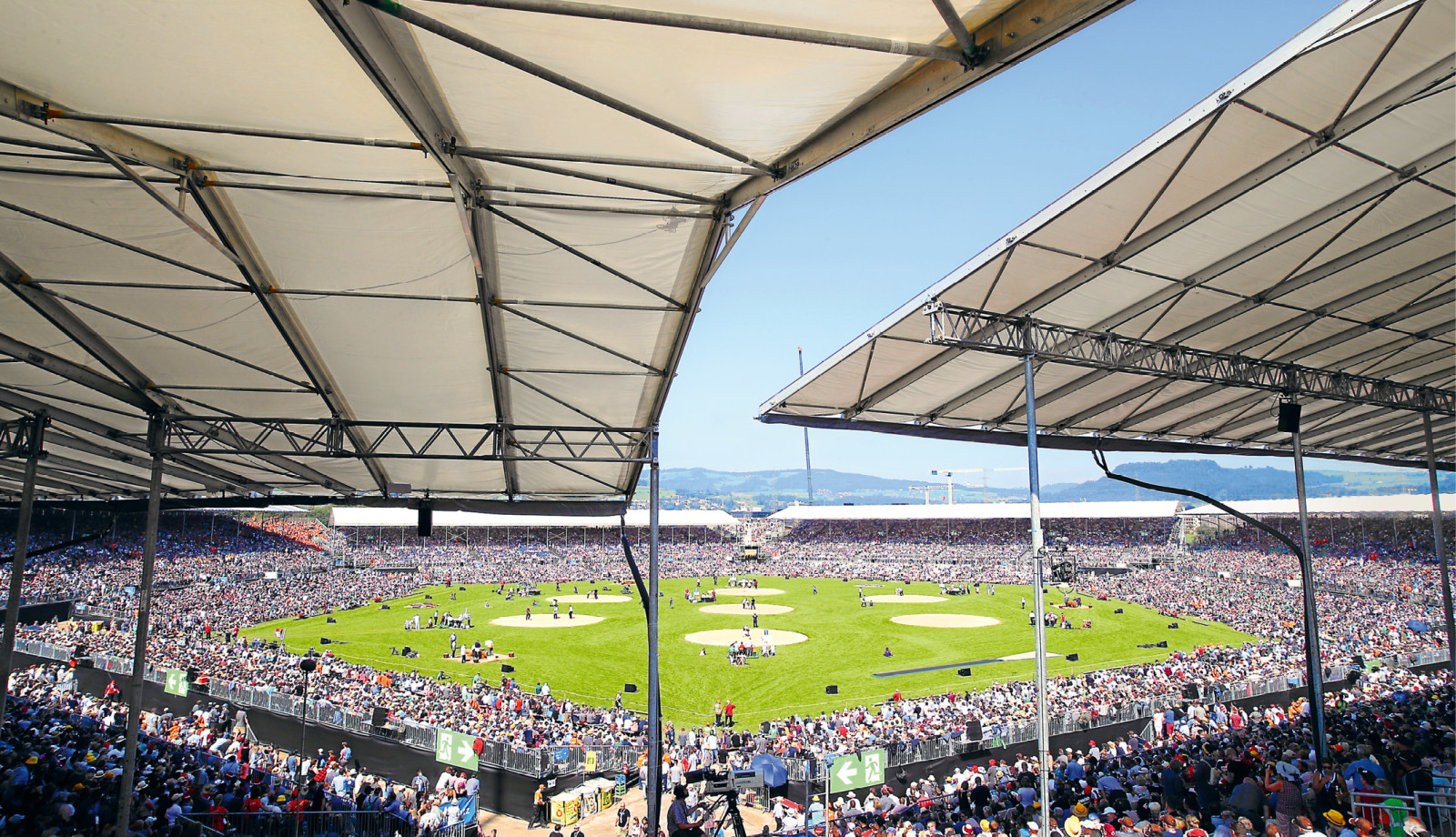 For three days at the end of August 2019, the city of Zug found itself in a state of feverish excitement: the Swiss Wrestling and Alpine Festival attracted more than 400,000 people to Lake Zug, yet it was an entirely cheerful, perfectly organised, superlative festival despite the crowds.
On Friday afternoon during the parade, it already seemed as if the whole of Zug was on the streets. Anyone who could was eager to witness the opening of this event, which is so exceptional for the canton. Who knows if a festival of such dimensions can ever be staged again? The spectators seemed in cheerful high spirits, full of curiosity about what would be happening until Sunday evening. The central question for all the wrestling enthusiasts from central Switzerland was whether, after 33 years, one of their men would at last succeed Harry Knüsel as wrestling king (Schwingerkönig).
Meanwhile, people flocked continuously from the train station to the festival site throughout Friday afternoon and evening. The organising committee counted 420,000 visitors between 23 and 25 August. They all got to know a special side of the city of Zug – hospitable, professional, open, modern and yet traditional. "We're completely satisfied. Indeed, we exceeded even our wildest expectations," said Heinz Tännler, Chairman of the organising committee and City Councillor at the media conference that concluded the event. Most visitors would agree with him – even if the people of central Switzerland were a little disappointed when Joel Wicki from Entlebuch lost to Christian Stucki from the Bernese Seeland after 41 seconds in the final round. However, after some short-lived murmuring, the pleasant atmosphere soon returned to the sold-out stadium. After all, may the strongest win – and the new wrestling king is a very popular figure.
Alfred Müller AG was involved in the festival as a service partner. Management, employees and the company's guests alike enjoyed the fantastic event, both inside and outside the arena. They would all like to thank the organising committee, the competitors and all the hard-working volunteers for their great performance. The 2019 Swiss Wrestling and Alpine Festival was a truly memorable event!