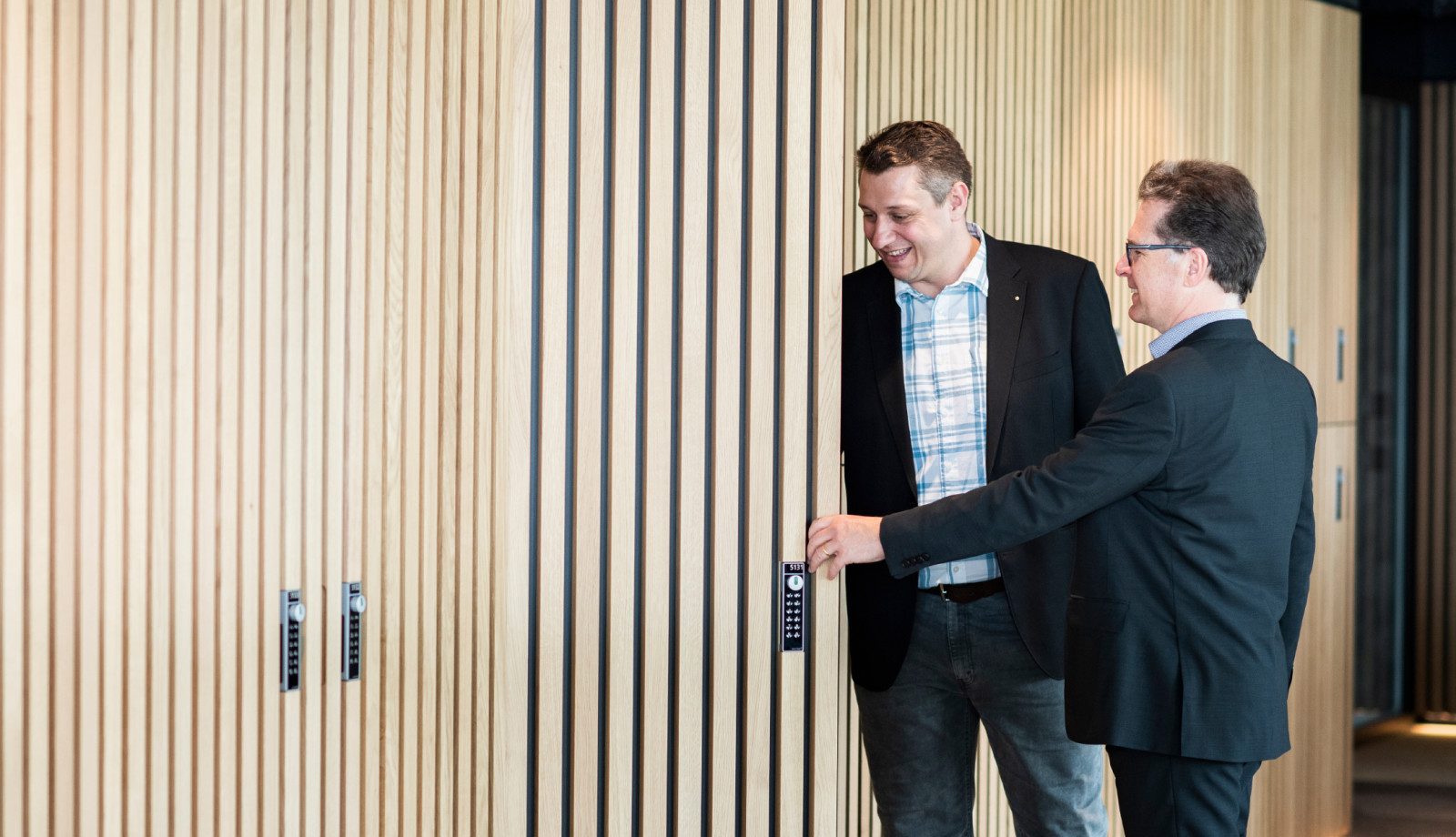 Article
From Swiss wrestling maestro to master joiner
From Swiss wrestling maestro to master joiner
Tradition and modernity: this combination fascinates the three-times Schwingen (Swiss wrestling) champion, Jörg Abderhalden, and runs through his life like a thread. In the past, he was one the first people in Schwingen to introduce modern training methods. Today, in his wood manufacturing facility he combines the craftsmanship of carpentry with modern machinery.
Wood is the dominating element at AAK in tranquil Weiler Ulisbach, just a few metres away from the Drei Eidgenossen inn, situated prominently on the main road between Wattwil and Ebnat-Kappel. Modern, height-adjustable workstations with large screens characterise the room on the ground floor. However, the ceiling and the striking pillars in the centre of the room are made from solid wood, as are the stairs that lead to the upper floors. There the different types of wood are delivered and processed. Whereby one type of wood is especially popular: "At the moment, we are processing up to 98 per cent oak – the trend is for rustic, robust woods," Jörg Abderhalden explains. The former champion wrestler has been co-owner of AAK/Holzmanufaktur AG since 2007 and, together with his partner, Hanspeter Künzli, manages a team of 22 staff.
Always several strings to his bow
Despite a sporting career at the highest level, this man from Toggenburg has never backed just one horse. At a time when there was still no sports apprenticeship, he found a way to combine top-level sport with training. In 1995, he began a carpentry apprenticeship at the age of 16. In 1998, one year before completing his apprenticeship, he was crowned Swiss wrestling champion (Schwingerkönig) for the first time. And later, he also remained true to his dual career path. After the end of his apprenticeship came the federal vocational baccalaureate and further training to become a nationally qualified master joiner, before subsequently joining AAK/Holzmanufaktur. "Most Schwingen wrestlers are still working," Jörg Abderhalden notes. It makes good sense, given how a successful wrestler could live off the sport for a few years. "But trying to return to the world of work afterwards would then be more difficult."
"As a wrestler, I've learnt to handle pressure."
Along with talent, you need hard work
Working in the mornings and training in the afternoons, with competitions and a strong presence in the media and in public. Fitting everything in requires discipline, hard work and tenacity – traits that characterise Jörg Abderhalden. No wonder he reckons "the ones who win at wrestling are those who have put in a lot of effort". That's also his wish for himself in the Swiss National Wrestling and Alpine Festival in Zug in August. He is convinced that every sportsman can contribute a great deal to his own success. This is provided that the person possesses a certain basic talent. "Ultimately the winner is the person with the best overall package." This consists of: technique, power, mental strength and a good personal and professional life.
Technique and mental strength were always Jörg Abderhalden's trump cards in Swiss wrestling. "The more bouts you win, the easier it is for you to catch your opponent out," he stresses. "That was definitely my strength; I was more unpredictable than the others." As a technical manager, he now supports active wrestlers in St Gallen, in learning and applying versatile combinations of moves. "Today, there's a tendency for Swiss wrestlers to be physically fitter, but as a result, technique is sometimes overlooked," he finds.
"You're on your own"
Even mentally, Abderhalden was one of the strongest of his era. For him, a healthy level of self-confidence is an important prerequisite for success in Swiss wrestling. "In Swiss wrestling, you're on your own. You've not got a team to help you." And you are never more alone than in the final stages of the Swiss National Wrestling Festival, when the eyes of 50,000 spectators are on you. In competition, you are also very close to your opponent. "You feel his pulse, his tension. Lots of things are going on in your head." Jörg Abderhalden has never worked with a sports psychologist, though he tackled the issue seriously. "I was always convinced that I have to do it myself – because in the wrestling ring I can only rely on myself. It's about exploiting your opportunities and doing everything you can to win. That's what I did until I was blue in the face," he says. The moments full of tension and nervousness before competitions accounted for part of the fascination that sport had for him.
"People should keep traditions going but should be flexible."
Valuable experience for life
In 2010, Jörg Abderhalden retired from Swiss wrestling. "I was a wrestler for 23 years. If there is a right time to end a sporting career, then I found it, I think," he says, looking back. Today, wrestling no longer dominates his life. But the master joiner and entrepreneur is still benefiting from the experience he gained while active in the sport. "I've learnt to handle pressure and so have been able to develop a certain calmness. I know how I have to react when something doesn't go completely smoothly." By focusing on his strengths and setting priorities, for example. That's similar in business to how it is in sport. He even attributes his ability to work as part of a team to his sporting career. "In my time as a wrestler, I was able to develop a good insight into human nature," he concludes.
And last but not least, he is able to make use of his fame in business. "Above all, the initial contact with a customer is sometimes easier. Then we have to do a good job, just like all of our competitors," he says with a grin. Interior work in furniture quality is the speciality of AAK/Holzmanufaktur – kitchens, fittings, doors, floors and special structures. Every job is welcome, though Jörg Abderhalden particularly likes complex assignments that challenge his staff. One example is the assignment that his company completed in 2018 for AstraZeneca in the Quadrolith office premises of Alfred Müller AG in Baar. "For AstraZeneca, we had to produce one large and several small kitchens and worktops, doors, as well as cladding with curves and glass inserts. That was very exciting."
"There's room for new approaches"
And it is this receptiveness for all that is new which makes Jörg Abderhalden stand out as a sportsman, entrepreneur and also as a private person. But the man from Toggenburg values traditions: "I find it important that people keep them going, but you should be flexible," he claims. "I've always been fascinated by the mix of tradition and modernity. I practised a traditional sport but in a modern way." He was one of the first people involved in Swiss wrestling to adopt professional training methods. "There's room for new approaches," is his clear view, whether it's in sport, music or at work. At AAK/Holzmanufaktur the joiners are supported in their craftsmanship by new machinery.
"My family is my greatest success."
Even in his marriage he follows modern principles. His partner Andrea is an important sparring partner for him – during his wrestling career for many years she took care of things at home, coordinated appointments, organised events, managed the household and looked after their three children. Today, among her other roles, Andrea Abderhalden-Hämmerli is also a district councillor in Nesslau, where the family lives. Jörg Abderhalden supports her when he can, for example by looking after their two daughters Lynn and Jill and son Terry. "Our relationship works well, even after 20 years," he says with a smile on his face. Alongside his wood manufacturing business, his family is the focal point in his life. You can take him at his word when he says: "We are a happy family. My wife and children are my greatest success."
Portrait
Swiss wrestler Jörg Abderhalden
Born in St Gallen in 1979, Jörg Abderhalden is one of the most successful wrestlers in Switzerland. He made his debut in 1995 at the St Gallen Cantonal Wrestling Festival. This marked the start of a success story. Jörg Abderhalden was crowned champion for the first time at the Swiss National Wrestling and Alpine Festival in Berne in 1998. A success that he repeated in Lucerne in 2004 and in Aarau in 2007.
He wins wrestling's "Schwingen Grand Slam"
As the first-time champion, Jörg Abderhalden also won the Unspunnen-Schwinget event in 1999 and the Kilchberger Schwinget event in 2002. This success is also known as the "Schwingen Grand Slam".
In 2007, on the TV show "SwissAward – Die Millionengala" (a Swiss awards ceremony), Abderhalden was voted Swiss Personality of the Year. Among his victories until his retirement in August 2010, Jörg Abderhalden won 85 medals, five of which were national, 51 cantonal, 14 alpine and 15 regional.
Master joiner, presenter and referee
Nowadays AAK/Holzmanufaktur is at the centre of Jörg Abderhalden's professional life. The qualified master joiner keeps in touch with Swiss wrestling through various activities: he works as technical director and representative for the St Gallen Cantonal Schwingen association, when it comes to competition classifications. He is a co-presenter on live broadcasts on Swiss television and on streaming broadcasts. Since 2018, Jörg Abderhalden has also worked as adjudicator on the programme "Samschtig-Jass" (a card game) on Swiss television. "I grew up with jass. I played it with my parents and I play it today with my children," he explains.
Swiss National Wrestling Festival (ESAF) 2019 Zug:
"Orlik and Giger are the fittest"
Jörg Abderhalden is looking forward to the Swiss National Wrestling and Alpine Festival in Zug: "People in central Switzerland are very enthusiastic about wrestling. I'm sure that it will be a good wrestling festival," he says. "Who will be the new wrestling champion?
Would you dare to make a prediction?" we'd like him to tell us. "I would if I knew!" he replies with a laugh. But then, he becomes serious, saying that the number of wrestlers in the running is limited. "Armon Orlik and Samuel Giger are the fittest." Other possible candidates in his view are Joel Wicki and Pirmin Reichmuth.
A sport for shepherds and alpine farmers
Today, Schwingen (Swiss wrestling) is a national sport and is very popular. The last Swiss National Wrestling and Alpine Festival (ESAF) really pulled in the crowds. The 2016 festival attracted around 280,000 visitors to Estavayer.
The numbers are impressive: 240,000 litres of beer and 200,000 litres of water were drunk and 60,000 bratwurst sausages grilled at the ESAF in Estavayer. A similar number of spectators is expected to flood into the ESAF in Zug, taking place from 23 to 25 August 2019. But wrestling festivals were not always such large events. Originally, Swiss wrestling was a game to entertain shepherds, Alpine herdsmen and farmers at festivals in Alpine houses and hostelries. And that was a long time ago: the first depiction dates back to the 13th century. Schwingen wrestling gained momentum in 1805 at the Alpine Shepherds' Festival in Unspunnen. The festival took place at a time when Switzerland was suffering under foreign rule by the French. The aim of the event was to strengthen Swiss national consciousness. A piece of trouser cloth, a sheep or other natural objects were the tempting prizes then. But honour was the main thing; the prize was secondary. That hasn't changed. To this day, the wrestlers receive no money, but are instead awarded a wreath and can choose from a selection of gifts. On most occasions there is a bull – or its value in cash for the overall winner (or Schwinger king).
Sources: SRF, Switzerland Tourism