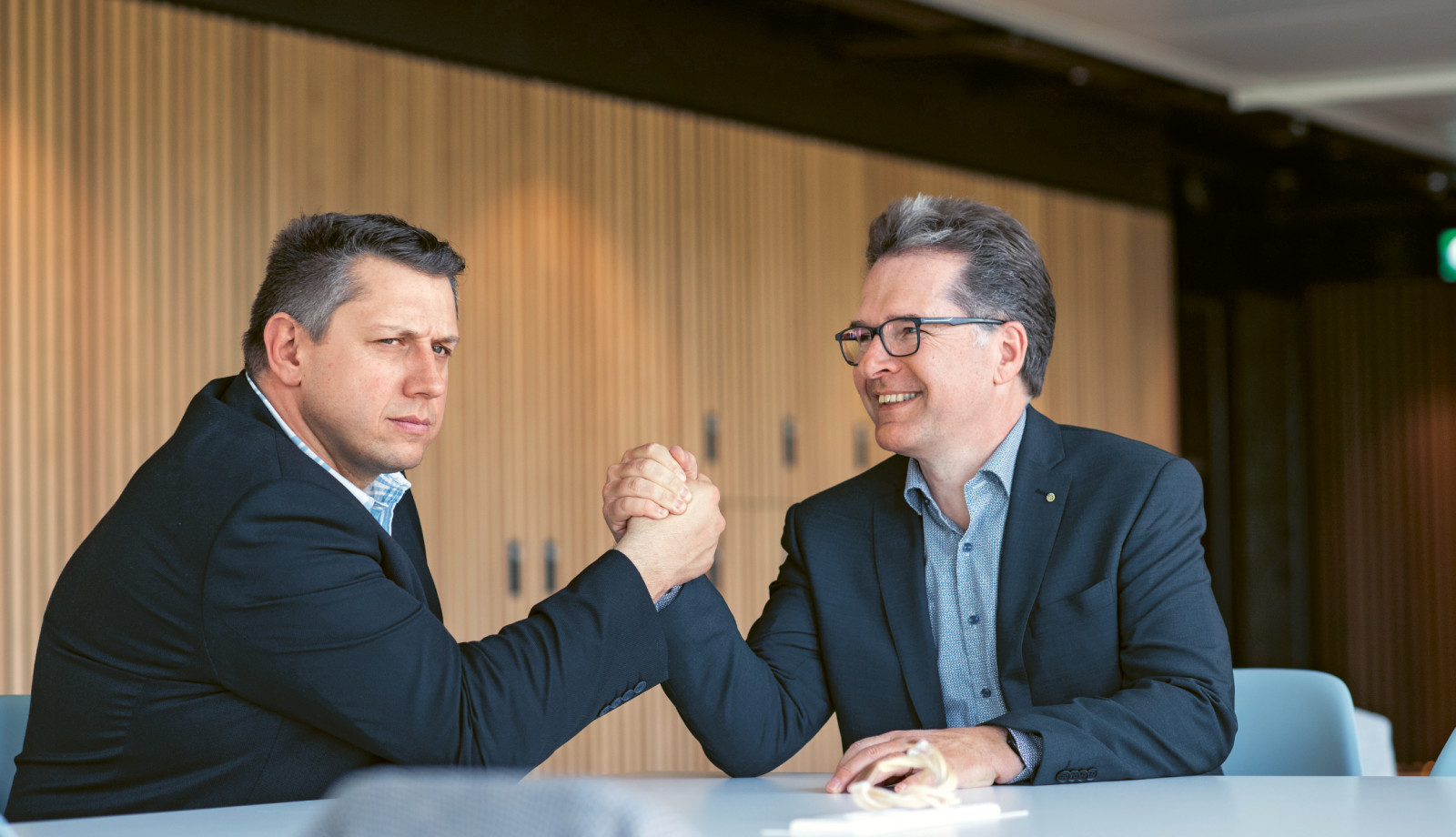 Article
Sponsor right from the start
Sponsor right from the start
The Swiss National Wrestling and Alpine Festival (ESAF) takes place in Zug from 23 to 25 August. Alfred Müller AG is supporting the largest sporting event in Switzerland as a service partner. In an interview, President of the Board of Directors and co-owner Christoph Müller explains the reasons why and the company's relationship to traditions.
Why did Alfred Müller AG decided to get involved with the ESAF?
We were one of the sponsors right from the start. As a company rooted in the canton of Zug, it was clear to us that we should get involved, especially as the festival site is virtually in front of our headquarters. We have given the organising committee of the ESAF use of our premises in Baar free of charge since July 2015. As a leading provider of office space, this commitment makes sense to us. Our gardening company has also been given the job of maintaining the lawn on the festival and competition site.
Schwingen wrestling represents tradition. How does this value fit into the modern digital era?
I think it is nice and important that we still have traditions and that there are people keen to keep them going. They create identity, stability and reliability, which are important in view of the changes in the world of work. Swiss wrestling may be a traditional sport. But the way it is practised and presented today is highly professional and very contemporary, in my view. That's why it attracts so many people.
"It's nice that we still have traditions."
Where does Alfred Müller AG maintain traditions?
We keep events going, such as the ground-breaking ceremony and the "Aufrichte" marking the completion of building work, for example. Both of these events have a long tradition. As manager and representative of the Müller family, our company traditions are also important to me. For example, for many years I have congratulated almost every member of staff with a company anniversary personally and I acknowledge their achievements in a talk.
"Schwingen – Swiss wrestling – is a traditional type of sport that is presented in an extremely professional and contemporary way."
How important are traditions to you personally?
Particularly today when life is so fast-paced, I think it is important that certain traditions are maintained or that we revive them. The traditions that are very close to my heart are those that we practise in our family and which I, for the most part, have known since my childhood. For example, on 1 August we always have a huge bonfire and invite family and friends. If that's not possible – for example if fires are banned due to a dry spell – then something is really missing that year. Similarly our celebrations at Christmas and Easter are very traditional, and birthdays have always been celebrated with the whole family. It's nice to see that my children really value these traditions and will hopefully keep them going with their own families one day. Many traditions are also maintained at the Swiss National Wrestling and Alpine Festival in Zug, and I'm really looking forward to the event.