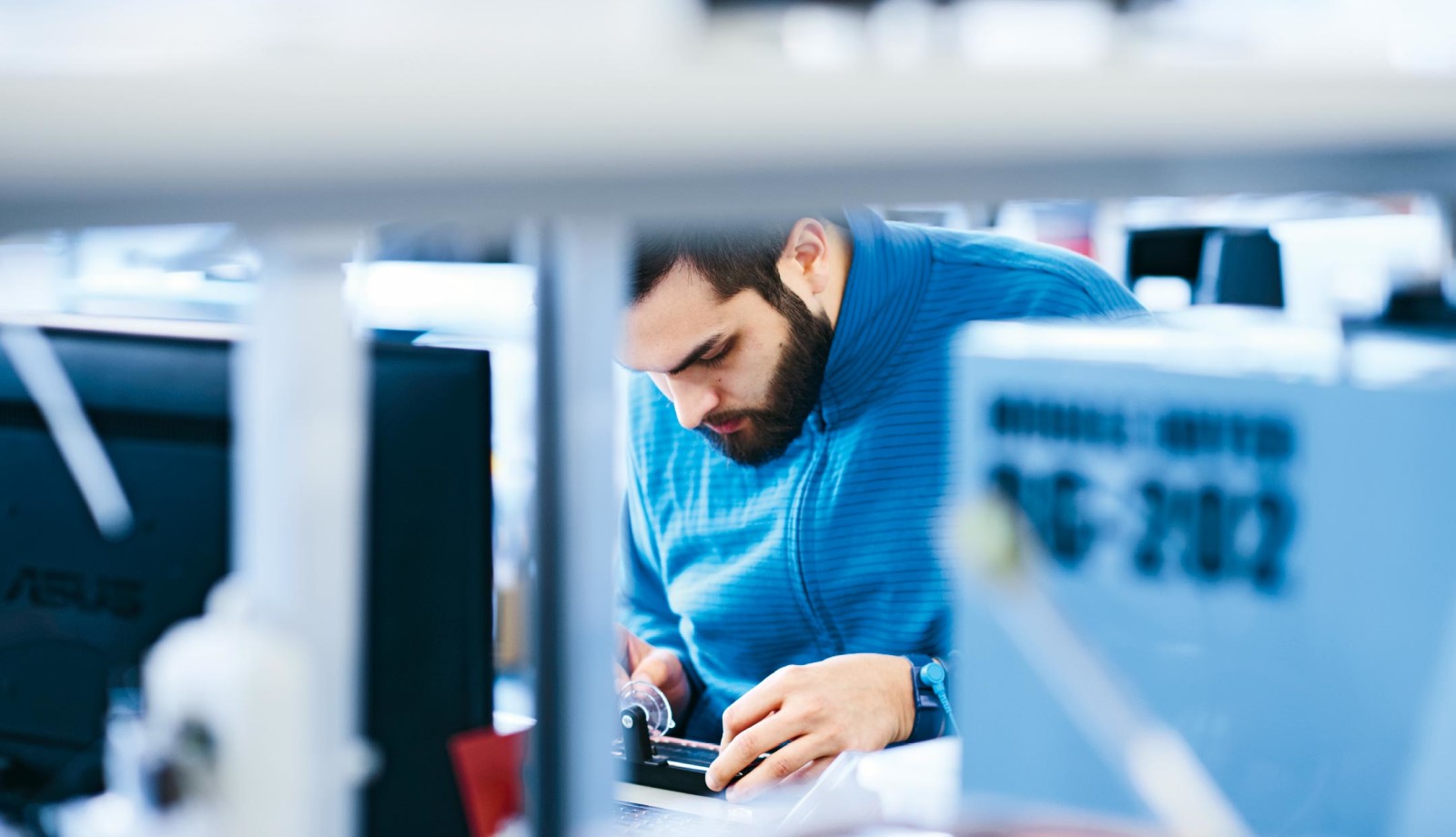 Article
Where the quality is right and working is a pleasure
Where the quality is right and working is a pleasure
On the outskirts of Zug, not far from the Zug-West motorway junction and the Zugerland shopping centre, stands the prestigious Prisma office building operated by Alfred Müller AG. Recommerce AG has been a tenant since 1 April 2015. CEO Peter Oertlin is proud of his company, which buys and sells mobile phones and tablets via the online platform verkaufen.ch and is slowly growing out of its start-up shoes. What does this change mean and what are his ties with Alfred Müller AG?
It is a cold Friday morning in late March. The fog around Steinhausen in the canton of Zug is slowly lifting to reveal the view of the surrounding mountains. But I don't have time to let my eyes wander into the distance. Work is calling. It fascinates me anew every day because the Recommerce concept holds great potential thanks to the verkaufen.ch purchasing platform, where people can readily sell their used electronic devices. The business model is gaining so much attention and custom in Switzerland that we could already expand and invest in our brand just a few years after our founding. For example, our existing basement space of 337 square metres grew by 92 square metres in September 2017. Alfred Müller AG designed the ground floor of the building for commercial use, while the upper floors are intended as service and office space. This is exactly the combination of office and workshop that we were looking for in 2015, when our premises in Rotkreuz became too small.
We didn't expect walk-in customers at the beginning. After all, most of our business takes place online. Today, however, around 20 customers visit us daily – a development that happened by chance. Maybe it's because the area is well developed: the Zug-West motorway junction is only a few minutes' drive away, and you will find the Rigi and Alpenblick train stops as well as various sports, shopping and dining establishments within walking distance. The parking situation is also optimal thanks to the pool system. We recently redesigned the entrance to our offices on the first floor. I appreciate the bright and inviting reception area because, as a sales partner of Apple, Samsung and Sunrise, we have to be representative.
Progress calls for new skills
Anyone who founds a start-up learns every day. Me too, despite my previous experience as CEO of Ricardo. I know the online trade in used items like the back of my hand, having set up the online auction house Ricardo between 2000 and 2008 and expanded the crew from 4 to 160 employees. Nevertheless, my then co-founder Rouven Küng and I quickly realised that you can't sell used mobile phones without a technician. After we had the technicians on board, their knowledge opened up a new field of business, namely the repair service. Also technologically, we have never stopped learning: the most expensive part of a mobile phone is the circuit board and it is destroyed when it comes into contact with water. This is why the latest generation of mobile phones are glued to protect them from ingress, not screwed together as before. An important detail, because who doesn't like listening to music in the bathroom and, by doing so, unintentionally exposes their mobile phone to moisture? We thus had to acquire fresh know-how and equipment for repairing glued mobile phones. Our technicians acquire such skills in periodic training courses provided by Apple and Samsung, which are compulsory for sales partners.
"We are completely satisfied with the rented premises and the services provided by Alfred Müller AG."
A business model with major potential
The entire recommerce market, in other words the trade in used equipment, is still in its infancy. What is commonplace in the car business is only slowly gaining traction in the electronics sector. The business model already makes sense from an ecological point of view: the reduction in CO2 emissions achieved thanks to our business is considerable. This is precisely why we received a government grant from the Swiss Confederation's Technology Fund as part of the last financing round. And because more and more people are realising that it doesn't always have to be the latest device, this market is growing faster than the one for new products.
An equal partnership
The contact to our landlord, Alfred Müller AG, is not intensive. But when something is in the works, we always find a straightforward solution. That's exactly how it was when we wanted to expand the offices at the time we moved in three years ago. In consultation with Alfred Müller AG, we were able to organise the premises according to our wishes and investments for the expansion were pre-financed by the landlord. We repay these with a levy on the rent. This carries the advantage that we do not have to invest our capital in real estate, but instead can use it for furthering our business idea.