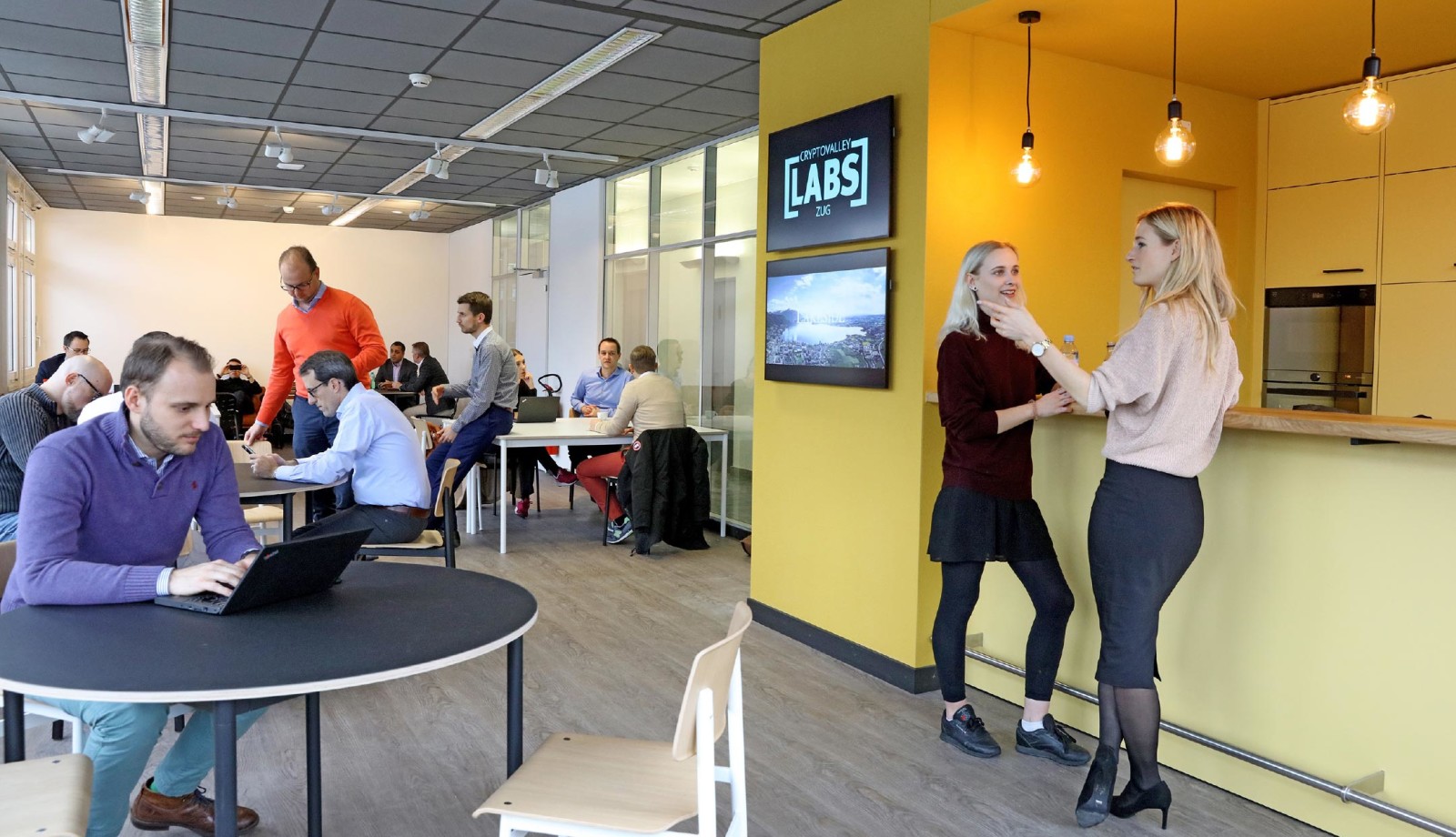 Article
Success through flexibility
Success through flexibility
As a strategic real estate partner of Crypto Valley Labs, it did not take Alfred Müller AG long to develop a made-to-measure concept for this special customer group complete with offices, co-working spaces and a café, then give shape to it in premises on the Landis+Gyr site near Zug railway station.
Things can never go fast enough for us," says Mathias Ruch with a smile on his face. He is the co-founder of Crypto Valley Labs and managing partner of Zug-based Lakeside Partners, a driving force behind the development of Crypto Valley in the Zug area. The rapid tempo is unsurprising given the industry's quite explosive development over recent months.
But let's cut back: Mathias Ruch, in search of premises that could house a new hub for companies and start-ups in the blockchain technology field, pitched the Crypto Valley Labs project to Alfred Müller AG last winter. "Just two days after our meeting, we had a proposed concept on the table. That sparked my enthusiasm." A few weeks later, in mid-February, CV Labs opened its first location: "The Block" on Dammstrasse in Zug.
As the largest provider of commercial space in the canton of Zug, Alfred Müller AG could be quick off the mark in providing CV Labs with premises tailored to their needs. "The CV Labs solution also happened to be a very good fit as we were looking for an interim use for a property on the LG site," explains François Bernath, Head of Acquisition, Sales and Marketing at Alfred Müller AG. "In addition to the fact that we can rent out the space, we also wanted to take this opportunity for gaining experience with a customer group that is highly digital and highly mobile and challenge ourselves to adopt innovative routes to shaping a product."
"Just two days after our meeting, we had a proposed concept on the table. That sparked my enthusiasm."
Fibre-optic network link
In cooperation with the company's Refurbishment and Renovation department, the premises were adapted to the customer's needs. The main outfitting requests were fourfold: a fibre-optic network link to ensure high-performance Internet connections, a café, shared workspaces and offices.
As this was an interim use, the conversion work had to be carried out cost efficiently. "The implementation time frame was very short. We therefore worked directly with the contracted partner companies to see how the concept could be implemented as well as possible yet nevertheless inexpensively," explains project manager André Huwyler. The results of the first-phase outfitting drew satisfaction from all sides. The subsequent phase in April/May saw the creation of the outdoor area; this will be followed in summer by the conversion and outfitting of space on the upper floors.
Public transport link: the central criterion
All the workplaces were already rented or reserved by the time the first zones opened for occupancy. "We are experiencing a real run at the moment," says Mathias Ruch with satisfaction. "The industry's future development also depends on how the authorities move with regard to regulation." In his search for a location, a central area with excellent public transport links was one of the main criteria. When it came to outfitting, he opted for a mix of communal areas and offices: "In addition to co-working areas, we also need lockable rooms." With the café, the community seeks to reach out to the world at large: "People-to-people exchange is very important to us," emphasises Mathias Ruch. "It is clear to us that blockchain and crypto technology, of which bitcoin is also a part, are all very abstract. This is why we invite everyone interested to participate at our events."
"Co-working will become the norm"
The entrepreneur is confident that the style of working practised here will go on to become the norm. "The young generation is growing up like that and knows nothing else. Their influences are the Internet, digital solutions and, moving forward, also co-working." This is an opinion also shared by Ivo Läuppi, Client Representative at Alfred Müller AG. "Business premises can no longer simply be divided into offices and meeting rooms. Fluid transitions such as collaborative work zones are gaining in importance." François Bernath sees flexibility as the key to success: "Areas that accommodate modern working models do not differ fundamentally from the multifunctional spaces we have been creating for a long time. However, they must provide a bridge to the digital world and be even easier to adapt to new needs."