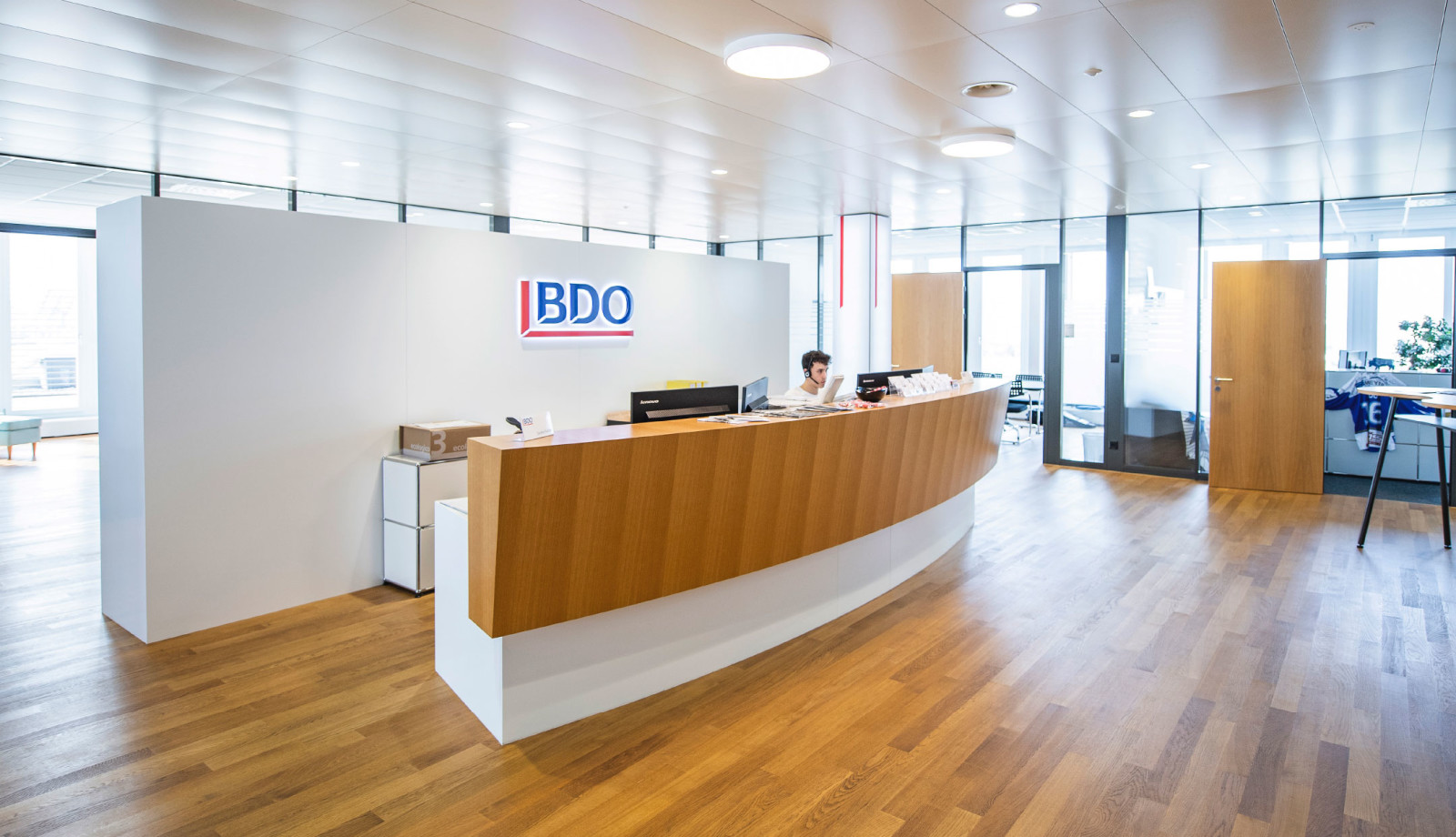 Article
Offices are an expression of corporate culture
Offices are an expression of corporate culture
It is true that traditional offices have their advantages and find popularity with employees. But that does not rule out also providing niches for meetings and comfortable spots for informal exchange. A diverse choice of spaces reflects a unique corporate culture at BDO Zug.
The reception area at BDO Zug is open, spacious and inviting. A warm welcome immediately makes me feel at home and then I am led into a space that feels more like a living room than a meeting room: plush sofas, a football table still standing after the World Cup season, a row of pictures haphazardly hung on the wall, shabby-chic style – actually, just the ambience for discussing these premises.
Michael Bitzi is visibly pleased with the present working ambience that meets the needs of employees and branch management alike. "My motto: actively keep at it. Employees can and should participate in the design process; everyone is encouraged to breathe new life into the place. We take emerging needs seriously, especially those of the younger generation, and these drive our spatial development. Change means awakening and, if tackled correctly, leads to renewed success."
"Door closed = do not disturb"
Nevertheless, classic individual offices remain indispensable according to Michael Bitzi. In a hectic and restless world especially, he wants to give his team leaders and managers this vital option for a retreat where they can get on with their qualified work uninterrupted. "The rule here is: door closed = do not disturb." People abide by it, too – this rule is respected. So, it doesn't just come down to confidentiality, as one might assume in the fiduciary industry.
"At the same time, we have created niches intended for things like exchanging ideas, holding small ad hoc meetings or simply discussing a technical matter in a relaxed setting: maybe here in this comfy room with lounges and sofas, in our Zug ice hockey club fan corner, in the cafeteria or out in the fresh air on the terrace."
This blend of classic offices for peace and quiet, together with corners, niches and hubs encouraging exchange, is exactly what makes working in these offices so attractive. "This is why clients like to drop by for a coffee on the spur of the moment," says Michael Bitzi. "Employees from other branches happily make a detour to Steinhausen, maybe on their way from Lucerne to Zurich, to bridge the time between appointments, to work, to meet team colleagues or to exchange news."
"Flexibility at the locations is appreciated and allows creating your own local culture. Just because it suits us best does not mean it would be equally successful elsewhere. So, the way we are set up here in Steinhausen is something you won't find at almost any other of BDO's 33 locations in Switzerland."
The Zug branch is an example of how to combine time-tested and new office concepts and how this development can be regularly advanced to meet the needs of branch management and employees. Formal and informal, lone warriors and team spirit, tension and unwinding, and not least creativity and performance – all these aspects find their place, are shaped, developed and practised. This multifacetedness is what makes BDO's corporate culture in Zug so unique.