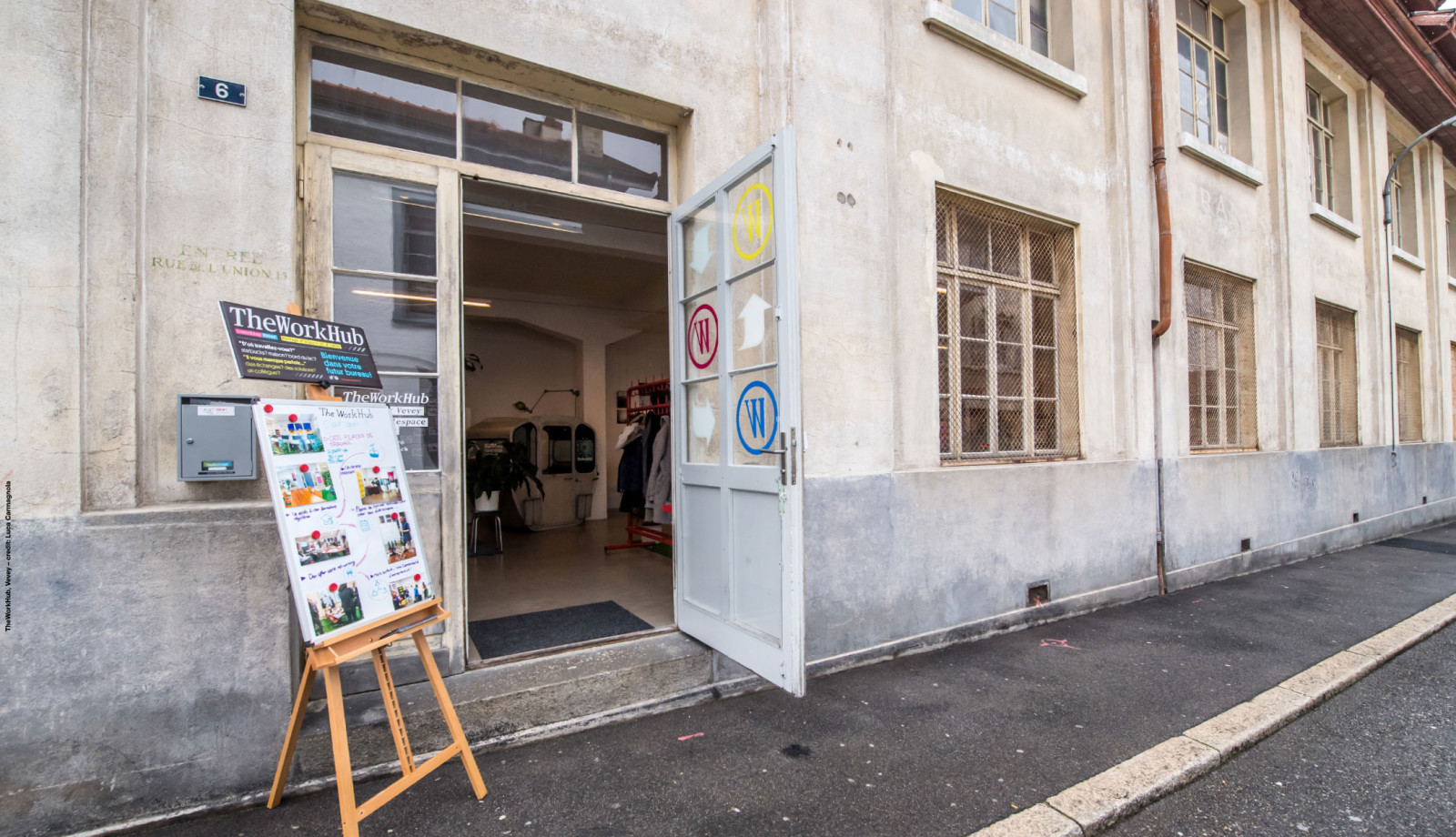 Article
The adventure of the workplace
The adventure of the workplace
Co-working extends far beyond dynamically usable workplaces. It stands as a symbol of a new, forward-looking organisational culture. This is also a challenge for the property sector.
Does is still exist at all? The dutiful employee who, year after year, day in, day out, leaves the house at the same time every morning, drives to his company and does his work in his own office, comes back to the computer after lunch and goes home on time every evening – only to follow the same routine the following day in the same place with the same people? Or is this model of working under threat of extinction, and does the modern employee of tomorrow – free and flexible, project-oriented and networked – work more like an unpredictable nomad? Here today, tomorrow there? With you today, with her tomorrow?
One thing is clear: digitisation, globalisation, the sharing economy and technological advancement are fundamentally changing organisational structures and employment relationships. They are revolutionising established structures that have been in place for decades, creating modern working environments. This change is also affecting the property sector. New work and co-working space are the magic words for open, welcoming workplaces that can be rented by individuals or companies for a daily, weekly or monthly flat rate in shared office communities. The aim is to have common use of an infrastructure and mutually benefit from expertise.
Independent yet connected
Co-working emerged in Silicon Valley at the end of the 1990s. Where else could it have been? The work concept refers to a model within which people from various industries and disciplines are together in one location or building, yet work independently of one another. This way of working enables people to share advice and ideas at any time, as required. Anyone leasing co-working space not only makes desks and chairs and a basic IT infrastructure available, they also have a network of people from which the people present can benefit by inspiring and even mutually complementing each other. In ideal cases, this leads to collaboration on new projects. However, co-working also works well as a tool to promote locations. An environment is created within which people can easily and quickly become active in a professional and entrepreneurial way – taking advantage of indispensable services: postal and telephone services, reception and café bar facilities, meeting rooms and – in certain circumstances – legal or notarial services.
What stands out: many of these co-working spaces don't sound like arduous work or brain-busting projects at all. Instead, they have names that we associate with lightness and fun: Kulturhafen (cultural harbour), Tapetenwerk (wallpaper works), Gründerküche (creators' kitchen), Raumstation (space station), Betahaus (beta house) or – to postulate the demand for growth to the outside – Brutkasten (incubator). Others, on the other hand, suggest coolness and an international dimension: House of Clouds, Mindspace, WeWork, Impact Hub, United Urbanites, Business Village, Work Inn, Talent Garden, Office Club or Fab Lab.
Growth sectors benefiting
Regarding the lab: Alfred Müller AG also distinguishes itself as a leading property company in this area and, with the expansion and setting up of the co-working space B.Labs at Burgdorf railway station, has created an ideal environment for company founders. The offer is primarily geared towards companies from the healthcare and life sciences sector, although it is also open to all other industries. From February 2018, Alfred Müller AG has also been renting out office space at the LG premises to Crypto Valley Labs, the company founded by the Zug group of investors Lakeside Partners. In the rooms at Dammstrasse 16 in Zug, there is a kind of hub for companies and start-ups in the field of blockchain technology. The workstations at The Block – as the location is known – were snapped up quickly. No wonder: the demand for customised offices in this growth segment is huge! The two internationally active companies Biogen and AstraZeneca are also taking advantage of a flexible usage concept in the Quadrolith office building in Baar.
Life sciences? Blockchain? Biotech? The term co-working always made us think of freelancers in the creative scene. In actual fact, self-employed people working in the graphics and communications industry initially shared open-plan offices to save on costs. Photographers and architects also discovered the "shared space" for themselves a long time ago. The motto is as follows: you can keep the executive suites. We'd rather rely on the charm of industry sectors where interim use is possible – before the diggers move in. The cliché of the totally relaxed, bearded hipster with horn-rimmed glasses and wearing trainers, who is sitting slightly bored at his Apple computer with an "exciting project" on the go here and there (that usually never gets off the ground), was just as prevalent as the notion that a co-working space absolutely must feature a beat-up sofa and a constant soundscape of chilled-out, ambient music in the background.
So "hip" and "open-minded"
Lately, it has become apparent that even established companies such as Swisscom, Mobiliar, Swiss Post, SRG, SBB and Zürcher Kantonalbank have discovered co-working for themselves and are hoping that this new working environment in an ambitious and dynamic community will deliver success. The outdated image of co-working needs to be corrected. What the pioneers of the co-working scene find slightly irksome – with good reason – is the fact that this auspicious label is now also being used for highly professional, managed office complexes because, in terms of marketing and image, people expect the word to carry a certain meaning. Hence, a lawyer or corporate consultant can feel slightly "hip" or "open-minded" – without stepping too far out of his comfort zone. But: just because stand-alone entities have joint use of a high-powered wireless network does not mean it resembles co-working in any way.
The co-working option is a clear sign towards output rather than presence.
The use of the word of the expedition – the journey of discovery – is completely appropriate. Flexibility and scalability may be the two characteristic features of co-working, although the modern model of working also has an impact on company policy and culture. "Co-working enables cooperation in a completely different atmosphere than would be possible within the confines of the company," states the St Gallen study. "Companies that allow co-working for their employees are sending strong signals that the work culture and management culture are undergoing radical change," according to another central message of the study. If working outside of the corporate office was barely tolerated until recently, the option of co-working is a clear sign towards output rather than presence.
Freelancers on the rise
If companies had, among other features, coordination and bundling functions in the past, individuals today can offer their products and services on the market directly thanks to their own network, virtual presence or virtual platform. According to a study by auditors Deloitte in 2016, 25 per cent of workers earn their main or secondary income working as freelancers. This means that they undertake project-based, temporary or additional work, generally work independently for several clients and are virtually predestined to be tenants of a co-working space. Of those participants surveyed in the study, 45 per cent believe that the demand for their work will increase. Only 8 per cent expect a decline. The adventure of the workplace!
Even for working parents with small children on a reduced salary and working just two or three days a week, the rented workspace in a co-working space can be a real alternative. The motto is as follows: if I can only work part time, I'd prefer to work in a community with others than far away from social contacts in a quiet little room at home.
Place for experiments and encounters
In large cities such as Zurich, Geneva or Basel, co-working spaces are also becoming hotspots for art and culture, workshops and events – in short: zones for encounters and areas for experimentation where the exchange of ideas is fostered and exciting things happen that should not be missed at any cost.
To come back to the dutiful employee mentioned at the beginning: at his company, the lights go out at 6 p.m. and the cleaning team turns up to clean at 7 p.m. In the co-working space, contacts are made even after work, or there's an interesting lecture or concert to go to. This is of course only possible if the potential of co-working is exploited and is understood as a conglomerate – where innovation and openness radiate outwards. There's no trace of any routine.
In their study "The workplace of the future", the company Deloitte has determined how digital technology and the sharing economy are changing the Swiss world of work. According to this study, 25 per cent of Swiss workers earn their main income or supplementary income as a freelancer. A third of the remaining 75 per cent would like to do the same in the next year. The main driver of this growth is the sharing economy, which causes more and more people to offer services via online platforms. At the same time, knowledge-intensive jobs and mobile working are becoming more important. Many companies have recognised this growth and enable their employees to use various different workspaces – such as their home office and also co-working.
The most important findings from the study at a glance:
The workplace of the future
Workers of the future are mobile and not stationary
As a consequence of the increasing importance of the service sector, knowledge-intensive jobs and digitisation, more and more people are able to work in a mobile way without being tied to a specific place. Half of all Swiss workers would have the potential to organise their work in a mobile way.
Working at one's home office is on the increase
The more employees are mobile and self-employed, the less important the fixed place of work becomes. Today, 28 per cent of all Swiss people of working age are already spending at least half a day a week working from home. A third of the remaining 72 per cent would like to do the same.
Swiss companies are adopting flexible workspace models
In 2015, 55 Swiss companies signed the Work Smart Initiative, committing themselves to the promotion of flexible workspace models. Many of them already allow their employees to work from home or to work in co-working spaces.
Workers of the future are self-employed
Freelancing is on trend. The sharing economy is turning more and more employees into micro-companies. In Switzerland, 25 per cent of all people of working age are involved in project-based, temporary and additional work. A third of the remaining 75 per cent will do the same in the next 12 months.
Co-working as a promising complement to the home office
As another alternative to the conventional office at your employer's premises and in addition to a person's home office, co-working spaces have sprung up – office communities that provide workspaces on an hourly basis. There are approximately 50 such spaces in Switzerland. In the next 24 months, 42 per cent want to expand what they offer. Many more will join the trend.