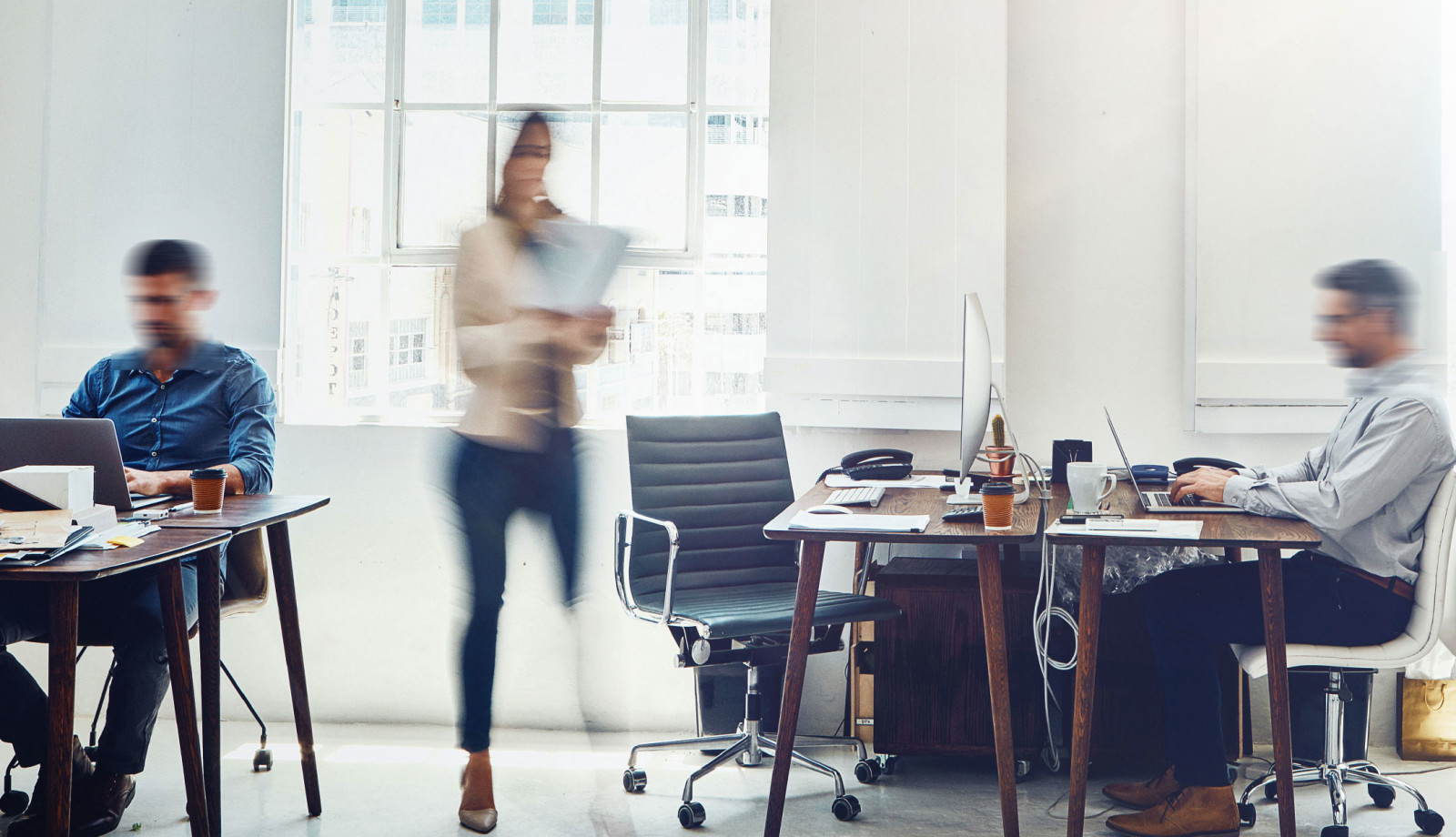 Article
Flexibility and multifunctionality
Flexibility and multifunctionality
Nowadays, business clients are demanding premises that allow for flexible types of working. How is Alfred Müller AG experiencing the growth, and how is the company meeting the new requirements of clients? An interview with the Chairman of the Board of Directors, Christoph Müller, and the Chief Executive Officer, David Hossli.
Home office, co-working, working on the move – do you take advantage of the freedom and flexibility of mobile Internet use and location-dependent working yourself? Or will people find you, very old-school, mostly in your own office at the company's headquarters?
David Hossli: I have always been relatively mobile on the move as I used to work in an international environment. Working on my laptop at the departure gate at the airport was a regular occurrence. When I'm travelling for Alfred Müller AG today, I take the train and I'm able to work extremely effectively in a conceptual way in the train compartment. However, I still prefer to make telephone calls and conduct Skype conferences in the office.
Christoph Müller: I also use technical tools for mobile working: predominantly Bluetooth headphones, a tablet and a laptop. I mainly travel by car and have got used to deliberately leaving half an hour earlier so as to still have time for telephone calls in the car. If the journeys are long – to Bern, Geneva or Basel – then I'll take the train. And on the train, for reasons of discretion alone, phone calls are a definite no-go. Working in a co-working space would be conceivable for me, provided that there weren't 20 other people in the room distracting me. The key factor is how high the noise level is in the room.
Work culture and the need for office space are changing radically. At present, 162 Swiss companies have signed up to the Work Smart Initiative to promote flexible work models and workspaces. To what extent are you, as a property company, affected by this development.
David Hossli: This kind of development is very significant for us with our large portfolio of office space because it changes the demand for our products. We have to know how our tenants are requesting office space and how they are using it. But this is not just about productivity and reducing costs; it is also about the attractiveness of the companies as employers. Ultimately, a company wants to offer the most attractive work model possible in order to attract the best people. But the subject of new work is also a question of halting the rise of mobility. The digital and short-term booking of office space is already a reality. So, this is also something we're keeping an eye on.
Christoph Müller: On the issue of flexibility, Alfred Müller AG has always been innovative on the move, and multifunctionality was always a key aspect of the investments in our portfolio. Many years ago, Alfred Müller AG established open space for a computer company in Zurich – before the term even existed. Initially, the response from the workforce was one of irritation as the concept was pioneering. In Steinhausen, Sursee and Stans, we have been renting individual offices with a co-working character for a long time, and there is a huge demand for them.
With the expansion and setting up of the co-working space B.Labs at Burgdorf railway station, Alfred Müller AG has created an ideal environment for company founders and has done something concrete to promote this location as place to do business in the region. How did this project come about and how effective is it?
David Hossli: In Burgdorf, we have created a kind of platform for start-ups in the healthcare sector. The initiator and operator of B.Labs is the company thinkNEO GmbH. B.Labs offers flexible and fixed workstations in an open-space office designed to be light and spacious that is only a few minutes away from the railway station. Embedded in the former industrial premises of the Aebi machine plant, B.Labs is located in the subtly modernised rooms of a joiner's workshop that is subject to a preservation order. The project was exciting for us. And the people who are now working there are grateful to have found a place where they are able to develop their business activities and be productive. But when I look at the revenues we generated in the first quarter, the figures are rather modest. This makes the following point clear: it takes time and patience for a location such as this to establish itself. The financial risk was limited for us as we had to cover the location costs and capital costs in any case. The only additional costs we incurred were the costs of the expansion, and this was well thought out and is proving to be a success.
Christoph Müller: We are actually still in the initial phase. The premises are not yet fully in use. More apartments have yet to come onto the market. The people moving in there will certainly have a positive impact on the service spaces.
Alfred Müller AG are also on the ball in Zug and are leasing co-working spaces for companies and start-ups in the blockchain technology industry with Crypto Valley Labs – founded by the group of investors Lakeside Partners – on the LG site. To what extent is such a partnership different from a conventional leasing relationship?
Christoph Müller: This project is about interim use. We were interested in bringing life back into this building as it will only be a couple of years before the diggers move in. The investment in the expansion was a bone of contention with the operator. Consequently, the lease has a variable component that is dependent on utilisation. We have a partnership model with Crypto Valley Labs. That means: if Crypto Valley Labs leases more office space, we also receive more income. Hence the risk rests on several shoulders. What I am especially pleased about is that the blockchain community fits perfectly into the ecosystem of the LG site.
"My impression is that tenants are totally willing to pay something for their flexibility."
Approximately 12,700 square metres of office space with a flexible usage concept is ultimately available in the first stage of the Quadrolith in Baar. Prominent tenants include the biotech company Biogen and the pharmaceutical group AstraZeneca. Are co-working spaces also involved here?
Christoph Müller: I wouldn't use that term here. The premises in Burgdorf are open to anyone wanting to rent a workspace for a couple of hours, days or weeks. That's not the case at the Quadrolith. These areas are only open to employees of our tenants AstraZeneca, Biogen and – from 1 December 2018 – Asset Management Partners.
David Hossli: For the Quadrolith, I'd rather use the term "work smart". This means that the workspaces are no longer fixed and allocated to one person, as at AstraZeneca, because a large proportion of the employees are on the move and involved in international projects.
Christoph Müller: One highlight of the interior design at AstraZeneca and at the same time an expression of the modern way of working is the Town Hall – a kind of stepped auditorium as a central meeting point, where meetings are held and orientation sessions take place. For me, that is a nice example of how meetings don't necessarily have to take place in closed meeting rooms.
The tenants of co-working spaces want to rent space for a short time but also be able to disappear again. You only pay for what you use. That sounds transparent and attractive. What challenges does this unpredictability mean for you as a landlord who would prefer to sign contracts with long terms?
David Hossli: I am convinced that fewer classic rental agreements with a fixed term – I'm talking about ten years or more – will be signed in the future. Nowadays, we generate over 90 per cent of our rental agreements in this way. In the medium term, this share will go down as far as 80 per cent or 75 per cent. This is because the need for flexible forms of use is increasing, and we cannot ignore it. That means we are having to learn how to cope with the aspect of higher flexibility. Burgdorf is an ideal area for experimentation and to gather experience. However, it is not the case that all co-working spaces work according to the "pay per use" motto. A tenant often has to enter into a membership scheme. For the landlord, this means that he secures a basic revenue and is able to generate additional income through flexible use. My impression is that tenants are totally willing to pay something for their flexibility.
Various studies show that co-working spaces are about creating a relevant niche with huge potential. Has the persistent oversupply of office space led to a rethink by property owners and investors?
David Hossli: I don't think so. The drivers of co-working and "work smart" are digitalisation and the societal developments linked to it. But in my opinion, they are also an expression of the prosperity in our society: a lot of people are earning enough to live on from just a part-time salary and are not dependent on a fixed place of work five days a week. As far as the issue of oversupply is concerned, I'd like to qualify it. Figures that are actually incorrect are often bandied around. Frankfurt currently has a vacancy rate in the office sector of 9.7 per cent. To Swiss ears, this sounds like a high proportion as the rate in our market is around the 5 per cent mark. But no-one would claim that the property market in Frankfurt is in a bad state. What is correct is that competition in the supplier market has intensified. And this is why we will be even more compelled to respond to the changing needs of clients in a flexible way in future.
Christoph Müller: Good advice is the be-all and end-all. What does the prospective client want? Quiet, privacy and long-term prospects or open space in a dynamic environment? Do offices have to be representative, or does access to good transport links pay more? You have to take time for interested parties and also show them reference properties. The larger the portfolio, the higher the chance that people will find what they are looking for.
"Good advice is the be-all and end-all. What does the prospective client want? Privacy or open space in a dynamic environment? You have to take time for interested parties."