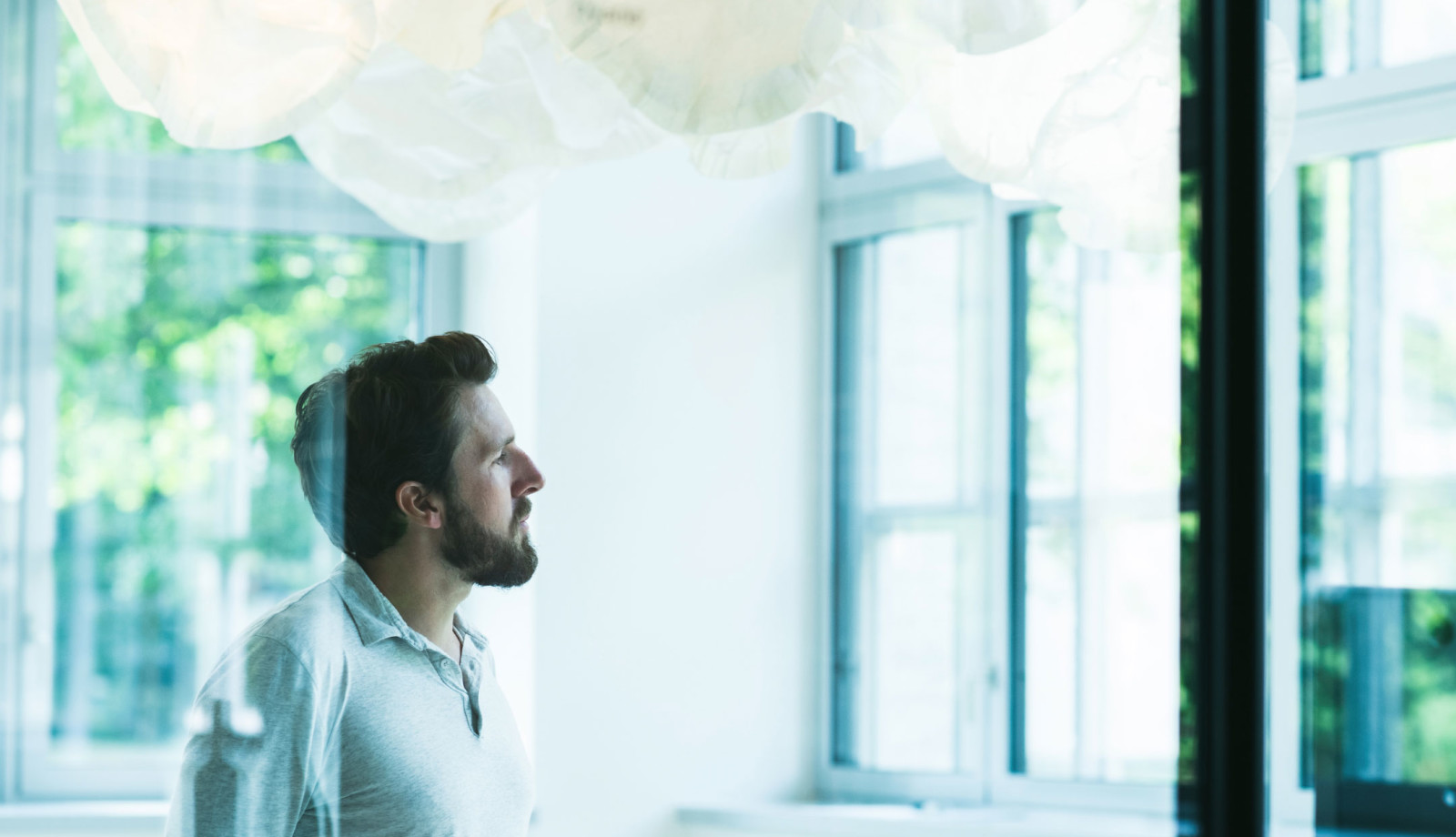 Article
Anti-digitisation: the workplace of tomorrow
Anti-digitisation: the workplace of tomorrow
Mathis Hasler, co-founder and CEO of Popup Office AG, explains why co-working spaces are a viable solution and are popping up all over the place. What's happened in the bigger cities has become a trend over recent years. Or is that just hype?
In the midst of this exciting environment, one person who is making his business idea a reality is the co-founder and CEO of Popup Office, Mathis Hasler. In 2010, in the trendy Recoleta district of Buenos Aires, what seemed to be a café turned out to be a shared workspace for freelancers. At that time, in the wake of the devastating economic crisis in Argentina, there were loads of freelancers. The idea of "Urban Station" – the brand name of the café – wouldn't leave Mathis Hasler alone. Contacts revealed that the brand was then held by a company in Turkey, who had ten such stations in operation in Istanbul.
Mathis Hasler: "In actual fact, they had wanted to make these so-called co-working spaces available to freelancers as their target group. But rather surprisingly, they attracted large companies such as Siemens and others. The different "Urban Stations" enabled the companies to move in a decentralised workplace system – and hence avoid the chronic traffic problems through the clever use of the sites of the co-working spaces.
"Many corporate structures and cultures simply don't allow such new ways of working at all."
Back in Zurich, I had to concede that expanding such workplaces, these new working spaces, was too costly for me. But I was totally ready for action and I wanted to implement this idea in whatever way I could. From this came an Internet platform for existing working spaces. Very quickly, we had over 100 similar offers on our platform. We approached large companies such as AXA Winterthur, Swisscom, Microsoft and Migros and created complete packages for the use of these working spaces by their employees. This received a huge positive response. And it suited the companies who were riding the trend of innovation, diversity, mobility, employer branding and flexible forms of working. But the crux of this diversity cultural change management is how it is effectively incorporated into the daily routine – the actual regular use of what is on offer. Many corporate structures and cultures simply don't allow such new ways of working at all."
Mathis Hasler sees flexible serviced workplaces as an international mega-trend. He is relying on cooperation from property agencies because the mere selling and leasing of premises as empty shells is no longer a guaranteed route to success. For smaller firms, the high costs of developing the properties are difficult to cover. And this is not only true for start-ups. It also applies to established SMEs. Thus, with the concept of the flexible serviced workplaces, the problem of investments costs is taken away from the user. And SMEs maintain their agility.
On the subject of the mega-trend – what does the workplace of tomorrow, the future workplace, look like?

"There is a huge trend where people are saying: "Everything is going freelance," the network office, everyone working for themselves, everyone has 1,000 jobs, is in a network and needs a space to work. Also so that they don't feel claustrophobic at home. That's one tendency, especially in America, where the whole phenomenon of tasking – meaning these project jobs – is growing dramatically. But alongside that, there is also another trend that not only concerns freelancers but is actually making entire working processes more open. Digital tools such as Slack, Dropbox and Gmail enable us to incorporate external companies into our processes much more easily. This means that corporate boundaries are blending into the outside world and projects are increasingly overlapping. The idea of working in enclosed companies is becoming less important in the sense of: "You are much stronger when you are networked against the outside world." The digital world has an alienating effect that we actually don't like at all. And this is precisely where working spaces come in: as a medium of interaction. That's what we're looking for. People feel comfortable in a working environment that is also a little bit like a living room, where they don't quite know whether it's now an office, a lounge or an apartment. Large buildings of 10,0000 square metres and more are being converted into new flexible worlds, where many companies are coming together and working with each other. These are trends that are used by companies striving for a new, more flexible, more networked and more digitised working environment – and so are fostering completely new work cultures."
In the next ten years, up to 30 per cent of companies will make the move into more flexible workspace cultures.
This is where Mathis Hasler also sees opportunities for the property industry, to the extent that it is not simply about constructing buildings and looking for tenants but more a question of creating worlds and associations with the tenants of the future – creating communities that make use of the buildings. Due to their similar working models, he thus compares working spaces to hotels. At all locations, from the centre to the green fields, in all different forms, from the simple to the luxurious, there is a high level of diversity that will also be created with the providers of serviced offices. The assumption in the industry is that up to 30 per cent of companies will make the move from fixed workspace cultures into more flexible ones in the next ten years. This will require a multitude of different providers – and not only the large, established ones. Other service providers will be tailored to the needs of those demanding them. This is in complete adherence to the principle of: "You pay for what you use." If we think that the entire digitisation of buildings is still in its infancy, there are signs of many innovative opportunities for both the users and providers of serviced offices.
"Creating worlds is what works."
The tendency shows that such co-working spaces are rather more prevalent in cities. How important is the environment where these spaces are located? Some are even being opened in holiday destinations..
"Here again, there are parallels to be drawn with hotels. I believe both options behave in the same way. Let's take Amsterdam, for example: there are offerings in perfect, central locations, with no parking facilities below ground and very tight spaces above. People are paying a lot per square metre, but it's actually not that much given what they're getting for their money. Other providers are active on the periphery and so are much cheaper – and are even closer to the transport hubs. Their offering targets the "grown-up" companies more than the hip and trendy "downtown start-ups". I don't think it's a question of the town or the centre. I think creating worlds is what works."
It probably doesn't affect all professions in the same way, and all companies have issues to address when it comes to corporate culture, management aspects, trust, efficiency, etc. What's your position on this?
"Initially, we assumed that these working spaces were only attractive for so-called desk jobs – office jobs. However, new examples show that service-sector jobs and industrial use are merging together in the same building, forming entirely new clusters as proximity creates novelty."
Services, digitisation, community, property, apps and cultures are seen as the important components of the serviced workspace. Allowing the free interplay of these factors so that the user of the space is able to exploit them to their maximum advantage is what Mathis Hasler considers to be the number-one trend. The workplace of the future will then be a success if the operator manages to integrate the various components to create a functioning whole.
And in this whole story, what drives you on a personal level?
Digitisation now means that I don't go on holiday. I just go surfing, and I work. My workplace can be anywhere. The transformation of the workplace has a lot to do with humanity. That's why I find it interesting, because I have also missed this human element. And that's why so many people are interested in it. Digitisation is making us alienate ourselves to a certain extent. The future workspace is the opposite trend, the paradoxical notion of anti-digitisation, meaning we are going back to creating our workspace so that we meet each other, come together, work with each other and thus create something new."