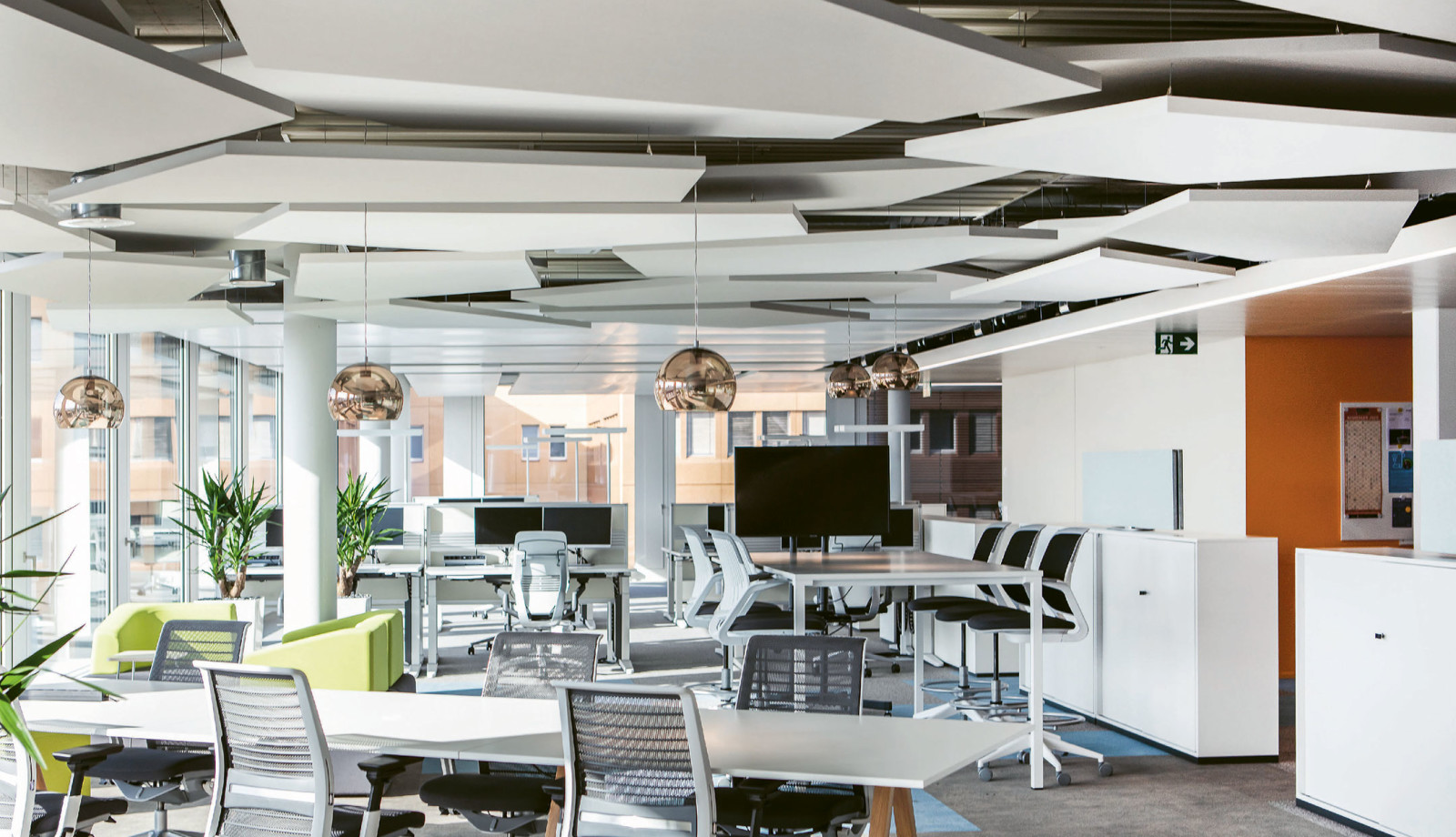 Article
"Moving people means keeping nimble"
"Moving people means keeping nimble"
Modern, spacious and equipped with a wide choice of workstyle options: with the move to new headquarters in Cham, AMAG is gearing up for the future. However, the multifunctional and popular building is not used just for work.
Emblazoned on the wall in big white lettering is a sentence that catches the eye as soon as you enter the room: "Moving people means keeping nimble." How apt for an automotive business. But this is not just any room in AMAG's brand new headquarters in Cham. It's the group fitness room, where employees come to break a sweat in lunchtime zumba and yoga classes. Thomas Linder, Head of Real Estate at AMAG, immediately enthuses about this as he guides the Forum editorial team around the premises: "Our fitness offering is very popular and the room is heavily used." Linder is "Mr HQ". He and his team oversaw both the construction of the new building and the relocation of over 900 employees. Phrased in terms of the fitness room motto, he is indeed a "people mover". The nimbleness theme runs like a leitmotif through the two buildings in the Helix development – owned, planned and realised by Alfred Müller AG and completed in 2019.
Regular staff take the CEO's spot
Turning up at the same desk every morning? Not with AMAG! The watchword here is "activity-based working", which AMAG introduced along with the move and sees as symbolising the way ahead. This flexible office concept means that staff no longer each have their fixed place of work, following instead the motto "Your office is wherever you are." Linder enthusiastically explains his company's implementation: "Every employee has a personal caddy for work things. This makes them mobile and lets them choose a workplace suited to their task at hand. In addition to traditional workplaces with variable-height desks and dual computer screens, there are also, as examples, lounges for relaxed exchanges and creative tasks, as well as high tables for meetings. We call these informal workplaces." The zones are distinguished by eye-catching polygonal elements in the ceiling cladding and floor tiles with various colour accents. And here, swivelling easily on their chairs, members of a project group are busy discussing next steps. Flexible choice of where to work is rigorously practised at AMAG, as Linder emphasises: "When our CEO Morten Hannesbo is away, other staff will take his spot." He says that like it's the most normal thing in the world.
"Premises for the future"
In addition to diversity in workplace options, there are other practical features typical of the buildings at Alte Steinhauserstrasse 12 and 16. Light floods into each of the floors, their area totalling around 11,000 square metres. One instantly absorbs the relaxing atmosphere, which has been achieved by floor-to-ceiling window fronts with individual workplaces set along them. The predominantly white interior design is also a contributor. At the same time, colourful furnishings and a vividly painted wall here and there emanate plenty of warmth, which is reflected in the satisfied demeanour of people at work here. "AMAG celebrates its 75th anniversary this year. We are already looking ahead to the next 75 years, and so we have sought to develop modern, flexible premises conducive to activity-based working that will keep pace with our unfolding future," says Linder.
Variation in room sizes is definitely another characteristic: alongside small and compact areas such as meeting rooms there is, for example, an extremely spacious reception area. The elongated welcome desk in particular is sure to impress every visitor. Thomas Linder says of this particular area: "We decided on an extra-large reception zone so that we could welcome visitors in a pleasant ambience and exhibit cars as well. AMAG should have a visible, tangible presence the moment visitors enter the building."
Four become one
Before moving to Central Switzerland, AMAG's administrative units were spread across two cantons: in Zurich, Baden, Buchs and Schinznach-Bad. CEO Hannesbo explained at the time how collaboration among sites cost much time and energy and needed improving. As a result, the company began to develop a vision of aggregating all parts of the business without direct customer contact under a single roof. What made them finally choose the Helix office building? "A lot of things are just right for us here in Cham," Linder says with a smile. He is plainly passionate about "his" headquarters. "We were keen to find a rental solution in a high-grade building. It was also important to be located near a large AMAG facility so as to gain shrewder understanding of the business and customers. We also got great support from the municipality, which granted us a construction permit for our own multi-level car park."
"Although the new location means getting up an hour earlier, I really enjoy working here. The new building offers so many advantages."
Close cooperation as the key to success
As a smiling Linder points out, there were more than a few challenges to overcome before moving in to the two new buildings at the end of 2019: "We were totally set on an autumn move, so the schedule was very tight." Close cooperation between AMAG and Alfred Müller AG enabled efficient execution and coordination of the basic and tenant fit-outs. "The fact that both were handled by Alfred Müller AG as general contractor proved a major advantage. We had the same contacts for the tenant fit-out as we did for the basic fit-out, so they were already very familiar with the project. That was key to how we accomplished so much within one year," he says in positive retrospect.
"The fact that Alfred Müller AG as general contractor handled both basic and tenant fit-outs proved a major advantage. That was key to how we accomplished so much within one year."
Personnel feel at ease
As feedback shows, AMAG personnel are very satisfied with the new headquarters. They particularly praise the varied modern workplace options and the staff restaurant. Just a few months in, Thomas Linder, like many of his colleagues, is very content with the new work environment in the Helix – despite a longer commute. "Although the new location means getting up an hour earlier, I really enjoy working here. The new building offers so many advantages: we are now all in one place, for example. Face-to-face dialogue is so much easier and faster because of this." And he is already glancing ahead: "When summer comes I look forward to occasionally hiring an e-bike over lunchtime and going down to the lake." Once again in keeping with the motto: "Moving people means keeping nimble."