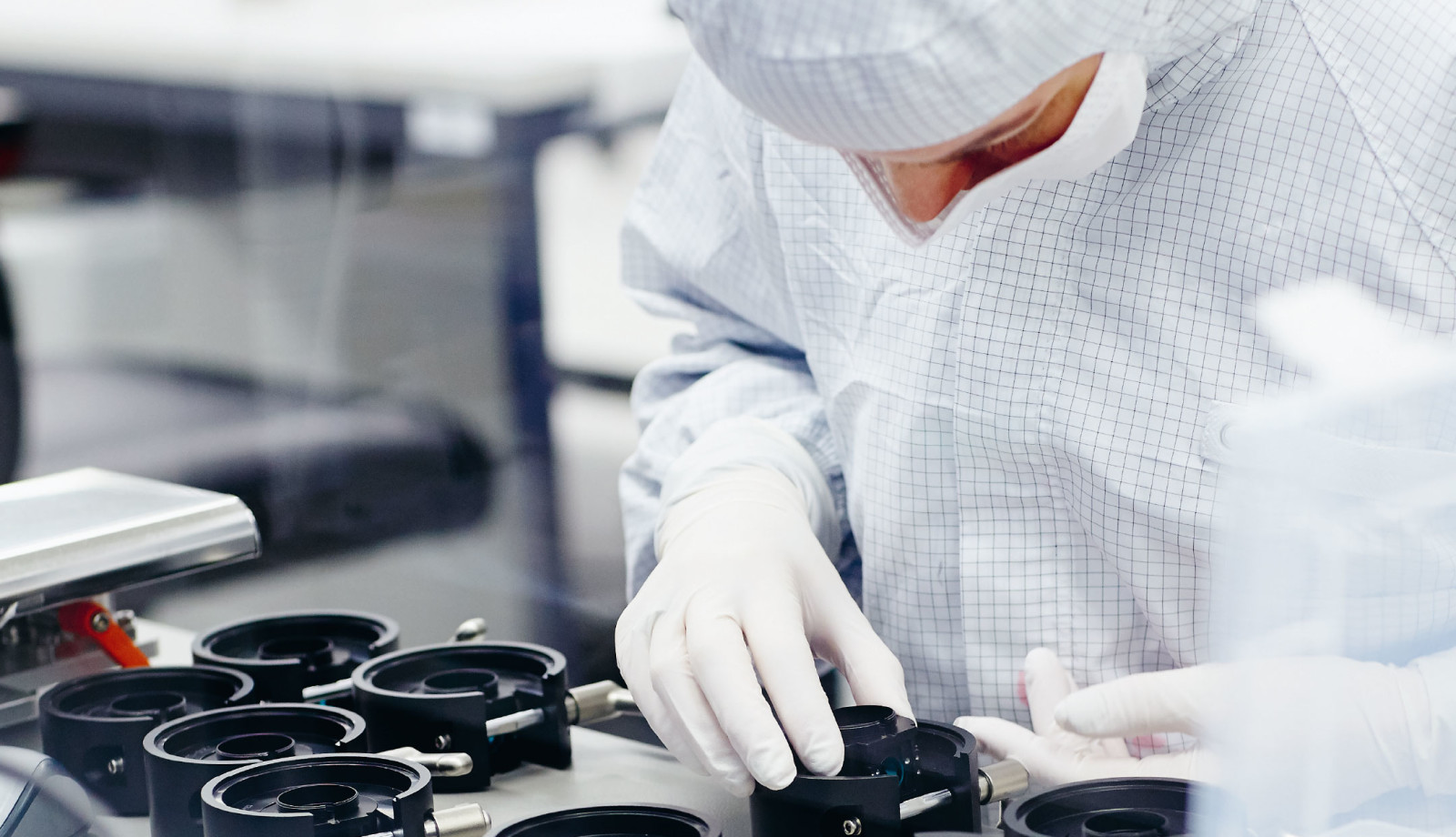 Article
Even innovation needs tradition
Even innovation needs tradition
The Dietikon company Optotune, founded in 2008 as a start-up of the Swiss Federal Institute of Technology (ETH) in Zurich, has made a name for itself in the field of adaptive optics. In a short time, it has grown to become one of the world's leading companies in the field of flexible optical components. Dr Manuel Aschwanden, CEO and co-founder, explains how innovation occurs and why traditional values are still important for a Swiss company operating internationally.
What began in 2008 as an ETH spin-off with a team of three people, continued its exciting development in Dietikon, in an office building owned by Alfred Müller AG. Today, over 110 members of staff work at the headquarters – and that figure is constantly increasing. The company, which develops optical components such as variable lenses for the medical, industrial and consumer goods market, is highly innovative – and paves the way for innovation on the part of its clients with its intelligent products. This is because the revolutionary lenses are used in new types of optical system solutions such as laser scanners and cameras that are used in self-driving cars, for example.
Switzerland is known for its capacity for innovation and inventive talent. Which innovation of recent times has impressed you the most?
Dr Manuel Aschwanden: I'm excited by the running shoe of the On company. I know the co-founder David Allemann personally. A positive person with clear vision who, with his two partners and a simple technical solution, namely a sole made from cut-up garden hoses, has revolutionised the global market in running shoes from Switzerland. And that's in an area where I thought there was no more potential for innovation. Running shoes are not exactly a scarce commodity.
Are you also a positive person with clear vision?
I hope so. My strength is in identifying gaps where, thanks to a good technical understanding, I recognise what is possible. I often have to solve complex tasks. That's only possible with a positive outlook.
Your company, Optotune, is one of the ten most innovative start-ups in Switzerland. In 2014, the company won the Young Company of the Year award at the Swiss Economic Forum. What do you put the company's success down to?
We have always listened to our customers. It is my long-term vision to build such a good reputation that customers who have a problem at system level and need clever optical components, think of us and commission us to carry out the development. For I believe this is precisely how innovation occurs: when our sales engineers hear about a problem from a customer and work out an idea to solve it. We had a technology as an ETH spin-off. But we quickly had to recognise that you can only sell a product – not a technology. You have to identify the gap and not shy away from also filling it. If you are then able to win people over with clever design and quality, you'll be successful as well. But that only happens step by step.
What are you especially proud of?
I think we have one of the best engineering and production teams. The fact that many of our customers come to us time and time again with new assignments and challenges is confirmation of that. We have succeeded in building a team that is proud of what it does. They all have drive and work as entrepreneurs. We actively encourage that. I don't want us to turn into a corporation in which everything is prescribed from the top down. I want to uphold the pioneering spirit we had at the start. It's fascinating to see how many new ideas we still have after ten years, and how they are opening up new markets for us.
Optotune was founded in 2008 in the middle of the financial crisis. Did it take an extra dose of courage to go to market with a start-up in such a difficult environment?
No, it wasn't a bad starting position. Many good engineers were looking for a job. In addition, it took us a couple of years until we had the right product. And we knew that after a crisis, there will be an upturn at some point. So we didn't form the company in the financial crisis, but in the subsequent recovery. We were lucky that we had a good business plan and were able to win a few competitions.
"It's fascinating to see how many new ideas we still have after ten years, and how they are opening up new markets for us."
After ten years on the market, do you still see Optotune as a start-up?
Our turnover is too high for a start-up. I refer to us as a small company that is growing. The image of a start-up is useful in the beginning when you're looking to recruit people with a certain mind set. As soon as you're working with large companies, you should drop this image. That applied to us too. We often deliver components into systems with which our customers generate hundreds of millions of francs in sales. If we didn't exist anymore, that would rock their existence too. The challenge of gaining their trust is something we have had to master step by step. Today, big customers trust us – and they pass the word on. In the very small global optics industry, this is a huge advantage for us.
How exactly do you make use of this space?
Around half of it is normal office space with meeting rooms, a third is used for production and warehousing, and the rest is used as the development environment. But things are already getting tight again. We have rented a second site in Frauenfeld, covering an area of around 3,000 square metres. We are growing extremely strongly, and the question of how we handle space is a huge challenge. We are lucky that we have a flexible partner in Alfred Müller AG, who enables us to arrange the rooms just as we like.
According to a study by the Swiss Academy of Engineering Sciences, fewer and fewer Swiss industrial companies are investing in research and development. What impact does this have on a country's capacity for innovation?
That is a massive risk. We see this when we compare America with China. Ten years ago, it was only the Americans who were really driving innovation. For four or five years, Chinese companies have suddenly been coming up with ideas that we have never heard of. The reason? China had cheaper workers for its production. But then they needed process engineers, came up with the idea of co-developing products, invested and have driven innovation forward step by step. In America, exactly the opposite has happened. Production has disappeared and the process expertise has been lost. Today, real innovation on hardware components in the optics industry is no longer happening in America. The knowledge has gone. If people no longer know how to do something, then entire industries are lost. We are trying to redress the balance by creating and producing something in Switzerland. With our technology.
"If people no longer know how to do something, then entire industries are lost."
What traditional values define the corporate culture of Optotune?
Reliability and quality. These are important traditional values for us. In Asia, Switzerland has a reputation for being reliable and delivering good quality. We have to live up to that reputation. Because even if we are operating internationally, we identify as a Swiss company. A lot would have to happen for me to agree to move our headquarters abroad.
About Optotune
Optotune is an international optics company with its headquarters in Dietikon. The company develops, produces and sells optical components in the medical, industrial and consumer goods market. It began with a team of three people. Today, around 60 engineers from ETH Zurich and EPFL Lausanne, as well as 50 other members of staff work at the headquarters in Dietikon, where they produce both niche products as well as large, fully automated production runs in the millions. Optotune has opened a branch in Slovakia to manufacture products with a medium-sized production run (upwards of 100,000).