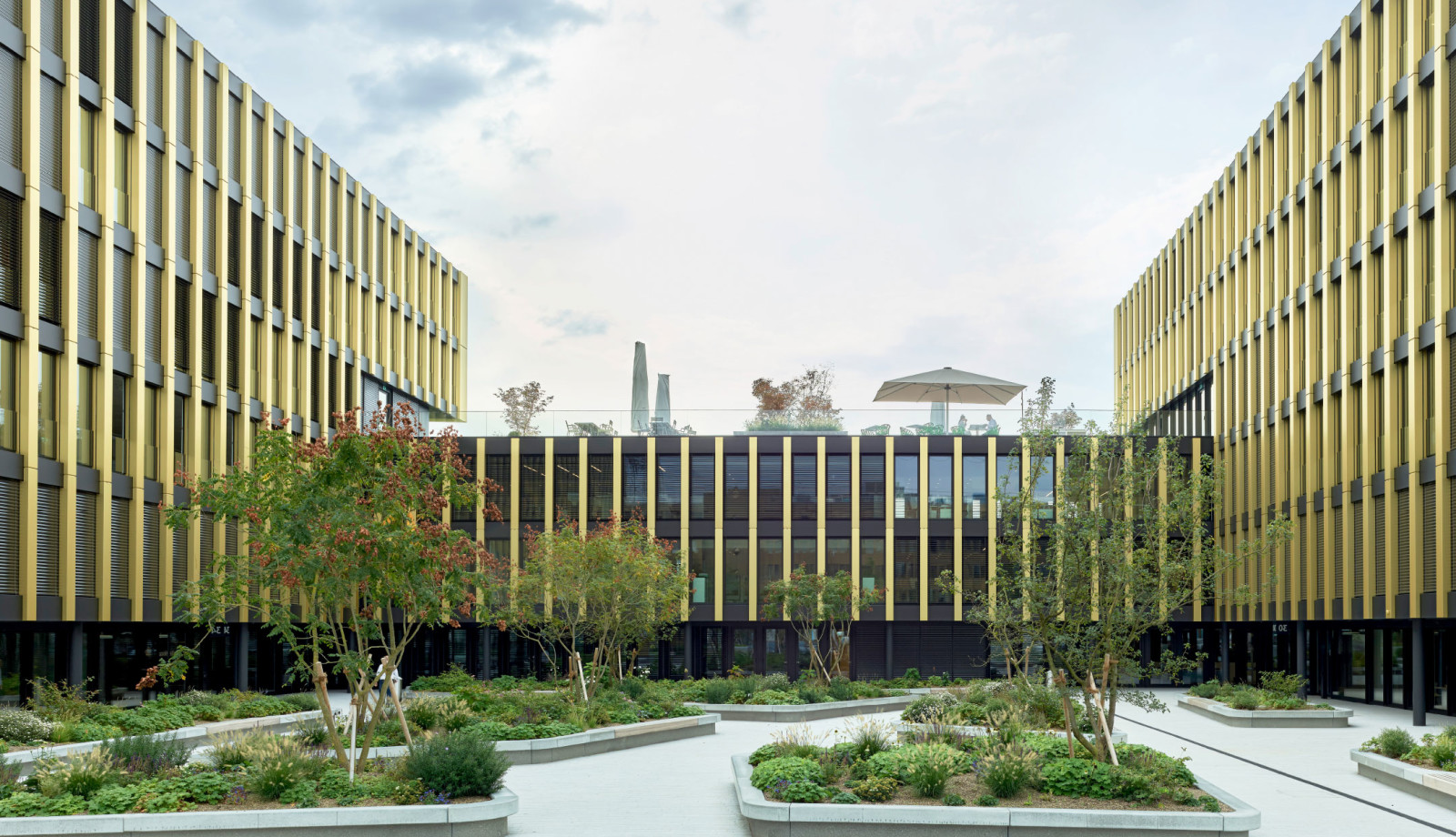 Article
"The Quadrolith was a perfect fit"
"The Quadrolith was a perfect fit"
In the summer of 2018, Biogen International GmbH moved its headquarters from Zug to Baar where the company found representative new premises in the Quadrolith office building. Here, it can bring all employees working in the region together under one roof and underline its leading position in the field of neuroscience. Biogen promotes internal cooperation with an advanced spatial concept. "This is the only way we will we be able to advance into previously unexplored areas," stresses Dr Alessandro Marcuzzi, member of the managing board and Location Head.
A move is a very complex project for a company. What made Biogen decide to relocate?
There were several reasons. For one thing, the former premises in Zug were not very modern and no longer met our requirements. The decisive factor, however, was our teams: rather than being all together in one building, they were spread across several properties. Close cooperation within teams and across departments plays an important part in Biogen's business model. In addition, we were growing as a company and this led to capacity bottlenecks. Sometimes, we really had to look hard for spaces where our new hires could work. So, we were scouting for a new location that would offer us enough in the way of space and reflect our position as a successful neuroscience company.
Why did you choose Baar and the Quadrolith office building?
We wanted to stay in the Zug area because this has developed into a pharmaceutical hotspot. We chose the Quadrolith because its modern architecture represents the progress and innovation that we are all about. Furthermore, it provides sufficient space for our needs today as well as for future growth. The fact that we could participate in the development of the floorspace right from the start and give shape to many of our wishes was a further advantage: for example, we were able to construct a large town hall where we could bring many people together and also hold international meetings via video stream. Furthermore, we now have our own staff restaurant, a bar for quick breaks and a gym. The Quadrolith was a perfect fit in itself, and from the timing angle.
How many employees work in the Quadrolith?
Biogen employs about 400 people in the Zug area. Two thirds of them are already here, while another third will move to the Quadrolith in March/April 2019.
"The Quadrolith represents the progress and innovation that we are all about."
What optimisations did you achieve by moving to the new office building?
A central ambition of ours was to bring teams together and have people who must work together closely also be able to sit together. We weren't just interested in expanding capacity in the sense of larger floor areas where we could install more desks. It was about our people having the opportunity to work together and increase efficiency as a result. Things like open space and collaboration are important for us, a philosophy we embrace worldwide.
Of course, we also took this opportunity to bring our technology up to date. We have made large investments with a view to installing even easier and more efficient systems. These matter to us because we have many international departments and employees here who report directly to the USA. Now they can conduct video conferences with all our offices worldwide. They only need to connect the computer and press a button: the meeting has already been reserved, and the video conference is of the highest quality.
What were the important things about the layout of the space?
It was clear to us that the spaces had to be open. Collaboration is key for us because, as a pioneer in the field of neuroscience, Biogen seeks to push into areas where no one has ever researched before. We can only accomplish this by demolishing the bunker set-up and working together across borders. In the Quadrolith, nobody except the Legal & Compliance team has their own office, not even the executives. Which teams should sit together, and how, was a complex task that kept us busy for several months. Together with the department heads, we defined the spaces and facilities at the various levels.
How did the employees view these plans?
We communicated openly about the project from the outset, actively involving employees and asking them to share any concerns with us. In the initial phase, our architects conducted interviews across the hierarchy to grow acquainted with employees' wishes and needs. For the general finishings – choice of floor coverings, furniture, etc. – we involved as many as 30 employees in the role of "change agents". We held almost weekly meetings with them where we presented our ideas as well as the proposals from our architects and Alfred Müller AG; the change agents also participated in the final decision-making process. Like this, we achieved broad acceptance while making sure that everyone knew what the new premises would look like.
"Open space was an emotional topic for many employees."
Is open space working a new thing for employees?
Open space is a development that transitions from I towards we. This was nothing new for around one third of the people, while for many it was still an emotional topic with concerns about acoustics, privacy and so on. That's why it was so important for us to involve people and build not only meeting rooms but also sufficient retreat space at all levels. Our architects dealt in depth with the acoustics with sound-absorbing floor coverings, lamps and other measures, and they have created a very good environment.
What's the feedback from employees?
Very positive, even from the strongest sceptics. On the one hand, this demonstrates change management's success at getting people on board. And on the other, the concept itself has also gelled – which is far from given in a project of this size. There were no unpleasant surprises, and this is also proof of the very good cooperation in the project team and with our partners, Alfred Müller AG and Unispace Global AG, who supported us through the planning process and during implementation.
Has there been the desired change towards stronger collaboration since the move?
Yes, you can feel that people are coming together and that we have succeeded to some extent with demolishing departmental bunkers. It is already evident that efficiency has increased. Employees from various departments meet in the third-floor recreation areas, at the coffee bar and on the terrace in the warm season, in the restaurant, along the corridors and so on. Since the move, I personally have gained acquaintance with several employees of longer standing who I had never actually met before. That's very gratifying.
Is there still room for improvement?
We are currently in fine tuning mode: air conditioning, acoustics, lighting, those kinds of things. We are still open to feedback from employees and issue them with an update every two weeks. We continue to receive a lot of feedback and try to address issues that are relevant to the whole company. An important topic for us is of course the "second phase", relocating the rest of the team to the Quadrolith in March/April 2019. Then we will all be united under one roof.