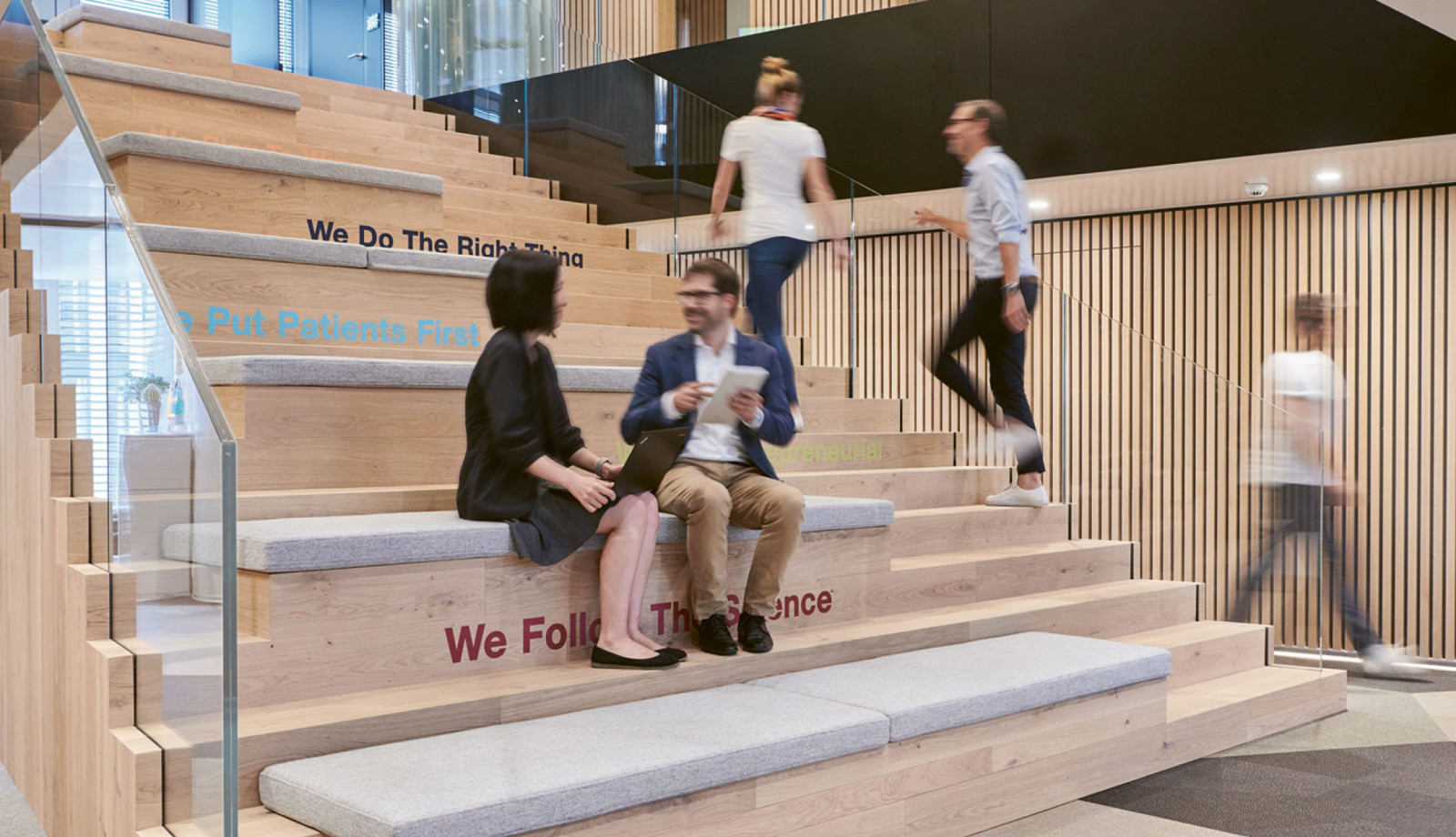 Article
A spatial concept for lively collaboration
A spatial concept for lively collaboration
Encouraging collaboration among employees has a firm place in AstraZeneca's corporate culture. A spatial concept that both encourages collaboration and facilitates concentrated individual work has been implemented in the international biopharmaceutical company's new office space in the Quadrolith building in Baar.
Capacity problems at the previous company location in Zug were one of the top reasons why AstraZeneca Switzerland embarked on the search for a new headquarters. Furthermore, there were plans to relocate additional employees in international and regional functions. It was an easy management decision to stay in the canton, explains Andrea Mugan, Country President Switzerland: "We appreciate the advantages of the Zug region, which has developed into a flourishing centre for international pharmaceutical, diagnostics and biotechnology companies as well as other innovators. Here, we can inspire further outstanding talent for our company. And our employees greatly appreciate being able to maintain a good work-life balance in the Zug area."
A spatial concept to foster collaboration
Like the former location, the new company headquarters needed proximity to public transport. But firstly, it would have to meet requirements such as adequate floor space and parking facilities, a fair cost-performance balance, good lighting and indoor climate conditions, and scope for installing state-of-the-art technology and IT systems. AstraZeneca also wanted to seize the opportunity of implementing a spatial concept that would fit with the company-wide iWorks workplace strategy. "The new location enabled us to implement iWorks as collaboration is playing a key role within the company culture. Collaboration is strengthening our innovation power," Andrea Mugan emphasises. iWorks focuses on the activities taking place in various work areas – general office work, discussion, concentrated individual work and teamwork. Numerous meeting, teamwork and retreat rooms are available on all floors for this purpose. "The strategy enables us to create spaces that meet employees' needs and give them freedom to choose the appropriate space based on their preferences and type of activity."
"It is a privilege for all of us to work in this environment."
Multifunctional wooden staircase as a connecting element
At the Quadrolith of Alfred Müller AG in Baar, AstraZeneca found an office building able to meet the requirements for available space, workplace strategy and outfitting. Internal access from the third to the fourth floor also became possible. "This 3rd to 4th floor connection was important to us, to foster collaboration. The wooden staircase is also used for our monthly employee assemblies. With multifunctional space, we optimise the utilisation of what we have available."
"Our employees enjoy the atmosphere"
The company's 142 qualified and motivated employees moved into the building in the summer of 2018. "This innovative, high-grade and efficient working environment was designed by our local focus group, our internal project team and the architect – and it is a privilege for all of us to work here," says Andrea Mugan enthusiastically. "Everything worked fine from day one. Our employees appreciate and use the variety of rooms available and enjoy the pleasant atmosphere." Minor difficulties were immediately resolved thanks to a committed project team. Structured feedback from employees is steadily gathered in order to improve the working environment further still.
"Everything worked smoothly from day one."
Team areas, but no fixed workplaces
Working in the openly designed spaces is no problem for the employees. "Most were already accustomed to working in open-plan offices," Andrea Mugan reports. What was new, however, were the freely selectable workplaces, a concept that applies to employees at all hierarchical levels: everyone works in a "neighbourhood" belonging to their department but not at permanently assigned desks. Andrea Mugan sees advantages in this concept: for example, it caters to the specific and changing needs of sales representatives and part-time employees. And it certainly also has a positive effect on the cost per workplace. "Even more important is the fact that this unassigned desk concept inspires our employees to interact with their colleagues and to learn from each other."
"We were very satisfied from day one"
Altogether, the Country President for Switzerland is enthusiastic about the new premises: "We are very happy, and the initial feedback from our employees is highly positive. We did not face any major issues. With projects such as these, not everything always goes as planned. At every phase, we appreciated the open and solution-oriented mindset of all involved. This led to an excellent result for which we want to offer thanks."