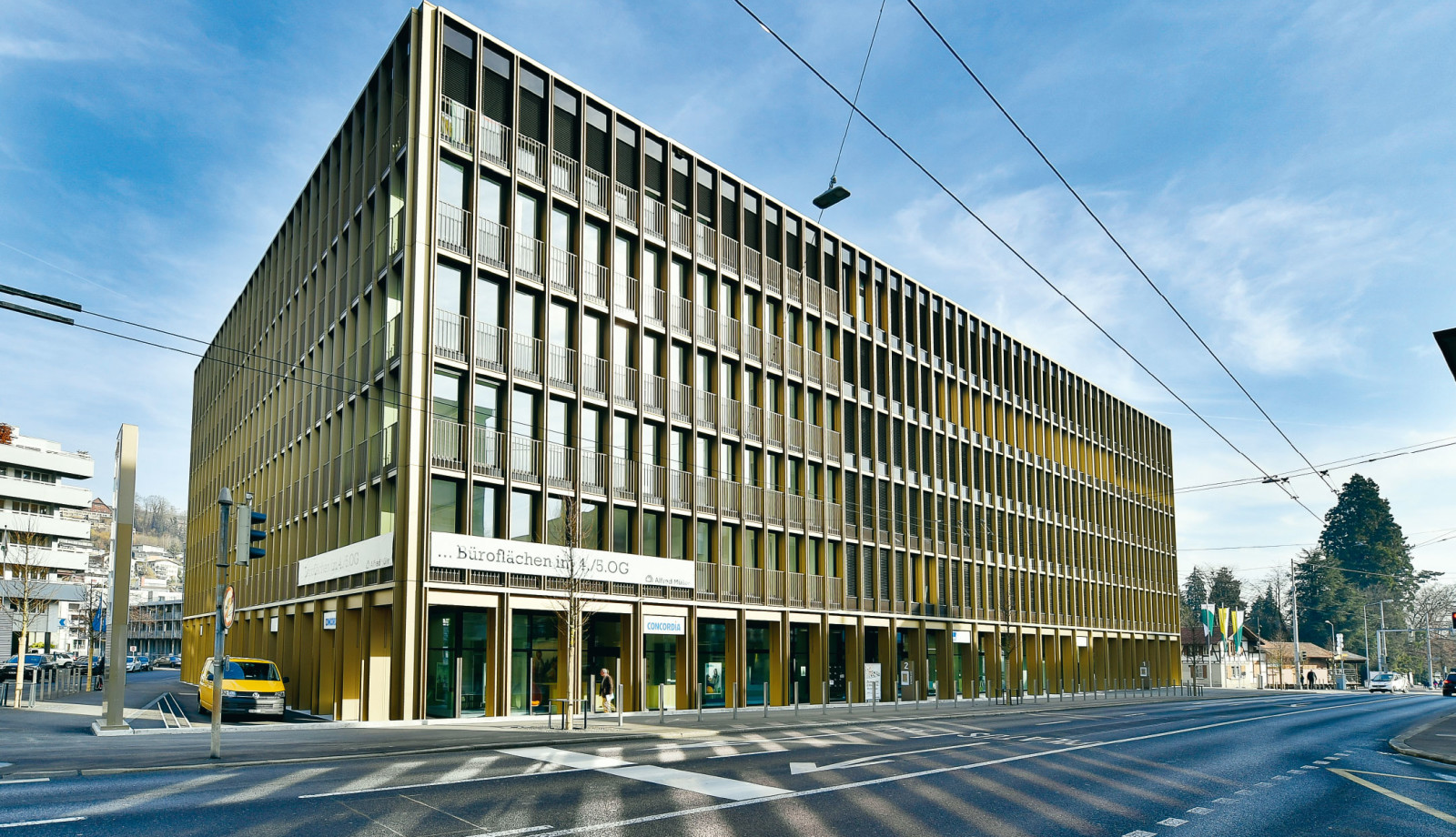 Article
Interior Design as Expression of a Brand
Interior Design as Expression of a Brand
Capacity constraints led Daniel Müller, manager at Axa's Kriens General Agency, to look for a new location for the office. Axa found commercial space for all its needs at the Pilatus Centre.
Alongside size, additional deciding factors were important in the evaluation. The market leader and provider of comprehensive private and corporate insurance solutions was looking for suitable available space near the city centre that conveyed status, was ready for immediate occupation and fulfilled the company's future strategic requirements.
Digital consultation requires a modern client area
Axa wanted modern open-plan offices along with a welcoming and open space for clients which also included a spacious reception area. In this, they've succeeded. A simple yet cheerful design lights up the attractive client area, which serves as both contact and information point.
After a warm welcome, customers are ushered into a bright consultation room. Consultations at AXA are now increasingly paperless with the help of tablets and screens, but still with a personal touch. "We want our customers to feel comfortable here. It's therefore important that the ambience matches the brand and the modern consultation style. The old offices were our home for over 20 years. We needed to change in order to make the move to the new approach to consultation more of an experience for our customers," says Daniel Müller.
A wide parquet staircase leads to the open-plan office on the upper floor. Today, our employees are grateful for the amenities that this modern open-plan office offers, even if there was a lot of scepticism at first.
A good spot to discuss: Daniel Müller in conversation in one of the consultation rooms flooded with light.
"A simple yet cheerful design lights up the attractive client area, which serves as both contact and information point."
A novice relying on a professional partner
Daniel Müller well remembers the 18-month planning period, in which all parties put lots of effort: "We started more or less at square one. It was my first time as a client of a building project. Having no experience, I had no idea what I'd be up against. We discussed various drafts with the architect and revised these many times until we had a plan that was perfect for us. And then when you stand in the space it's all different again. It was a remarkable moment, internalising and experiencing this sense of space, which had been planned and created over many months." He smiles, adding: "It turned out much better than I'd imagined!" Various factors were decisive for the positive result: "Early planning, proactive communication from the client and experienced site and project managers about whom I had a good feeling. I always knew the current stage of the work and sensed that Alfred Müller AG had everything under control."
"We're delighted to be making our dream office a reality with this reliable partner."
The importance of a solutions-based approach
Daniel Müller reports that nearly all of the defects that were flagged up at the handover have been remedied. "This is very pleasing, with the result that all our employees now feel comfortable in the Pilatus Centre and are proud of their modern and prestigious workplace. Happily, Alfred Müller AG is already working on the problem of poor mobile phone reception, so that an improvement is expected soon here as well. We feel that we're taken seriously as customers and appreciate their cooperative, 'can do' attitude. We're delighted to be making our dream office a reality with this reliable partner."