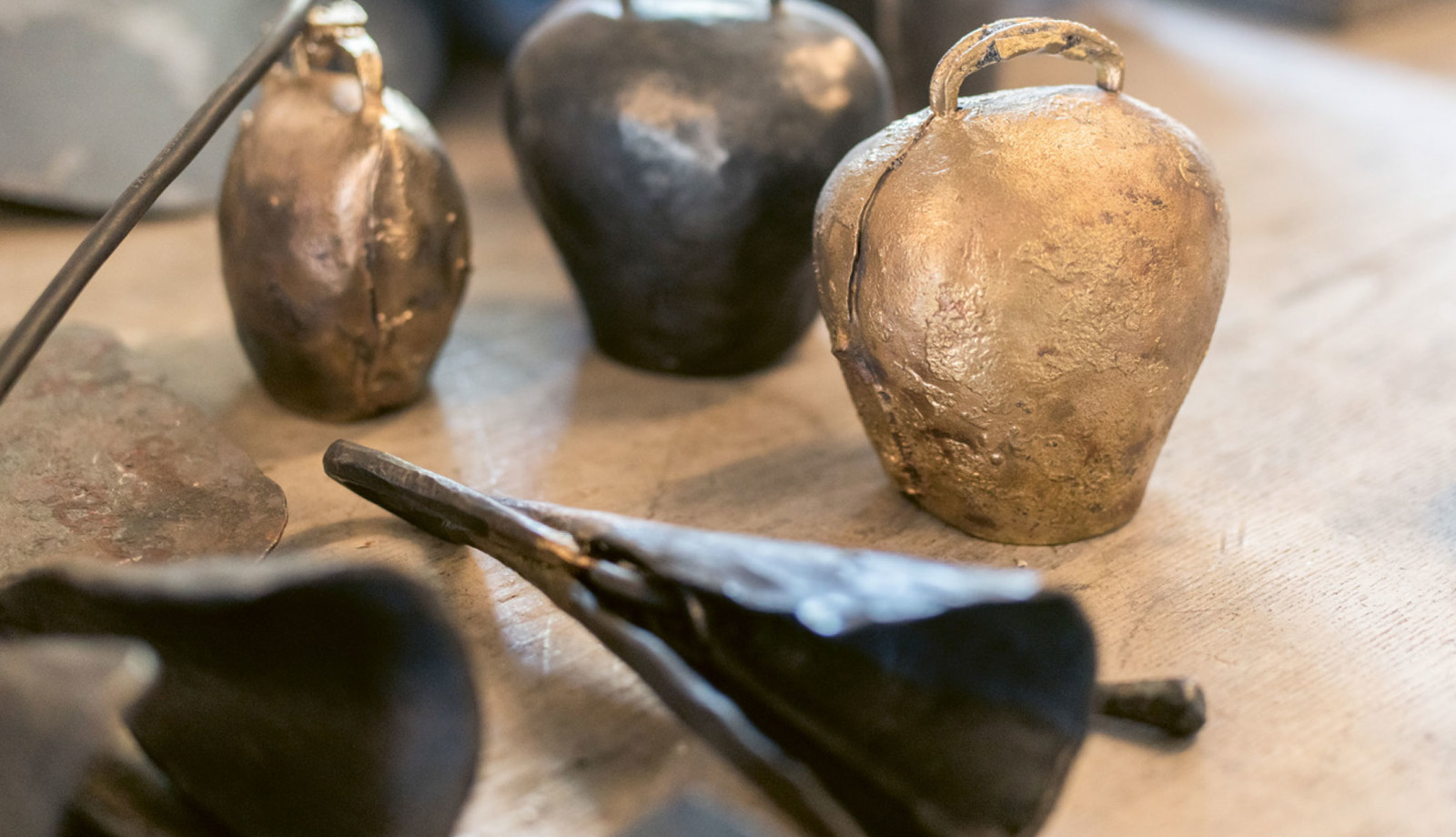 Article
Where bells ring and time stands still
Where bells ring and time stands still
Apart from the many alternative working models and new prospects offered by digitalisation, this development begs certain questions in particular: what will happen to traditional crafts? Are there jobs that are completely immune to the wave of digitalisation?
These questions take us to the Klangschmiede (sound foundry) in Toggenburg (canton of Appenzell), where the hammer sets the pace and time seems to stand still. The status of craft professions is again on the rise – because good craftsmanship will also be needed in the future. Where fine results are only possible when people work with their hands and their five senses, modern methods are slow to become established. René Soller is convinced of this. He is one of three bell founders who brass plate using fire. And he is fascinated by his profession, in which digitalisation plays only a minor role. The bell founder loves interacting with the glowing iron and his heavy tools. His hands are black, but his eyes shine when he abandons himself to the power of his imagination and loses himself in the creative process to the rhythm of the anvil.
"The artistic part is more about the object that's being created. But to create art, I need craftsmanship."
It was also this love of creative work that led him to become a metalsmith three years ago. After more than 30 years in healthcare, most recently as an instructor, he gave up his job, took the plunge and became self-employed. As a metalsmith – without being able to foresee whether his courage would be rewarded with enough work and secure earnings.
The self-taught metalworker's passion was ignited in 2005 when he visited an exhibition staged by a blacksmith in the next village and was allowed to wield a hammer. It was love at first strike. Thereafter, René Soller taught himself metalworking. For four years, he did this in his own garden. Later, in his neighbour's shed, where he was able to set up a forge. He acquired a forging flue from an old iron merchant. He also attended courses. One of them influenced him in particular: he learnt ergonomic and labour-saving forging methods with an Israeli blacksmith in Germany. "The best course I ever did," Soller affirms.
Training positions for metalworkers have become a rarity in Switzerland. A total of just 22 apprentices completed their training in 2018 – including farriers, who represent a discipline in their own right. Nonetheless, René Soller is convinced that the blacksmith's profession will still exist in 20 years. "It's more a question of how certain upheavals will change the job," he adds. René Soller is not at all concerned that there will be a lack of restoration work, because the objects exist – and sooner or later will need to be restored. "Metalworking will find a new language. Also in the artistic field." In René Soller's opinion, nor will the farrier's profession die out as orthopaedic knowledge is needed for the farrier to ensure that horses find their optimum stride. Machines are not yet capable of adapting this knowledge to suit each individual case.
Creativity – from planning to installation
For René Soller, taking the step away from a secure profession with an extensive network to the uncertainty of self-employment has been worthwhile: together with his wife, he runs Kreativschmiede Soller in the canton of Thurgau and also works at Klangwelt Toggenburg as a bell founder, providing guided tours and giving bell founding courses. He is never bored as no two days are ever alike. Only the moment when he fires up the oven is always the same. René Soller looks forward to it day after day as he is greatly fascinated by fire. "I can't forge without fire. When the fire's blazing and things heat up, that's when I come alive."
Besides his enthusiasm for this unique craft, René Soller is also fascinated by his work with clients. The widest variety of people come to the metalworker with individual requests. For example, homeowners who need objects that cannot be bought off the peg. Recently, it was a grille to protect a decorative fountain. Creative work takes time. A blacksmith must know what he wants to make and how he can achieve the desired result. The work begins with the planning and ends with the installation.
"Metalworking will find a new language. Also in the artistic field."
Calm and craftsmanship
There's practically nothing made of iron that a blacksmith is unable to work into the right shape. Sometimes with traditional, sometimes with modern techniques. However, the basic techniques have changed as little as the tools. Between the hammer and the anvil, time seems to stand still. René Soller enjoys the calm of the workshop, far away from the world of modern business, digitalisation and the permanent state of flux, and declares: "Being in a rush can be hazardous. Generally, forging doesn't happen faster if you're in a hurry. Far from it. There's a great risk you'll forget something." Is he referring to the second iron? Sometimes, he does indeed have two irons in the fire. "But in those cases, nobody is allowed to disturb me while I'm working. Otherwise one of them is sure to burn." A blacksmith must always keep an eye on the fire because working with metal requires complete involvement in the process.
This is also why he has never wished he could shape a bell by mouse click rather than with sweat and tears. The skilled craftsmanship required to produce a bell is what makes it so appealing. "A bell from a 3D printer wouldn't sound the same," he explains. "Metalworking alters the structure of the metal. The compression results in completely different sounds. You have to understand the shape. And a printer isn't capable of that yet." In any case, René Soller sees himself more as an artist, although he specifies: "Or an artist craftsman. It's both. The artistic part is more about the object that's being created. But to create art, I need craftsmanship."
The slightly built blacksmith's movements look so easy that it's easy to forget what a backbreaking job he does. But René Soller puts it in context: "Technique is much more important than strength. If I do it right, the hammer dances all by itself." René Soller forges the bells as two separate halves in the fire, which can reach temperatures as high as 1200 ⁰C. They are then plated with brass in a clay cope. It took the persevering blacksmith a great deal of practice to master the process. The Klangschmiede is one of the few places where the demanding process of brass plating by fire is applied. This is why René Soller came to the Toggenburg in the first place. Because he was looking for somebody to teach him this art. Somehow, he ended up staying and has since then become an indispensable member of the Klangschmiede team.
"The skilled craftsmanship required to produce a bell is what makes it so appealing."
Vocation or luck
But does everyone forge their own destiny? René Soller replies in the affirmative: "I agree with that. We have the option to decide in every situation in life. That's why it's up to us if we're happy or not. Of course, there are external influences that can't be changed. But all the same, there's plenty of scope for taking our own decisions. Even in difficult circumstances. I see that when I'm forging as well as in other situations in life." He's speaking from experience. He has never regretted the decision he took three years ago to turn his professional life completely upside down. The courses he gives at the Klangschmiede confirm his decision every time: "It's incredibly enriching to see how happy people are working with fire." And after our visit to the Toggenburg, it's clear that there will be a place for craftsmanship in the future. Craftsmanship has a soul. It speaks a language of which no machine is capable.
Traditional ceremonial bells
Manufacturing traditional ceremonial bells is the most prestigious discipline in metalworking. When the cattle descend from the mountain pastures in autumn, the heavy bells are worn with pride by the first three cows. These bells are tuned to the 6th, 7th and 8th notes of the harmonic series. This is achieved by brass plating them in the fire after forging. It is this alloy that produces the singing overtones, and it requires a great deal of technical skill to produce.
Klangwelt and Klangweg
The Toggenburg is characterised by its own, original musical culture that is strongly rooted in the local population. Klangwelt (world of sound) offers unique experiences related to sound, resonance, traditional customs, the voice and many other topics in sound courses, on the Klangweg (sound trail) from Alt St. Johann to Iltios, at festivals and concerts, as well as in the Klangschmiede.