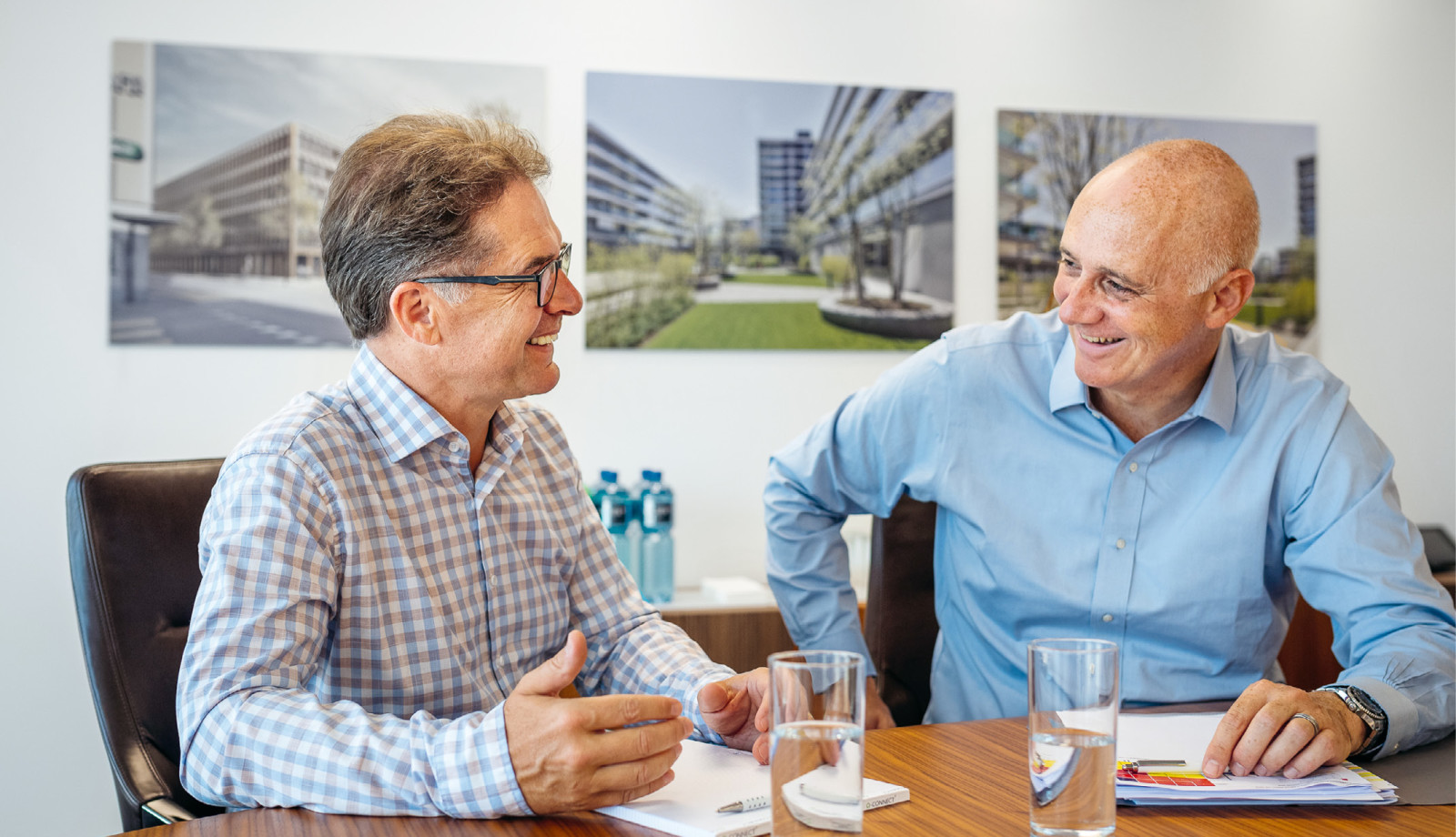 Article
The growing importance of partnerships
The growing importance of partnerships
In times of growing dynamism, how can real estate projects be successfully realised? Christoph Müller, Chairman of the Board of Directors, and David Hossli, Chief Executive Officer, on the feel-good factor, new types of rental contracts – and interesting co-working concepts.
The world is becoming increasingly mobile. Is property about to change hands more quickly too?
Christoph Müller: Owners of residential property still tend to stay where they are, whereas tenants have become more mobile. And companies are no longer so strongly attached to a single location. Increasingly, company units are being relocated and locations merged. For us, it's important that office buildings be as flexible as possible to enable companies to adapt their spaces to changing needs.
David Hossli: From my point of view, the market is becoming increasingly dynamic. This has led to new attitudes among our office space tenants. For us, this means that we must react even more flexibly to changing market requirements and anticipate developments. The increasingly dynamic environment is affecting not only companies and their employees, but all of us in our private lives as residents. In the past, for example, anyone who was able to build a house would do so once in their lifetime. Today, things are different.
"Especially in today's changing times, people are looking for a place where they can feel comfortable."
How is residential space changing? Is there a need for greater flexibility?
David Hossli: We're confronted with a pronounced individualisation and pluralisation of lifestyles. There are fewer tenants and buyers than ever. People live in different phases and situations of their lives, and their needs are correspondingly diverse. We have to take this into account when designing our products and services. We have achieved our goal if users feel that the design concept has been realised with them in mind. This will also help us to achieve success in our marketing activities. In terms of implementation, this means, for example, that we not only need apartments of different dimensions, but that they must be variable, and their rooms must be usable in different ways. They should also differ in price and style. But you have to understand that there are limits to flexibility. Some properties last 100 years. It's impossible to anticipate the developments of several future generations. In my opinion, however, a cleverly designed, well-built house will remain marketable for a long time to come, and will also allow for certain structural adjustments. Think of those old industrial warehouses that are so sought after as loft spaces today.
Christoph Müller: I think it's important to bear in mind that not everything changes. A good price-performance ratio, an optimum floor plan and a central location remain important decision-making criteria for anyone choosing an apartment.
Let's talk about office space. At the moment, everyone's talking about co-working. How important is this concept for you?
Christoph Müller: A distinction must be made between offices in which individuals rent space flexibly and take the opportunity to collaborate, and open-plan company offices that can be flexibly designed. In my opinion, the former is co-working, and the latter is open-plan office space. Open-plan offices without permanent workstations have been on the rise in recent years, but we were already building offices like that 15 years ago. On the other hand, we continue to create one- and two-person offices for large companies. We also implement co-working concepts in some larger buildings. However, they are currently less important in our overall portfolio.
"Unconventional rental contracts tailored to new needs are gaining in importance."
What is the most important trend in commercial buildings and workspaces?
Christoph Müller: Another trend is sustainability – not only in ecological, but also in social and economic terms. To attract the best talents and to promote performance and collaboration, companies are placing their bets on inspirational workspaces. Employees should feel comfortable – almost at home. Communal areas and other factors that contribute to a pleasant atmosphere, such as good lighting, precise ventilation and high-quality outdoor spaces, are therefore becoming increasingly important.
David Hossli: I'd say that the range of needs in the world of work has also become broader and more varied, even if some trends aren't all that new. As a service provider, we must also develop a wide range of solutions in this area. The multifunctional buildings that we've realised and continuously developed since the 1970s provide the basis for this. The success of the Quadrolith and Helix office buildings in Baar and Cham, respectively, proves that we're on the right track.
Will new products emerge in the future? Which services and contract models are in demand now that greater flexibility is required?
David Hossli: It's obvious that new products are needed; this is a result of changing market dynamics in the wake of globalisation, digitalisation and greater mobility. Unconventional rental contracts tailored to new needs are becoming increasingly important. For office buildings, we may still have 70 per cent of conventional rental contracts in the future. However, shorter-term contracts are gaining in importance. In co-working, these already start by the hour and can be extended to a duration of several months or a year. Services are also changing. Here the question arises as to which services are paid on top of the rent. These can include anything from cleaning and secretarial work to legal advice and IT services.
Christoph Müller: We're considering a co-working concept in a large office building in Schlieren.
David Hossli: A tenant has vacated a building there that was built to his specifications in 1991. The property is well connected to public transport and is part of our portfolio. With its open spaces and large atrium, it's well suited to a co-working concept. We've decided that we want to implement a co-working concept together with a partner who has the necessary expertise. Working in partnerships – that's also likely to become more important in the future.