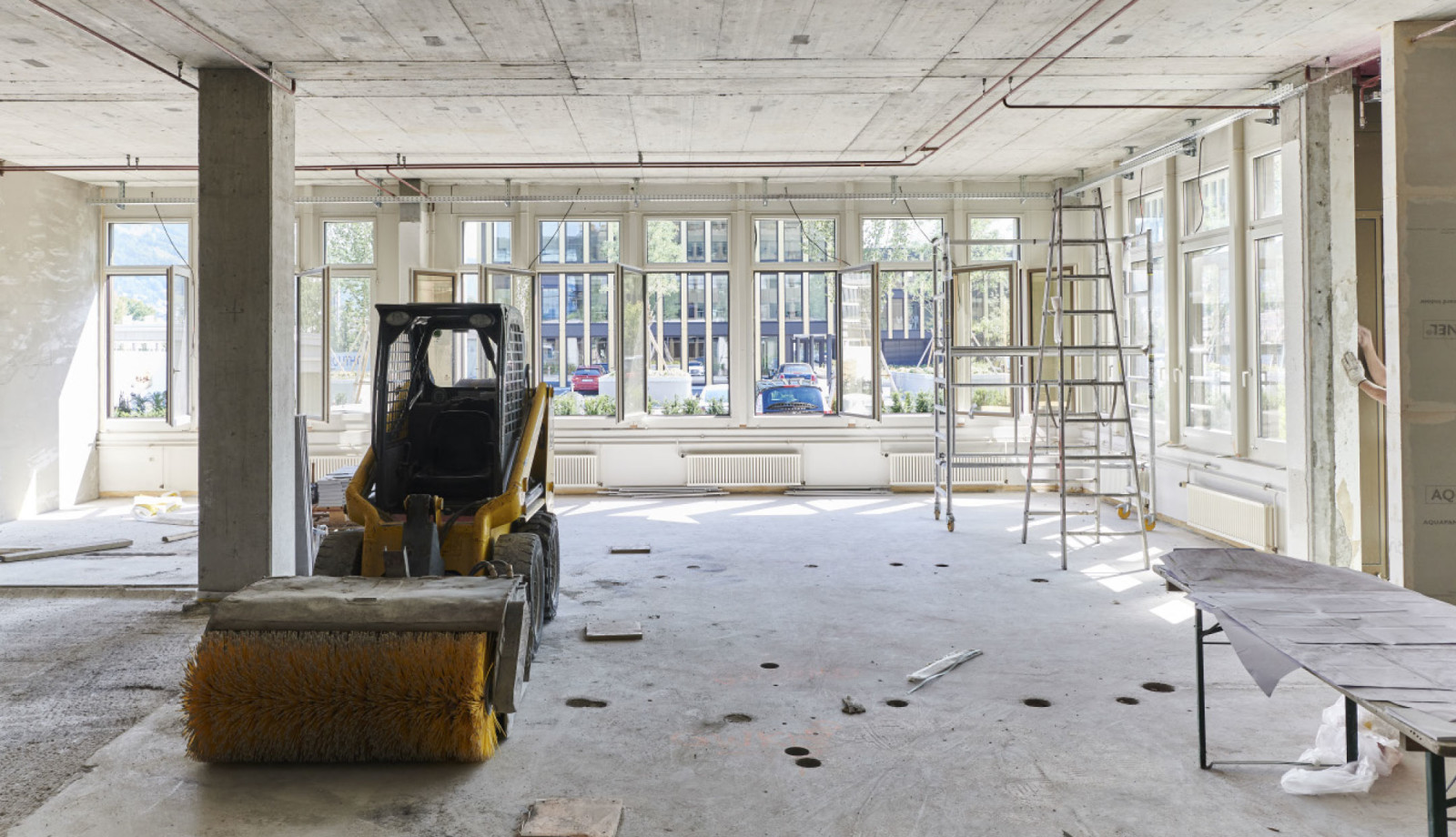 Article
Careful maintenance – and the occasional facelift
Careful maintenance – and the occasional facelift
An important source of income for Alfred Müller AG is the company's real estate portfolio, comprised of around 140 properties. The fact that these are in demand despite their increasing age is no accident.
Since the company was founded in 1965, Alfred Müller AG has always included some of the buildings it has constructed in its portfolio. This is particularly true for commercial properties, which have been marketed very successfully since the 1970s when the company's multifunctional commercial building concept was an innovation in tune with the times. Over the following years, flexible real estate with a good cost-performance balance went up along traffic arteries across the country.
"We must align our properties with customers' needs."
Careful maintenance achieves great things
With steady maintenance, Alfred Müller AG ensures that even its older buildings deliver a well-kept and up-to-date impression. "A lot can be achieved with judicious maintenance and repair strategies," emphasises Michael Müller, a member of the Management Board and responsible for the real estate and financial portfolio. As a son of the company founder, it might be said that he grew up with these properties. He and his team ensure that they stay marketable and that the company can achieve its targeted return. Each has a property and investment strategy drawn up for it, based on detailed market analyses. "Here we define, for instance, the return, the target groups and the price segment," explains Michael Müller.
The company has its own professionals who manage and market the portfolio. This ensures that holdings are kept under regular and systematic review, not only in terms of the state of the property but also tenant satisfaction. "We consider it a great advantage to have all our competencies under the same roof. Intensive exchange between portfolio management and our in-house real estate management puts us close to the market and gives us a very good feel for customer needs," says portfolio manager Beat Furrer.
Sometimes it takes more than cosmetics
Despite good care, interventions that are more than skin-deep are necessary at certain intervals, as well as minor repairs and broader facelifts. "We strive for full letting of our properties and want long-term tenant satisfaction. To achieve this, we must regularly align our properties with customers' needs," explains Michael Müller. "These days, many tenants of working spaces ask for maximum spatial and temporal flexibility. Open space, co-working, shared office, flex office are the current catchwords. Spaces that can be quickly and easily converted are very popular," adds Beat Furrer. Meanwhile, demands on interior design and comfort are rising – some key points here are air conditioning and energy efficiency. "The challenge lies in implementing all this while maintaining a good cost-performance balance."
Change of tenant provides opportunity for major refurbishment
With larger renovations, sufficient preparation time must be taken into account. This is why Alfred Müller AG makes an early and thorough analysis of buildings with a "critical" life cycle and takes the necessary investment decisions in good time. As the spaces are rented out, it is often only possible to carry out renovation work little by little. From this point of view, a major change of tenants can present an opportunity for a thorough renovation. Alfred Müller AG had this opportunity at the Neuhofstrasse 8/12 office building in Baar (see box). "When a longstanding tenant moved out, we could take this property built in 1990 and put it on track for the next 20 to 30 years," says Beat Furrer. All the interior fixtures, electrical and technical systems were stripped out, the inside of the building modernised and adapted to market requirements. Thanks to its skeleton construction, the future tenants have a great deal of interior design flexibility. The building services installations were completely renewed and the customer's request for air conditioning was implemented. Up on the roof, a photovoltaic system was installed to feed green electricity directly into the building. It supplies the restaurant on the ground floor as well as the technical installations. Hot water and heating are provided by a bivalent system with an environmentally friendly heat pump using air as its heat source, which is supplemented by a natural gas heating system at peak consumption times.
The property in Baar is a good example of how Alfred Müller AG's multifunctional real estate can be reshaped to meet the demands of the future.
A distinctive restaurant for the Neuhof neighbourhood in Baar
A unique cooperation is taking shape in the Neuhof district of Baar, where the zuwebe association and Alfred Müller AG are joining forces to open the Story staff restaurant. It is scheduled to start operating in January 2019 and will be run by people with and without disabilities.
The Story is set to be a modern self-service and take-away restaurant offering a varied and healthy lunch menu. In the mornings and afternoons, the Story will be just the place to enjoy a cup of coffee, have a short meeting or chat with colleagues in a casual setting. The Story is a space for enabling contacts, encouraging encounters and maybe will also play a part in some completely new stories.