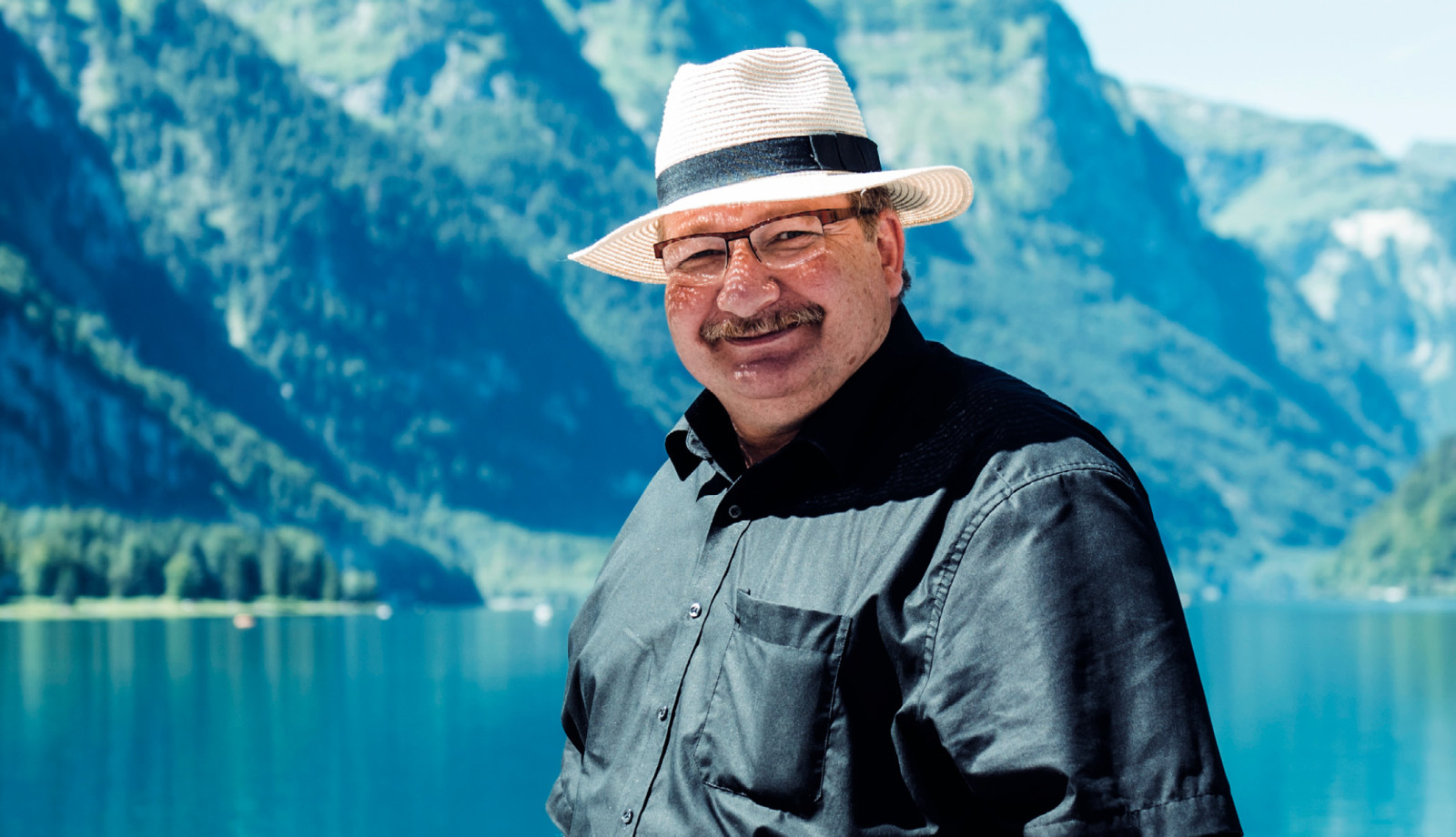 Article
"Staying in the background was no problem for me as a man"
"Staying in the background was no problem for me as a man"
For 28 years, Martin C. Mächler lived in different countries all over the world. The writer, columnist and comedian has accompanied his wife throughout her career as a staff member at the Federal Department of Foreign Affairs. Despite countless wonderful experiences, just a few months after returning home to Switzerland, he says: "I never want to live abroad again."
You moved abroad for the first time in 1991 – to Vienna. How did that come about?
My wife and I were young at the time, and we both wanted to go abroad for an extended period. We had thought about emigrating to Australia, but didn't have the financial resources to do so. We came across an advertisement from the Federal Department of Foreign Affairs (FDFA) looking for staff for its secretarial service. My wife applied, got the job, and we moved to Vienna a few months later.
That wasn't exactly a culture shock, was it?
Compared to Ethiopia, where we went later, certainly not. But the culture is still different to Switzerland. I remember going into town and seeing a poster saying: "Vienna is different." That's really true. But of course, people speak German (grins).
Where did you live after that?
After Vienna, we went to San Francisco, thereafter to Addis Ababa, Milan – where my wife changed to the consular service – Sofia, Moscow, Berlin and Seoul.
You accompanied your spouse. Were you also able to find work in the different countries?
The options were limited due to my wife's work. Sometimes I took on certain duties for the embassies or consulates, and of course I supported my wife. However, I was mainly active as a writer, and I also did a lot of voluntary work. That kind of life is always trying for couples; we saw many relationships break down. I always say that it either works or doesn't! It's been working for us for 33 years. Because of my various projects and commitments, staying in the background didn't cause me any problems as a man.
"Staying in the background was no problem for me as a man."
Tell us about your writing.
I write detective novels. I published my first book while we were in Sofia. I had the good fortune to meet a professor of German studies. He was a cultural attaché for Bulgaria in Switzerland and a professor of German studies in Sofia. He gave me advice. I have since published five books, including the world's first scent thriller, which I developed in collaboration with Roger Ryner. In this crime novel, the culprit can be identified by means of scent. From the initial idea to publication, it took Roger Ryner and me about three years of work. We spent hours searching for suitable fragrances that could also be distinguished from one another. It was a lot of work, but it was a lot of fun, too!
"I've published five books, including the world's first scent thriller."
Just now, you listed the cities where you and your wife lived. Not all of them were exactly ideal holiday destinations … Did you have any difficult experiences?
Addis Ababa was really tough. War broke out between Ethiopia and Eritrea shortly after our arrival. Although the war was mainly fought along the border, we always had to be ready to leave and were practically trapped in the city. For security reasons, we were hardly allowed to travel; nor were we allowed to walk longer distances within the city. In our spare time practically all we could do was invite or visit friends. As a permanent state of affairs, that was very tough. If you haven't experienced it yourself, you can hardly imagine what life in a war or crisis zone is like.
"The threat hung over us like the sword of Damocles."
Even in Moscow there were times when we didn't feel safe. There were three separate bomb attacks in places in whose immediate vicinity my wife or I had been either shortly beforehand or afterwards. The threat hovered over us like the sword of Damocles.
Where did you like best?
I couldn't say – there was something wonderful about every country – even Ethiopia. For example, my wife and I think that Ethiopian cuisine is excellent. And judging by the few excursions that we were able to make at the time, I can say that the landscape is stunning. In South Korea, I particularly liked the island of Jejudo. The social structure on this island is matriarchal – you can feel it. This is due to women diving for seafood, which has enabled them to acquire freedom and economic influence. It was incredible to see 60- to 70-year-old women staying under water for several minutes at a stretch.
"I was twice Ethiopian Bowling Champion."
You volunteered in different places – what kind of commitments were these?
In San Francisco, for example, I worked for the Marine Mammal Center in Sausalito, the world's largest hospital for marine mammals, as the driver of a rescue team. That was an exciting task! In Addis Ababa I trained young people between 12 and 18 years to play bowls. I had started bowling in San Francisco and had become so good that I was able to play at national level. And when I saw that bowls was also played in Ethiopia, but that no one was training young people, I said to myself: I'll do it! So, I trained young people free of charge twice a week. There was an open championship in which everyone could participate. I was twice Ethiopian Bowling Champion and qualified for the World Championships in Las Vegas, but I didn't go because it would have been very expensive, and I had only just qualified.
Are there any moments that you will remember especially?
Yes, there are several. I met a great many very interesting people. I had the opportunity to get to know fascinating personalities at events held in the Swiss agencies, but the most impressive encounter I had was at a bowling alley in San Francisco, where I trained regularly. One day a man who looked very familiar was playing on the track next to me. I thought: It can't be him … He was wearing jeans and a flannel shirt – nothing out of the ordinary. After I had made several successful strikes, he came up to me and introduced himself: "Hi, I'm Clint." It really was Clint Eastwood! He asked me for tips, and so I ended up spending an entire afternoon with him. We played, had a beer together, chatted. We didn't talk about his films, although I'm a fan of his. We just talked like normal people. That was a really special experience.
"Clint Eastwood came to me and asked me for bowling tips."
What significance did home have for you during your life as a nomad?
In our living room, we always had three large crystals from the Gotthard region and several engravings depicting Swiss motifs. When you came into our living room, you were in Switzerland. We needed that. We didn't buy any African or Asian furniture or Russian icons. The only pieces of foreign furniture from all our time abroad are two Ethiopian coffee tables. But what we always had to have with us was the Zyliss onion chopper – there's none better (smiles). Nor could we do without Aromat and Migros's meat seasoning powder. If visitors asked us whether they should bring us chocolate, we always replied: "No, bring Aromat or Bündnerfleisch."
"Bring Aromat or Bündnerfleisch."
This year you returned to Switzerland after 28 years abroad. What was that like?
My wife was transferred to Berne in May 2019; I came back a little earlier to organise certain things. It was a relief to be back in Switzerland. But we've also realised that it isn't that easy after 28 years. You have to relearn certain things – such as how to deal with the authorities. But also how to deal with people. While we were abroad, we often had to be very careful. Here we have to learn to trust people again. We know from experience that it will take about a year to settle in.
"In Switzerland we're having to learn to trust people again."
Will you settle permanently in Switzerland?
My wife and I both grew up in the canton of Glarus. We've seen some incredibly beautiful places all over the world, but it was always clear to us that we would come back to Switzerland and settle here. We've had a holiday flat in Glarus since 2008. For us, it was always important to have a retreat where we could feel comfortable and that would allow us to maintain our social relationships in Switzerland. I've always cultivated my social life; in fact, I'm known all over Glarus (laughs).
Perhaps you'll soon tire of your settled life in Switzerland?
I've sworn to myself that I won't be sitting in planes for the rest of my life (smiles). There's so much in Switzerland and our neighbouring countries that we haven't seen yet. We need to make up for that now. We may get the travel bug, but I wouldn't want to live abroad again.