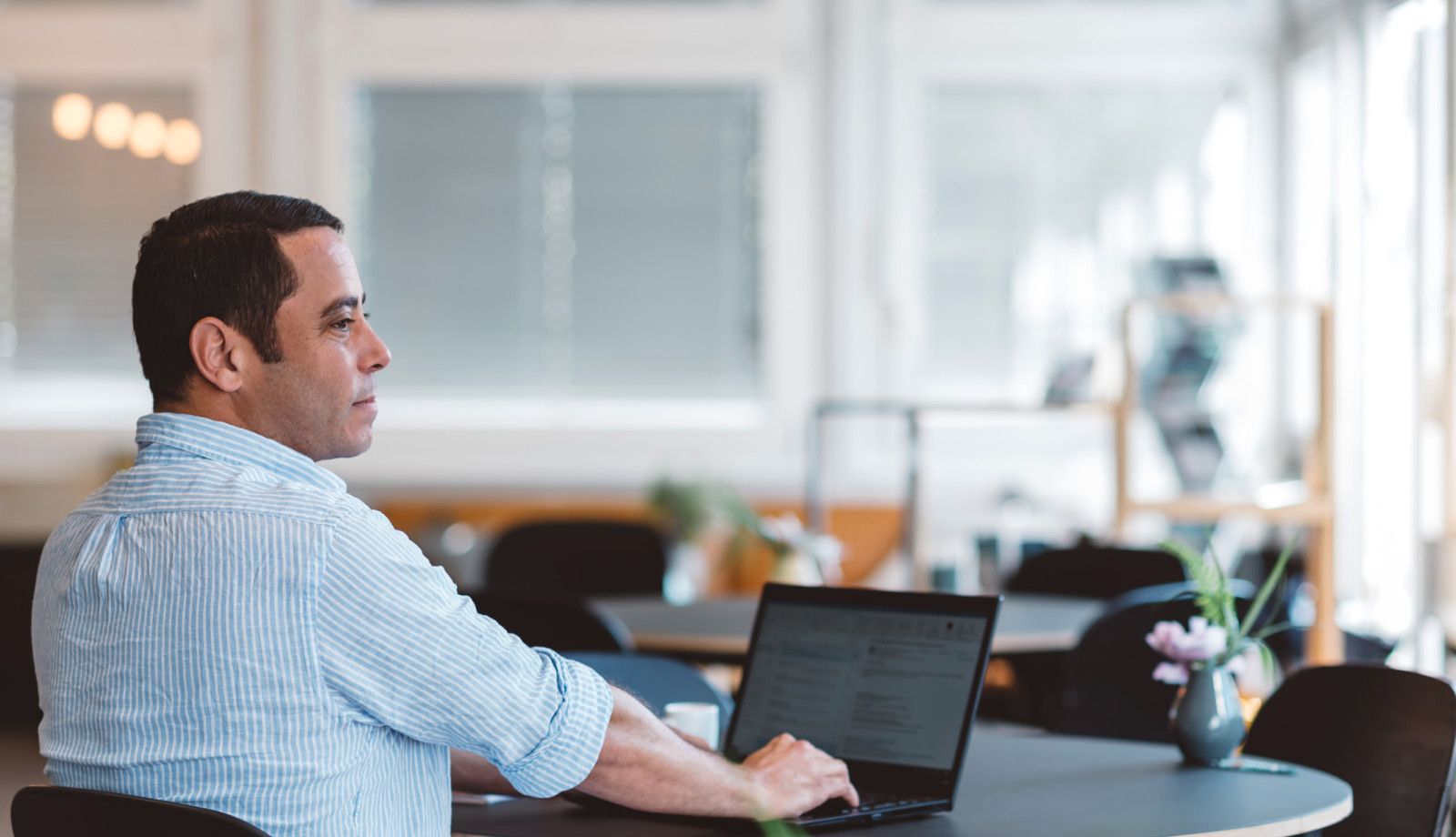 Article
"Micro-entrepreneurs are my heroes"
"Micro-entrepreneurs are my heroes"
Philipp Toth was born in a Brazilian favela in São Paulo, adopted by German parents and grew up in Europe. With his software "heymate – the digital handshake", he intends to give micro-entrepreneurs in his former home country and the rest of the world a tool with which they can carry out all tasks before and after any thinkable freelancer and side hustler job – just via their mobile phone. He explains how this works.
Your start-up company is headquartered at Crypto Valley Labs (CV Labs) in Zug. Why did you choose this location and range of services?
The boom at the Crypto Valley only really started four to five years ago, after the Ethereum Foundation had settled here. The pull was very strong, start-ups came here from all over the world, and in the meantime more than 600 have settled in the Crypto Valley, which is an immense growth curve.
In my professional life, I travel a good deal in China, Latin America and the US, especially in the megacities, which have an enormous draw for people. The Zug/Zurich region is also one of these, which is unusual in that it isn't the number of people here that's impressive, but rather the degree of innovation, the skills concentrated here and the inspiring atmosphere. And, of course, the good quality of life. You come here and feel comfortable!
CV Labs is certainly the number one company location for young blockchain or DLT ventures here in Europe, and probably even worldwide. I appreciate the drive of the place. Every entrepreneur is here. It really has developed into a kind of ecosystem: I've already met two or three investors on the terrace of this office. A Zug-based law firm specialising in blockchain topics comes here regularly and offers its services to start-ups. The same goes for Falcon Private Bank, which specialises in crypto assets. You meet like-minded people, and partnerships emerge that I wouldn't find in a traditional office. I think it makes a lot of sense for a real estate company like Alfred Müller AG to be present in this setting with an offer like this in the LG site near Zug station.
In the past, deals were often sealed with a handshake. You advertise that heymate is reinventing the handshake. Can you explain that?
Today, the freelance and sharing economy, also known as the gig economy, suffers from great inefficiency. It used to be different: with a handshake, everything that was agreed was valid. Simple, easy and trusted all over the world: the good old handshake! Today you need to have legal understanding or lawyers, banks or credit cards, paper contracts, and often many trust-building meetings. With our solution, we try to recreate the simplicity of the handshake. Blockchain technology is helpful for this. Digital solutions enable you build the necessary trust – and also recreate the simplicity of times gone by.
And how does this work specifically?
Imagine us getting to know each other, it doesn't matter where, on one of the many platforms like Facebook Marketplace, tutti.ch, Craigslist or Nextdoor. But what happens if you like a product or service that I offer there? When it comes to initiating business, we have to get to know each other first, because nobody wants to work with someone they can't gauge. Then we need a contract. I draw it up and send it to you by email. You sign and scan it, and then send it back to me. You can make this much more efficient today using existing technologies.
Even when our agreed deal or job has been completed, the wretched inefficiency continues: an invoice is created in word.doc and sent by email in a time-consuming process. Then everyone checks their e-banking to see whether the payments have been executed correctly. These "post-deal" administrative processes can also be fully automated so that our micro-entrepreneurs can concentrate fully on their actual "paid work". More paid work increases the average hourly wage – and fewer unpaid business initiation and processing activities allow more time for family and friends!
What is heymate's greatest advantage?
With heymate, micro-entrepreneurs can avoid major media disruptions. Inefficient activities on the phone, scanners and emails are no longer necessary. Nor are paper contracts, banks, lawyers or face-to-face meetings. You have everything on your mobile phone and can concentrate on generating real income!
Is that secure?
Yes, thanks to the latest blockchain technologies, all micro-entrepreneurs worldwide and their customers can, without intermediaries, directly enter into contracts for simple, digital agreements for:
• on-demand freelancing such as gardening, baby- or dog-sitting,
• short-term rentals of assets such as vacant flat-share rooms, unused lawn mowers, or
• the sale of items such as used cars or bicycles, or homemade cakes.
The same applies to the processing of contractually agreed payments such as advance payments, escrow solutions and final transfers. This is only possible today because blockchain offers solutions that create the trust and security that the "trustworthy intermediary", such as the lawyer or the bank, used to provide.
Who should use your product?
Our target group are micro-entrepreneurs. With heymate, we want to give them a tool that helps them to do what they became entrepreneurs for: to earn a sustainable income with their talents, experience and assets. They can initiate and administer business efficiently and will have more time for their paid work or leisure.
"I believe it is time to focus on the world's most inefficient resource: people with their entrepreneurial skills and talents!"
With companies like Uber and Airbnb enabling us all to use cars and homes more efficiently, me and my founding partner Frank Hartmann believe it's time to focus on the world's most inefficient resource: people with their entrepreneurial skills and talents!
Is the product already on the market?
After one year of testing and development, we now have released V1 into the iOS and Android and entered into the tuning phase until we found for heymate the perfect product/ market fit.
With our first software release, the key heymate features can be used. Today, with heymate V1, everybody can:
a) Create an offer for services
b) Distribute it through every social media channel such as Facebook Marketplace, LinkedIn or Twitter or distribute it via every mean of messenger, email services or other installed app
c) Formulate and agree on the T&Cs of its individual gig contract ...
d) ... and get ready for working!
e) All cashflows such as upfront payments, escrows and fund transfers are executed fully automatically and based on the agreed contract T&Cs
But there is still a lot of work to be done and much more to come! In our current phase, we test our product with the first customers, who regularly give us feedback: what needs to be changed? What do they want? What doesn't suit them? We work with these early adopters until they say: "My life can't go on without heymate!" Because if they say this, I can assume that other micro-entrepreneurs also like the product. Once the pilot phase is complete, we'll start the international roll-out by making our API-integrated contract and payment solutions available to all micro-entrepreneurs worldwide on Facebook Marketplace, Craigslist & Co.
When will you be ready?
We are ready! The app V1 can be downloaded and used. At the moment, through intensive customer testing (so-called design thinking sprints), my goal is to build the first 100 "heymate lovers" – people who no longer want to work without our product. Because I'd rather have 100 users who say: "I can't work without heymate" than a million who think heymate is "just okay". These 100 will recommend my product, come back and use it regularly. The rest would be here today and gone tomorrow: "just okay" isn't enough for me!
"My goal is for everyone to use heymate in the future to monetise their talents and experiences entrepreneurially and efficiently."
Do customers subscribe to your product?
No, it's an app where you only pay a small fee when you use it. We want to relieve the burden on micro-entrepreneurs so that they can use our product to carry out all business-initiating and subsequent administrative activities efficiently and in a time-saving manner. Their customers pay a small transaction fee via bundled pricing.
At the same time, heymate users will in future be offered tailor-made gig economy products via integrated third-party providers: short-term insurance for work, equipment, damages and loss of earnings, as well as microcredits for their entrepreneurial expansion, but also discounted work equipment.
A gig economy academy supports micro-entrepreneurs with lucrative business ideas as well as the exchange of experience among like-minded people. What works well here in Zurich might also work well in Mumbai, São Paulo or Cape Town. Our micro-entrepreneurs aren't in competition with each other because they all operate in local micro-markets and can therefore stimulate other micro-entrepreneurs worldwide without cannibalising themselves!
In the past, such a product would have been developed in isolation. This seems to be different today.
Yes, I've also had the same experience: you didn't tell anyone anything and developed your concept in the hope that you would enter the market with the perfect product. That can work, but it can also really go down the drain because you don't know what the customer wants. Modern product development works very differently. You go out as early as possible, talk to people as much as possible and get feedback. I work very closely with the users, who, to be honest, actually develop the product for themselfs! I then try to find the intersection of all user needs and wishes – that would be the product that hopefully turns many customers into the heymate lovers I mentioned earlier.
Aren't you afraid of imitators?
If my product is easy to copy, then I have to ask myself if it's really perfect. As the founder, I'm in love with my "baby" and work on it 24/7. People who listen to me and like my idea still won't have the vision and motivation that I do. I prefer to talk to people and get their feedback, because my goal is to develop the best product in the world. This will prevail on the market. Copies have always been worse than the original, especially when it comes to ideas "Made in Switzerland"!
How did the business idea come about?
I've had several experiences that have inspired me. Once, I arrived in São Paolo on Sunday and had several meetings lined up on Monday morning. But I still had to wash and iron my shirts. All the laundrettes were closed. I wondered why I should wait until the laundrettes reopened, so I went and rang doorbells in the neighbourhood. I knew there were washing machines and found that everyone was happy to do my laundry for a small fee within four hours. I noticed that there was a need for this peer-to-peer business. The housewives I asked almost entered a bidding competition. This example shows that there are micro-markets, and I'm convinced that their economic importance will increase all over the world.
Why are micro-entrepreneurs so important to you?
I was born in a Brazilian favela and was very lucky to be adopted by German parents and grow up in Europe. Most people in the favelas never get this chance. In the favelas, there are many people who have no education, but many talents. They have a hard time gaining a foothold in the conventional job market, but they are the perfect freelancers! However, they're often unable to draft a contract and have neither a bank account nor a credit card. If you give them the opportunity to use their talents and experience to generate a small business income, then you're helping where it's most needed.
The same applies to refugee camps. People are confined to a very small space; there's no supermarket and no company, but everyone can do something, and everyone needs something. The point is to make this situation more stable with legal institutions such as contracts, but also to make transactions possible. In a refugee camp, there is usually no cash and there are no cash dispensers, so other options are required. For that, heymate is perfect: it not only works here in Zurich, but can also be used worldwide. My goal is to reach as many micro-entrepreneurs as possible. Ideally, everyone will use heymate in the future to monetise their talents and experience in an entrepreneurial and efficient way.
Has heymate helped you make a dream come true?
I always dreamt of being an entrepreneur. I invested many years private equity, was an investment banker and management consultant. I enjoyed it and was able to learn many things I need today to build a business. Now, I am very lucky to be in the right place at the right time with the right product and the right team.
I notice that as an entrepreneur I work even harder than before. But it makes a huge difference whether you do something for yourself, something you've chosen yourself and that helps you and others get ahead, or whether you're just serving the status quo in a large company. It's intrinsic – I don't even notice that I'm working. I do what many people would like to do, but which few actually do because they don't have, the opportunity, the idea or the courage. I developed my vision through experiences like the one with the laundry in Brazil, discovered a market and analysed it. Now I'm making the best of it.
Do you still have a relationship with the favela?
I still have a close relationship with the favela in which I was born. When I moved back their first time after my A-levels for some voluntary work, I realised what a huge chance I had been given. At the time I thought that I wanted to develop something with which I would not only do myself a favour, but also other people who had less luck in life than I did: the micro-entrepreneurs who make money with talent-driven services are my heroes and have my support!
I was once on the road with an Uber driver who told me that he could sing extremely well. I encouraged him to do something with his talent. A short time later I met him again. He had already been engaged as a singer at private birthday parties and was able to earn 100 or 200 euros per event, much more than before in his role as a "untalented" Uber driver.
Unfortunately, most people today are still tied to fixed job descriptions: you deliver food or drive people from A to B. This isn't how talent is used. Every human being has talents and special experiences with which they could earn perhaps even more money than with a conventional job. And in any case, it creates more pleasure and quality of life if you earn your money with something that you do well and enjoy. And in my opinion, that's the major driver of the freelance and sharing economy. People concentrate on what they do best and try to get even better – rather than just doing something that's "just okay".