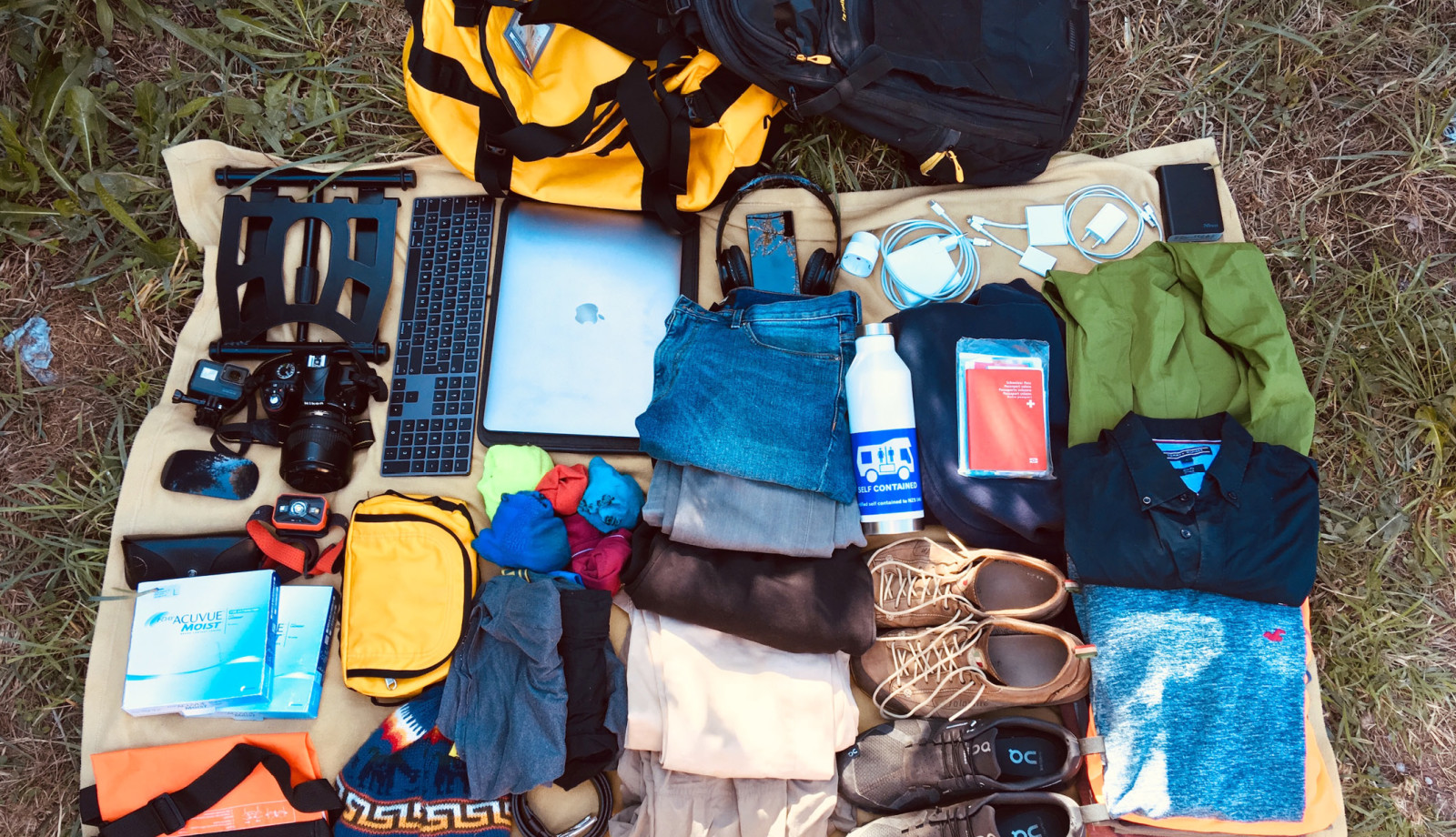 Article
"I can organise every day just as I like"
"I can organise every day just as I like"
Michael Hörnlimann has been travelling around the globe for about two years. As a digital nomad, he works independently of his location and can combine his work with his passion – travel. This summer he told us about his unusual life. (The interview was conducted in writing.)
Michael, where are you right now – perhaps in the Bahamas?
No, far from it. I'm currently in La Punt Chamues-ch in the Upper Engadine. I've been here since 1 July and am staying until the end of the month, so for exactly 31 days. I chose this destination because I found a great Airbnb here and have known the landscape in the Engadine very well ever since my childhood.
You've been living your dream and combining travelling with working since April 2018. How did it all start?
In the summer of 2016, I came across the event "6 years of world travel – the hottest gap in your curriculum vitae" on social media. I was immediately grabbed by the idea. I bought a ticket and attended the event, which was hosted by the German Nick Martin in Zurich's Volkshaus. He talked about his travels and experiences for about three hours. He also talked about working on the road.
That triggered the first step for me. Thereafter, I explored the subject more thoroughly.
Do you still have a fixed address?
Yes, in Kloten with my parents. I am there from time to time to visit them. My one-man business is registered there.
What do you like most about digital nomadism?
The freedom. I can organise practically every day the way I want and decide when, where and how I want to work. Of course, this also requires a lot of discipline, because after all, the principle of "no pain, no gain" applies even to me.
What are the greatest disadvantages of this lifestyle?
For me, it's clearly the solitude. I often find that strangers or friends I tell about my life for the first time react with "Oh, mega cool!" or "I want that too!" But I don't think that this lifestyle is by any means suitable for everyone, and it also involves certain restrictions and sacrifices.
I mostly travel alone, which can be a bit lonely. When I'm at home, I try to meet my Swiss friends. Since adopting my current lifestyle, however, I've only been in touch with really good friends. For many others, this is too time-consuming, or they can't understand why I live like this and don't just go to the office every day. On my travels, I have found three good friends with whom I'm in touch regularly: a Swiss woman, an Austrian woman and a Dutchman.
"I'm usually on my own, which can be a little lonely."
How much luggage do you travel with?
I simply try to take as much as necessary and as little as possible with me so that I can travel as "lightly" as possible. I practically always travel with a backpack and a bag that is easy to stow.
Which items can't you do without when you're travelling?
My laptop and charger are very important to me, which is logical. In addition, I always take my laptop stand with me so that I can work more ergonomically.
How should we imagine you working? On the beach, with a cocktail in your hand?
It's usually pretty unspectacular. For example, I've never worked directly on the beach. Imagine it: I could only have the laptop on my thighs and would have to work like that. I doubt I'd be able to stand that for very long. Sand isn't good for any laptop. Moreover, outside lighting conditions are usually less than ideal for working on a laptop.
How do you acquire assignments?
Over the past year, two options have emerged: on the one hand, satisfied customers recommend me to others. On the other, customers also find me directly via Google, which I also offer with search engine optimisation (SEO).
Do your customers accept your way of working?
Yes, with one exception I've had nothing but positive experiences so far. But I make it clear on my website, for example, that I can only be reached in writing and not by telephone.
How do you communicate with your clients?
In principle, it's simple. We communicate mainly by email, for which I use an encrypted Swiss solution. Should a virtual meeting be necessary during the course of the project, I use a video-conferencing tool that is very easy to use and obviates the need for all the participants to be physically present.
Approximately how many hours do you work per week?
The number of hours varies greatly, depending on the volume of assignments. However, I almost always work fewer than 40 hours a week, because I'm also a lot more efficient than I would be in a salaried position. This is because there's no longer compulsory attendance and I don't have to work a certain amount of time because someone expects it of me.
You said earlier that this lifestyle also needs a lot of discipline. Isn't it hard for you to work in a "holiday environment"?
No, I'm just saying that I'm pretty good at estimating when I've done enough for one day and I've been able to do the things I had planned. In the morning, I usually have a lot of motivation for working on my laptop, because I know that in the afternoon I can go out into the countryside. Instead of spending two or three weeks on holiday in a row, as many people do, I tend to go on a "mini-holiday" every day.
What's your life like from a financial point of view?
I'm satisfied with my financial situation and can make a good living from web design. I can't put anything aside yet, but I have dissolved my 2nd pillar and have used it to put a pillar 3a system in place.
Where do you live, and how?
I usually stay either in a co-living space or in an Airbnb if I spend longer (say at least four weeks) in one place. It's also my goal to travel slowly and experience the "spirit" of wherever I find myself.
Co-living, by the way, is a type of flat share that is usually very international. Everyone works independently, sharing a fridge, kitchen and washing machine.
"I usually stay either in a co-living space or in an Airbnb if I spend longer (say at least four weeks) in one place."
When looking for accommodation, I always make sure Wi-Fi is available, pay attention to the location, and make sure there are shopping facilities close by and that I can cook for myself.
Is your living space important for you, and are there items that you can't do without in the places you stay?
My living space is very important to me. I would describe a salad spinner and a grater as important objects in my temporary home, because both are practical aids.
You've been travelling as a digital nomad since October 2017 – are you still just as fascinated, or are there signs of fatigue?
I'm still fascinated by it and grateful that I can work like this. What's more, I'm always learning new things, and it never gets boring.
Where's your next destination?
The Swiss capital – Berne.
How long do you want to live like this? Have you thought about how you'll live when this is over?
I can't answer that question now. My life after this phase will depend considerably on what will happen in the near future and whom I meet. I'll think about it when the time comes.
Would you say that your life as a nomad has changed you?
Yes, I've become much more open-minded and it has, as they say, broadened my horizons enormously.
To whom would you recommend this way of life?
To people who want to try something new and get out of the rat race. If it doesn't suit, you can quickly return to your familiar environment. But in my opinion, there's nothing to lose.