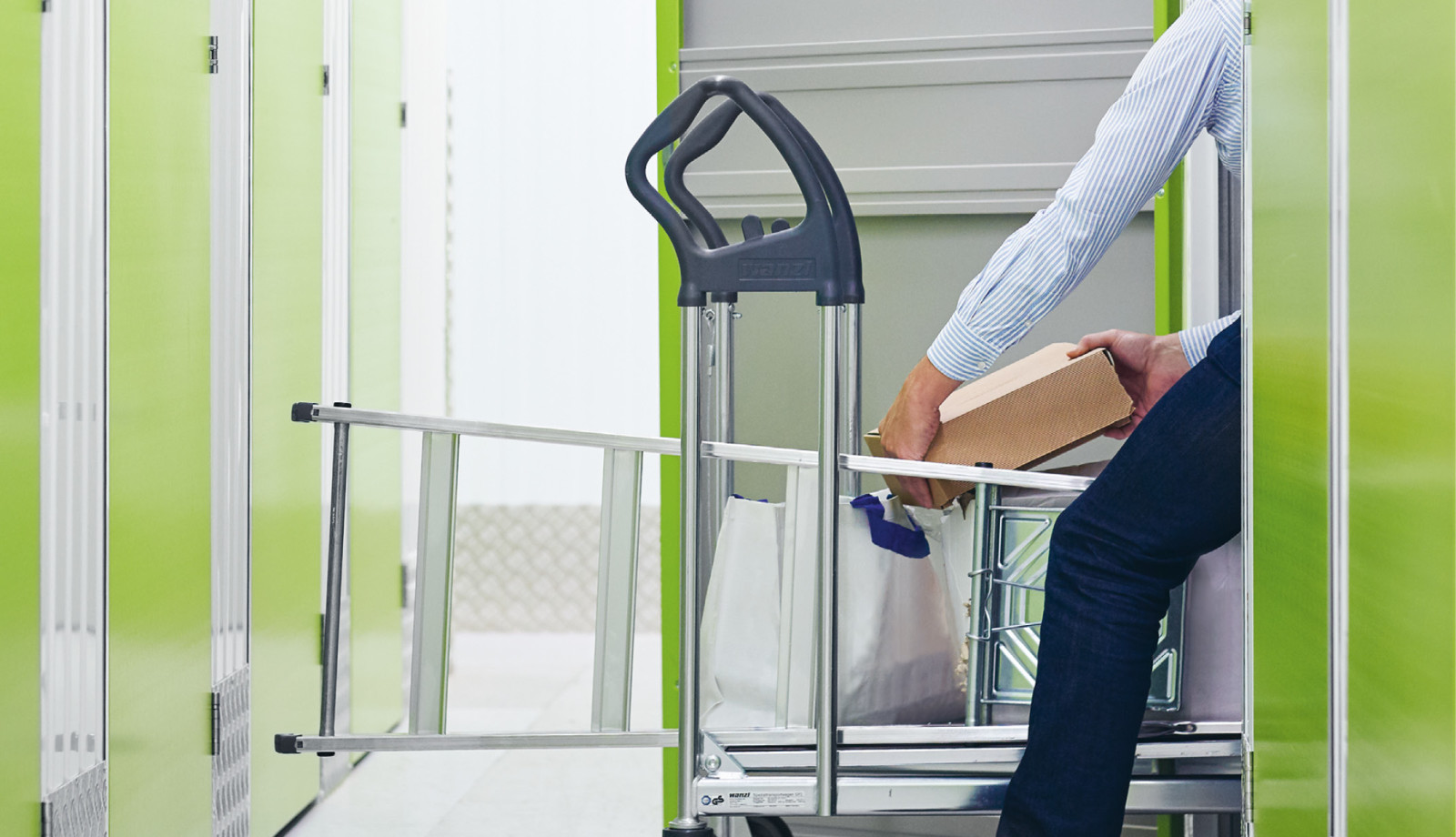 This slogan is part of the successful business concept of placeB, a company offering fully digitised, flexible self-storage solutions – storage on demand. This closes a market gap in an ever more mobile society.
The office at Räffelstrasse 26 in Zurich is small and a bit obstructed by things, fitting for a start-up company. We are standing at the heart of placeB, where all nine employees work on the further development of the product, tinkering with new algorithms and providing service to approximately 1,000 customers via chat functions and video support. The concept, which first came into existence in America after the Second World War and has meanwhile grown into a 60-billion-dollar industry, is now flourishing in Switzerland as well. Terry Fehlmann has found success – on his second try.
Terry, how did you come up with the idea of offering self-storage solutions?
16 years ago, in 2003, I was invited to a wedding in Salzburg. On the Friday before the wedding, I met an Austrian who was established in this business and who told me about it with euphoria. I had a sleepless night doing research until the early hours. The result was that I missed the wedding and abruptly quit my job the following week. Armed with enthusiasm and motivation, I went about trying to implement this idea in Switzerland – but failed. The trick was to find the right real estate, and that required financing. But to get financing, I needed real estate. I had underestimated the difficulty this presented, so I went back to my old profession and four years later I invested in Zebrabox, today the competitor, where I was in charge of the entire rollout as COO. Five years ago, with a lot of experience under my belt, I sold my shares in Zebrabox and gave it another shot. To hedge my bets, I first bought a home – and started my company at the same time. On the second attempt, it worked.
Storage space on demand – how does this business model work?
Two megatrends are key: growing mobility in society and increasingly concentrated housing in urban areas. These are increasing demand for temporary storage solutions. A real estate firm isn't interested in building storage space – it wants to build lettable space so that it can generate profits. This is why one no longer sees storage spaces such as walk-in storage rooms and built-in cupboards in city apartments today. Whilst conventional self-storage businesses can be found on the outskirts of town, I made a conscious effort to be closer to customers, meaning downtown, where smaller spaces were sought. We offer customers the opportunity to book customised storage space online at desired locations with access round the clock. Their mobile phone serves as their key, with which they can operate all doors, gates, lifts and even baggage carts. The storage periods are flexible and can be terminated at short notice.
And because people are price conscious, we operate an active capacity management with dynamic price models. Customers accept this because they are familiar with it from the hotel and airline sector. So boxes that are the same size may have different prices, which are determined by location, supply and demand.
Our newest innovation is the IoT Box, where we do away with all the wiring and can save about 85 per cent of the electrical installation costs. This box can be mounted on a garage door, for example, so that a third party who wants to deposit something there can gain access via mobile phone. That's the future, where any small storage space can be turned into a placeB. We also have simple solutions for postal services.
Are your customers more from the private or commercial sector? Who is the typical placeB customer?
About 90 per cent are private customers. On the one hand, they are people who need storage because of mobility issues: divorcing couples, people returning from time abroad, people who need space for inherited objects or just until their children are out of the house. And then there are customers who don't have enough room at home for their hobbies or other household items. And our customers naturally tend to be digitally savvy. At our Sumpfstrasse location in Cham, where we are tenants of Alfred Müller AG, the customers are of another sort. There one encounters mainly companies in need of archival space, as well as expats who are familiar with the concept of self-storage from their home countries.
"About 90 per cent are private customers."
Terry Fehlmann uses retail criteria when deciding on new locations, the most important being visibility, proximity to customers and good access routes. These are the things he's always looked for. He's confident that these criteria, combined with a strong online presence, have contributed greatly to his company's quickly established name recognition. He says – with caution but also with a certain pride – that placeB is currently an industry leader with 22 locations.
What items are most often stored? Have you ever had problems with hygiene or security?
Mostly household items or things that have sentimental value, even if these items are then disposed of 6 to 12 months later. There are things that one wants to hold on to at all costs, for example your first leather jacket. You see the holes from cigarette burns and you can still exactly remember the party where those happened.
"There are items that one holds on to – like your first leather jacket."
Moths and pests
For matters of security and hygiene, the customers sign our General Terms and Conditions confirming that they are not storing plants or anything that's living or perishable. The biggest danger comes from moths and other pests, which is why carpets must be stored in protective casing. Illegal goods like drugs are quickly noticed from the smell and from any suspicious activity. In addition, every customer leaves a digital footprint. The master data used for registration and the continuous camera surveillance in the buildings would quickly uncover legal violations.
No dearth of visions
Terry Fehlmann has plenty of ideas about how to scale and run his business in the future. There is the possibility of making the platform third-party accessible so that others can market their vacant cellars and rooms over placeB. He's also considering white labelling and franchising, business models practised by software companies much like his own. However, he's also in talks with large real estate firms about the idea of new buildings constructed according to placeB standards, with the goal of all ancillary rooms and cellars then being operated and marketed by placeB. The real estate firms' products would gain attractiveness because they would remain more competitive with lower rents, since they would only let the space that is actually inhabitable. A tenant could then flexibly rent additional small ancillary spaces, or even large or small rooms or parking spaces, according to need. Customers only pay for what they actually use and need. The placeB solution is designed to take these customer needs into consideration. And the first project is already in the pipeline.
Terry, are you still in contact with that Austrian? The one who inspired you to found placeB?
I haven't had contact with him in a while. But I know that he built his company into a market leader in Austria, and then sold it. He's always into something new and was most recently active in the real estate development sector.
We're interested in seeing how Terry's company will evolve. We're sure that his company will continue to meet with success – because who wouldn't like more living space in their lives?