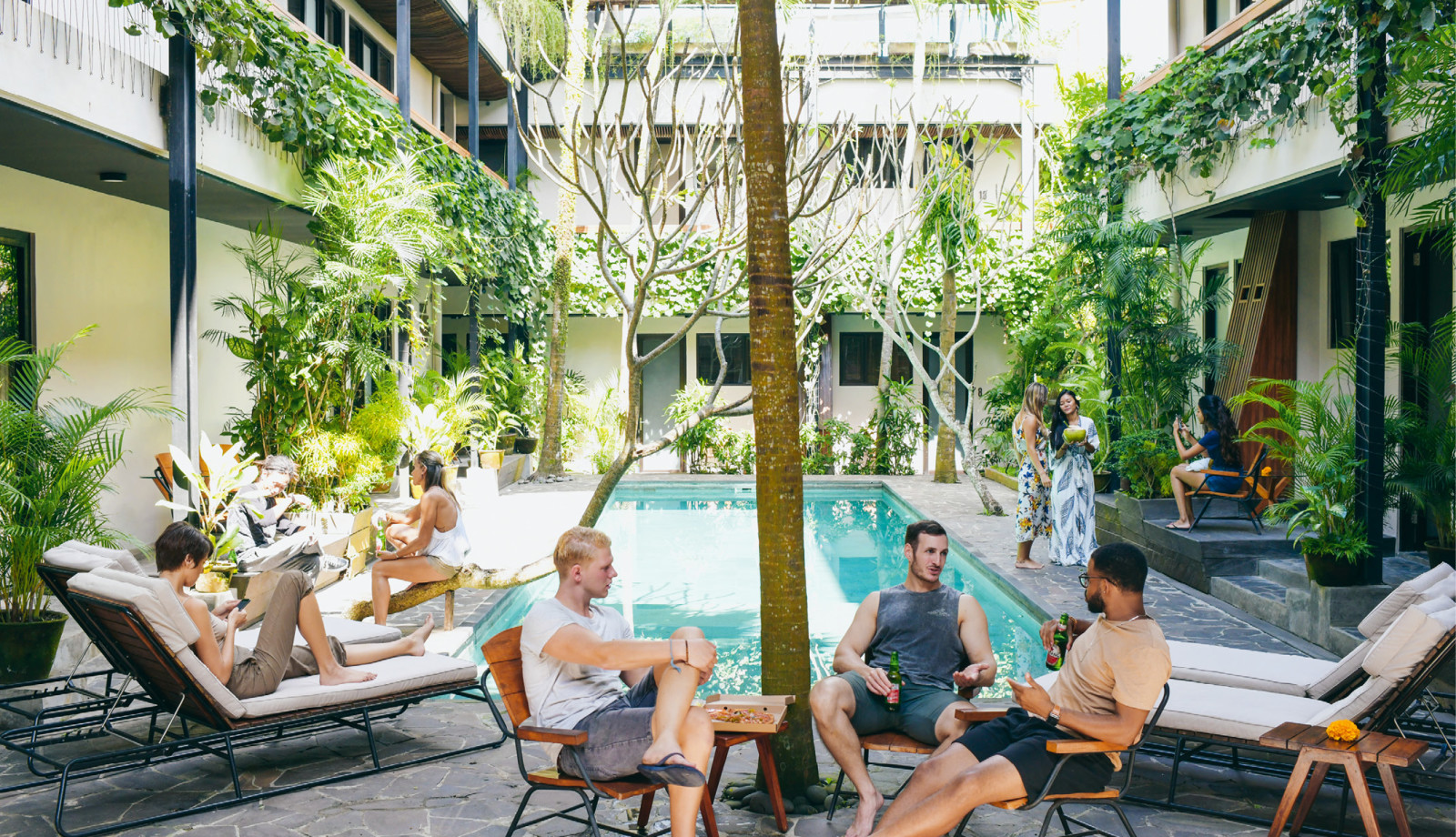 Global megatrends are causing a transformation in how we live. Future demand is expected for concepts that can respond flexibly to the multitude of individual life plans. Co-living spaces provide an answer to these changing requirements.
Our society has become increasingly more mobile. Being on the move has become part of our self-perception. Stephan Rammler, Scientific Director of the IZT – Institute for Futures Studies and Technology Assessment in Berlin, addresses this growing mobility. He finds the causes primarily stemming from the combined effects of such global megatrends as digitisation, personalisation, urbanisation and demographic change. Today, for example, younger generations more strongly assert their expectations of a self-determined, meaningful and fulfilling life than did generations aged 50 and over. An increasing number of people no longer adhere to conventional role models, but are strongly influenced by the possibility of choice and, if necessary, moving to the opposite end of the world at short notice. Modern communication technologies allow us to maintain contact with the rest of the world no matter where we are. These changed circumstances call for new architectural concepts for innovative forms of living to meet the demand for individual and temporary accommodation.
Flexible and independent, yet part of the community
Although most people still prefer a permanent home and conventional workplace, more and more people are taking on a nomadic lifestyle, at least for certain stages of their lives. "The future will require more flexible forms of domicile that accommodate the need for a nomadic existence and an abrupt change of residence," Stephan Rammler emphasises, pointing to the close link between living, working and mobility. Because these neo-nomads view possessions as burdens rather than status symbols, the appeal of sharing economies is growing. The concept of co-living ties in with this idea and is already established in large cities like New York, San Francisco and Berlin. But it's not just urban centres experiencing a boom in temporary housing: remote areas are also increasingly drawing people with no regional ties. Whether city streets, sandy beaches or ski pistes, the surroundings should inspire and bring people together. Providers of furnished rooms or studios appeal to an audience that would rather connect with kindred spirits than settle alone at an anonymous location. Rent includes services similar to those offered by hotels: cleaning services, the changing of bed linen or a reception that's open round the clock. Communal spaces like kitchens, lobbies, offices and fitness studios as well as events promote a sense of community and offer opportunities for networking and knowledge transfer, whilst those seeking quiet can withdraw to their micro-apartments.
Even if co-living concepts are enjoying increasing popularity these days, the idea is not actually all that new. The Zurich-based housing cooperative Karthago, for example, promoted communal living back in the mid-1990s. Cluster apartments, a cross between a small apartment and a shared residence like those realised by the Zurich architect Vera Gloor, are likewise precursors to today's co-living concepts.
The village 4.0
Stephan Rammler, however, also points to an additional trend: the rediscovery of rural spaces. He sees the "Dorf 4.0" movement as a new model for country living, designed especially for people who want to be virtually connected with the entire world from a centralised residential place without having to commute to a workplace. Rammler: "This new permanence is made possible by the globalised data infrastructure."
People who turn their backs on city living appreciate a proximity to nature, have a high degree of self-reliance and use existing building structures to a large extent. Futures researchers are finding that preferred areas are located 60 to 90 minutes by train from larger cities.
Flexible construction
Assuming that about two-thirds of the world's population will be living in cities by 2050, it is clear that a new dimension of urbanisation will take place. "We will need more sustainable neighbourhoods with climate-friendly transport connections in the future if we want to achieve our goal within a short time without having to generate more mobility," says Rammler. The sharing economy will also have stronger applications in the residential sector, and the architecture must allow for increasingly flexible concepts, bringing other benefits without great expense. Conventional, static floor plans have had their day. Rammler expresses this demand in a formula that is both simple and coherent: "We should build as solidly as necessary, yet as flexibly and reversibly as possible." David Hossli, CEO of Alfred Müller AG, agrees: "We are confronted today with a marked individualisation and a pluralisation of lifestyles. We must never lose sight of the diverse needs of our customers with regard to project development and the product design. This means, for example, that flats should be variable and have spaces that can be used in different ways. And, especially important: the living environment must likewise meet these demands."
Political scientist and author
Prof. Dr Stephan Rammler is Scientific Director at the IZT – Institute for Futures Studies and Technology Assessment. The political scientist, an expert in sustainable post-fossil mobility, was appointed to the Board of Trustees of International Building Exhibitions (IBA) Heidelberg in March 2019. Stephan Rammler is author of the books "Volk ohne Wagen" (2017) and "Schubumkehr" (2015). In 2016, he was awarded the ZEIT WISSEN Prize "Mut zur Nachhaltigkeit" in the Knowledge category.
DEEP RELAXATION INCLUDED:
Outpost, Ubud
Bali is one of the world's co-working hotspots and is the birthplace of many successful start-ups. Accordingly, it offers a large variety of temporary accommodation. One of these, Outpost in Ubud, offers ideal conditions for a fulfilling working and living arrangement. Temporary residents find private space and tranquillity in spacious and luxurious villas and studios in Balinese style – each with a en-suite bathroom, cleaning service and breakfast. A lounge, a kitchen and a pool are available for shared use. Members of nearby Outpost Coworking can also use the infrastructure there, including two pools and a breathtaking view of the tropical vegetation along the river. If that's not enough to bring deep relaxation, an appointment with the in-house masseur will do the trick. For under 1,000 dollars a month, one can live here quite comfortably – with a good work-life balance included. Outpost currently maintains two residential locations in Bali, with a third opening in September. There is also an Outpost in Phnom Penh, the capital of Cambodia.
THE ORIGINAL:
The Collective Old Oak, London
Over one-fifth of the United Kingdom's freelancers – nearly half a million – live in London. This figure will rise as more and more people turn to flexible living and working – and not just anywhere, but in an exciting place. The founders of The Collective London recognised this need early. Their two co-living spaces in London enhance the available real estate in the British capital. The Collective Old Oak in West London claims to be the "original" co-living space. Opened in 2016, it offers 705 furnished flats in four different categories with stays lasting between 4 and 12 months. Free time is spent in shared spaces together with the other residents, cooking or working in the co-working spaces. Those who don't like to cook can dine in one of the restaurants. There are yoga classes held on the roof terrace and barbecue evenings for communal enjoyment. A spa with sauna, massages and other treatments provides balance, as does a cinema, a fitness course and the kayaks, which one can use in the canal that runs right by the front door. The in-house library provides reading material, and regularly held events offer opportunities for the exchange of knowledge. In July, the proprietors of Old Oak opened a new location at Canary Wharf in London, and in September 2019 the co-living space Paper Factory in New York will offer 125 rooms for residents.
FOR EX-URBANITES:
Swiss Escape, Grimentz
"Imagine living together with people who give you inspiration every day, and waking up every morning to an Alpine panorama." The selling point of Swiss Escape in Grimentz, a peaceful mountain village in Valais, is not its size, but rather its location nestled amidst majestic mountains. Those who come here are not seeking the bustle of the big city, but rather the tranquillity and the opportunity for outdoor activities like walking, cycling or skiing. It's just a five-minute walk to the cable car that brings you up the mountain. Two chalets, each outfitted with a kitchen, lounge and ski room, accommodate up to 15 people. Each house also has an open office area outfitted with high-speed Internet, printer and a Skype room for undisturbed conversations. Swiss Escape is not just for individuals seeking shorter or longer stays; it also welcomes companies that would like to spend a few days away from the office to encourage creativity and strengthen team spirit.