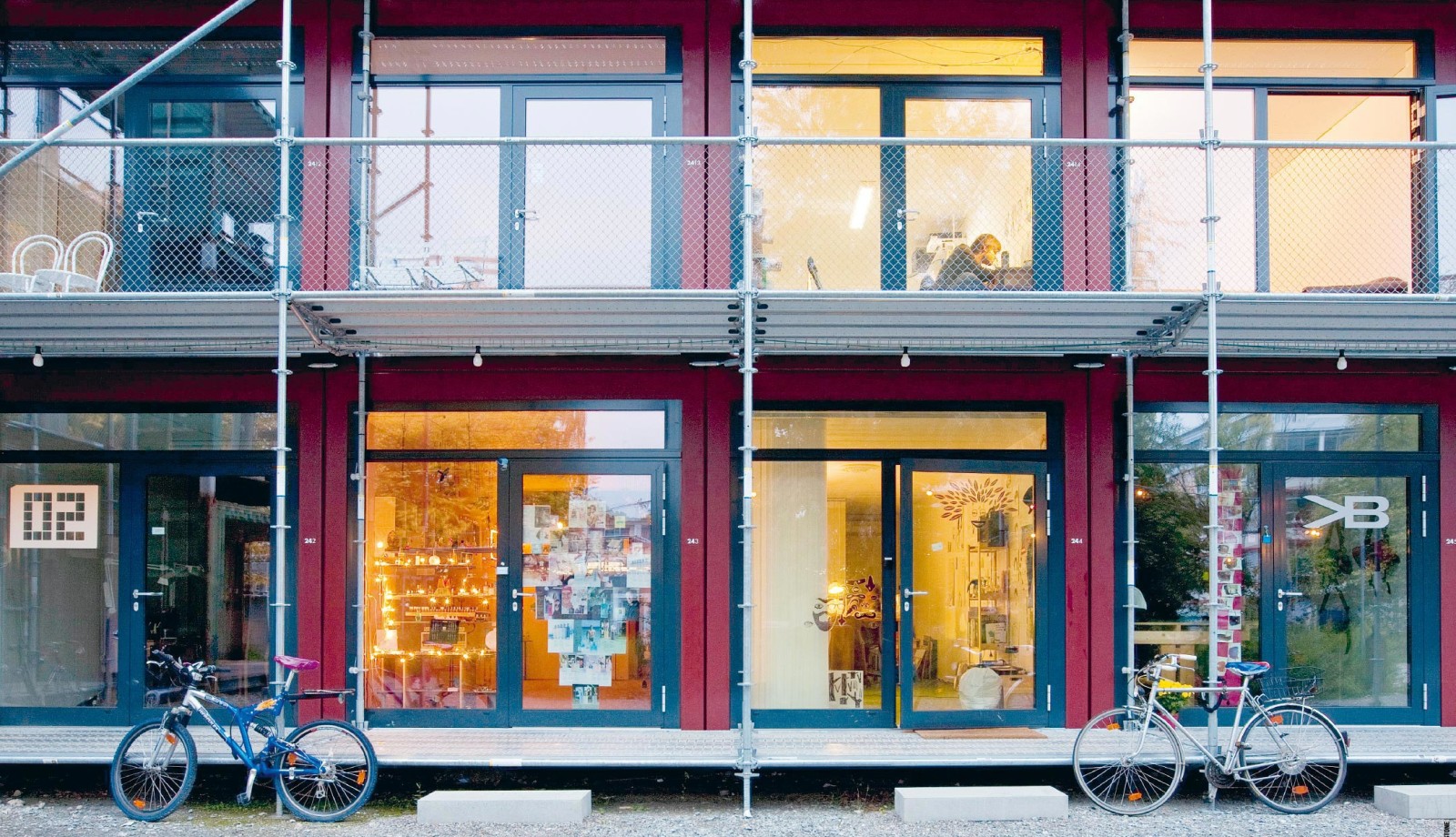 Article
From a luxury mansion to a "residential container"
From a luxury mansion to a "residential container"
While the richest man in India occupies a 27-floor residence, hundreds of millions of people must make do with just a few square metres. When it comes to living space, especially in Asia, extremes predominate. Zurich, too, is generating a stir with some radical experiments.
His house has more floor space than the palace at Versailles: Mukesh Ambani, the richest Indian, lives with his family in an area of 37,000 square metres. Therefore, the petrochemical entrepreneur's "single-family dwelling" in Mumbai is reckoned to be the biggest and probably most expensive in the world.
Here, gigantism and luxury meet. The house has 27 floors and stands 173 metres tall. Its appointments include a Krishna temple, a cinema, hanging gardens, three helipads, a car repair shop, India's largest ballroom and a health floor with solarium, Jacuzzi, a yoga studio and fitness rooms. Versailles is "a poor cousin" in comparison with this "Taj Mahal of the 21st century", wrote the "Times of India".
When multibillionaire Ambani steps onto his balcony, he has a clear view over a completely different world: the Dharavi slum with its welter of plastic roofs. Hundreds of millions of Indians live in the most confined of circumstances, without electricity, water or toilets. And it is not only the poor whose way of life is growing evermore cramped. In the megacities of Asia, most people live in small spaces. In Tokyo, the world's largest conurbation with around 37 million inhabitants, one person has on average 15 square metres of living space. People in Switzerland have around three times as much!
"Rooms in Japanese apartments have always been multifunctional."
A table is also a chair
Japan leads the way in the efficient utilisation of space. There, builders have developed "ideas that anticipate the future of other countries and megacities", writes the "Frankfurter Allgemeine Zeitung". Land plots are small, scarce and invariably more expensive than the houses built on them.
In Tokyo, millions of single people live alone in just a few square metres. The standard 1-room apartment resembles a tube, as the "Tagesspiegel" reports: an entrance area of 1 square metre with wardrobe, a kitchenette with storage space, opposite that the bathroom, and straight ahead the bed-sitting room. Every centimetre is put to use. Such a shortage of space leads to innovative design. The architect Keiji Ashizawa, for example, works with sliding doors, fitted wall storage space and bathrooms usable in the tightest confines, designed so that the entire cubicle can be made wet. Furnishings are multifunctional: a chair is also a table, a bed is also a sofa.
Japanese architects have an outstanding reputation. "They create comfort in a minimum of space, build with technical brilliance and develop bold solutions," says Köbi Gantenbein, editor-in-chief of architecture magazine "Hochparterre". This also has to do with the fact that "in Japan, they build only for a generation, not for eternity, as in our country".
A bedroom the size of a wardrobe
Building on plots the size of a parking bay? No problem in Japan. The minimum width for a house is 2 metres. One can even be shoehorned into a 4-metre gap between other buildings. That is why Japanese bedrooms are often similar in size to one of our wardrobes, while their kitchens would fit well inside a submarine. Another speciality of theirs are the well-known capsule hotels, where guests sleep in miniature berths. There are also around 4,000 people in Tokyo who overnight in mini-containers set up in Internet cafés because a rented apartment is too expensive. Internet cafés have survived in Japan not least because they double up as cheap hotels.
As architect and Japan expert Hans Binder explains, the Japanese traditionally manage with comparatively little living space – due, among other things, to the fact that Tokyo has been a metropolis for several centuries. "Rooms in Japanese apartments have always been multifunctional," says Binder. Living in tight spaces has become so customary that "many Japanese are more comfortable in smaller rooms than in large halls".
Farewell to privacy
In Switzerland, floor space proportions are comparatively luxurious. However, by no means everyone has been able to build their own single-family dwelling here for a long time. Building land is scarce. In times of densification, urban building cooperatives are developing new forms of housing that reflect social change. According to Gantenbein, Switzerland is the international leader in this field.
Instead of family apartments, cooperatives focus on space-saving dwelling units for groups, with shared kitchen and living areas. In Zurich, a top place for housing cooperatives, such "cluster" apartments can be found on the former Hunziker industrial site and in the Kalkbreite housing complex.
The Kalkbreite cooperative is currently testing something radical: hall living, the "most extreme of all forms of living". According to the cooperative, this "housing form of the future" has its roots in the temporary utilisation of former business premises. Some voices in the media draw parallels between this idea and the squatter scene. In any case, it is probably the first attempt anywhere in the world to live by a community concept in a newly built hall.
Essential housing concepts
The shell of the hall is rented to a group – not to individuals – who "aim to shape social and spatial living concepts of their very own". The basic equipment comprises only connection points for kitchen and sanitary facilities. The interior fittings and room layout are designed according to residents' own taste, employing lightweight construction. Five groups have applied – more than the cooperative expected. The groundbreaking ceremony took place in spring 2018 and the hall will be ready for occupancy in 2020.
Is hall living the future? For those who prefer home ownership, but are looking for something unconventional there are alternatives: novel residential modules also exist in Switzerland. In contrast with community, they hold out the promise of independence in a mini-home.
Life in a mini-house
Tiny house, eco mini-house or residential container: novel concepts for residential modules also exist in Switzerland. Still a niche phenomenon, these mini-houses are usually movable, significantly cheaper and smaller than conventional private homes.
A tiny house often has no more than 35 square metres of space, is built on a trailer and therefore mobile. The concept originated in the USA and is based on the open-source idea: many owners build these houses themselves and post the plans on the Internet.
Everything for living in an area 35 of square metres
The eco mini-house is largely energy-self-sufficient and is constructed from environment-friendly raw materials. Developed by a building biologist, the 35-square-metre house is primarily a demonstration object for ecological living. It can be purchased by interested parties.
While hipsters in New York and Amsterdam have long been living in creatively designed shipping containers, only a handful of people in Switzerland live like this voluntarily. Containers are mainly deployed for intermediate use or for public services, such as temporary schoolroom extensions or accommodation for asylum seekers. The "residential container" is a creation of Basel-based architect Pascal Müller. He first wanted to use old lorry swap bodies or shipping containers, but the market was not yet ready for that, he says. Decommissioned and well-worn steel containers draw strong resistance from the authorities and from neighbours. So now he is having his "container" built new from scratch. The fact that low-cost residential containers are hardly used in Switzerland is probably due to the high level of prosperity, Müller believes.
Containers are more often found in the form of school, office or commercial buildings. Probably the most well-known container building is the Freitag Tower in Zurich-West: the flagship store of the Zurich-based design label is built out of 17 old freight containers.