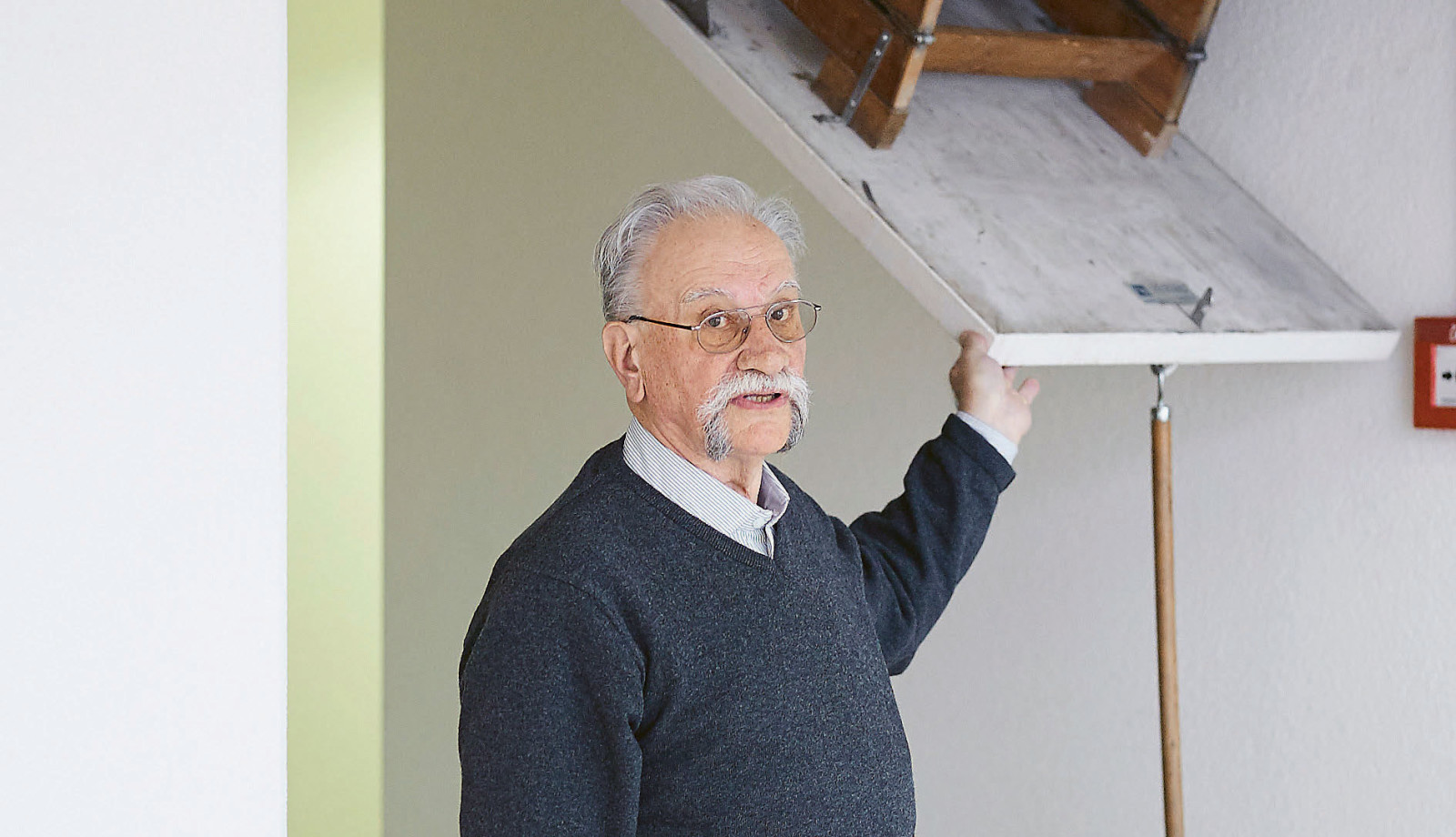 Article
A caretaker for all seasons
A caretaker for all seasons
"I'm a dinosaur. There aren't many like me still around," says Robert Schneider, smiling. The 73-year-old is talking about caretakers who live in the building they look after. Robert Schneider has done that for 35 years. He lives with his wife on the fifth floor of the Erlenhof on Baarerstrasse in Zug. A double building with 33 homes, plus offices and shops on the ground floor. Photos and souvenirs from trips bear witness to the fact that the Schneiders have lived here half their lives.
When Robert Schneider first became a technical caretaker, it was mainly his professional skills that were in demand. As a product manager in building services engineering, he was the ideal person tor the job. He was familiar with all technical equipment, from heating and ventilation to washing machines. He soon turned out to be the residents' first port of call for other matters as well. Robert Schneider has a wide repertoire of anecdotes about supposedly broken washing machines, car keys locked in cars and lost house keys. "One time, a neighbour rang our bell at night. He'd come home tipsy from his local pub, and without his keys." After letting the man into the building and getting him to his own door, Robert Schneider set out in search of the keys. And he found them. "When I got back, our night reveller was sleeping peacefully at his front door."
When he retired in 2015, the caretaker's task list expanded – in both professional and human terms. The spry pensioner regularly looks in on the elderly residents to ask how they're doing. When the lift was refurbished in 2018, he and his wife even ran errands. "One resident suffers from angina pectoris. While the lift was out of action, we did her shopping and carried the bags up." The younger ones also know they can depend on the Schneiders. Not long ago, a woman rang the bell one evening – in pyjamas and soaked to the skin. She'd been tinkering with her toilet cistern when water shot out, leaving her and the bathroom dripping wet. Robert Schneider, also in his pyjamas, turned off the water, called a plumber and started the drying process. He worked all through the night.
"It works best when people are open, tolerant and mind their own business without hiding away."
There's no doubt in his mind that people have to be able to reach him at any time. "Emergencies don't stick to office hours." Keeping calm, he says, is one important quality, but a knowledge of human nature and discretion are indispensable as well. "I've seen a lot and have had to restrain myself at times. Everyone has a right to personal privacy." And what makes a good set of neighbours for Robert Schneider? "It works best when people are open, tolerant and mind their own business without hiding away." A true stroke of luck for the neighbours!