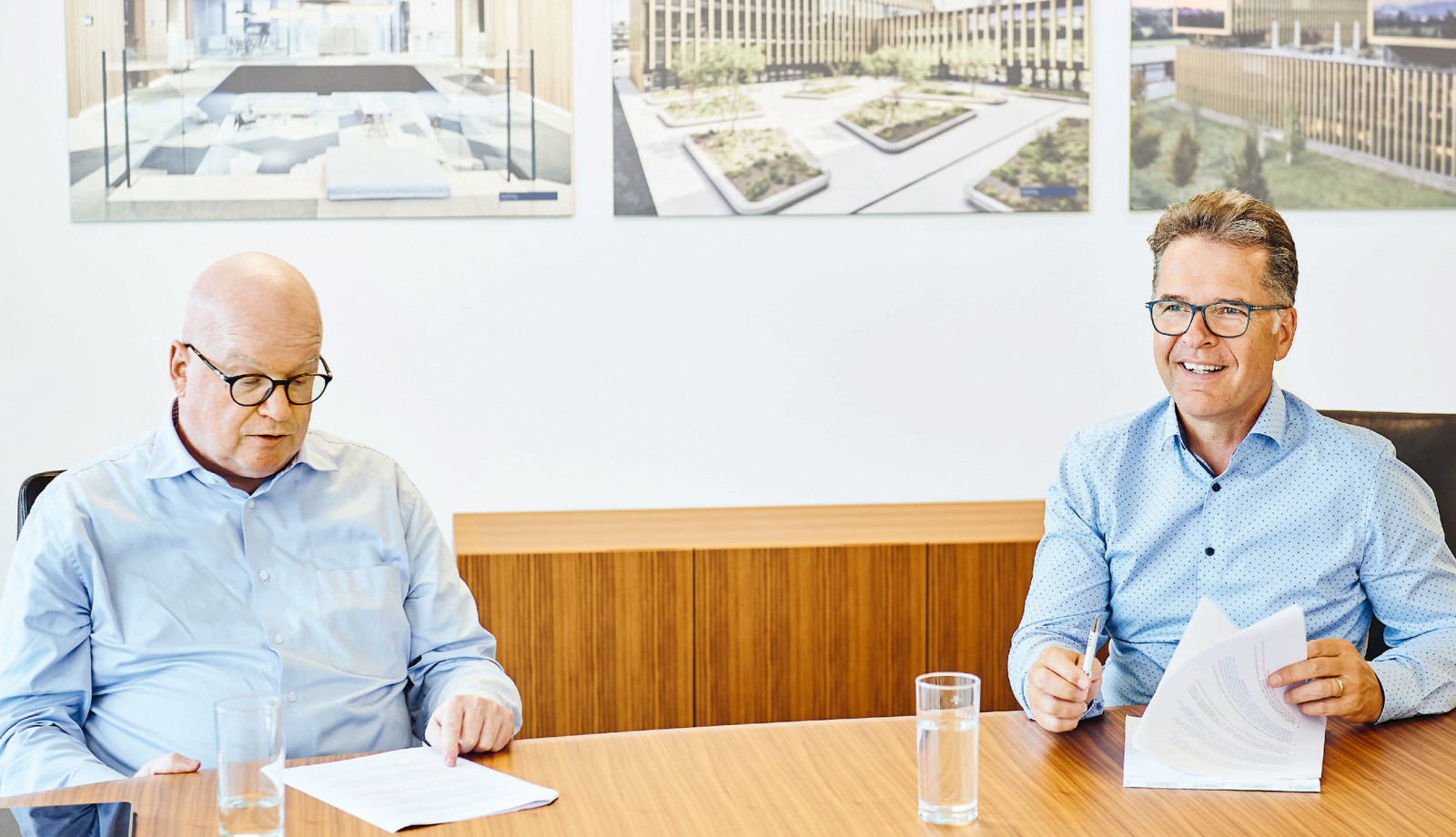 For tenants, owners, business partners and employees alike: Alfred Müller AG offers its various stakeholders security in various ways. In this interview, Christoph Müller, President of the Board of Directors, and Erich Rüegg, Member of the Board of Directors, explain how the company achieves this.
All of us are familiar with the feeling of insecurity. When was the last time you felt insecure? And when that happened, what gave you security?
Christoph Müller: In recent months, the coronavirus pandemic has given rise to this feeling, both at home and at work. Most of all, the enormous uncertainty about how this crisis will continue to develop has caused me to feel insecure. Within our family and inside the company, we've constantly been analysing the situation and taking action on that basis. This approach has proven to be effective and it's made me feel better and more secure as time has gone on.
Erich Rüegg: As a lawyer, I'm confronted with uncertainties every day. In this profession, it's difficult to talk about certainties because – to take one example – you never know how a court is going to judge a case. You get used to that after many years of professional experience. But there's no doubt that what we're currently experiencing with the coronavirus is on an entirely different scale. Some of our fellow human beings are confronted with the loss of everything – from one day to the next. I'm grateful that Alfred Müller AG has been able to play its part in alleviating these sufferings.
As a member of the Board of Directors, which aspect of security is of most concern to you?
Christoph Müller: The wellbeing of our employees is always our top priority – regardless of whether they work on construction sites, in landscape gardening or in the office. To promote the safety of our employees at the workplace, especially in construction, we work according to certified processes and issue guidelines for that purpose. They are reviewed critically at regular intervals and revised whenever necessary. At the same time, we endeavour to provide security for our customers and business partners by delivering work of high quality and by being reliable.
Erich Rüegg: Two aspects seem particularly important to me: first, risk diversification and, second, a sound capital base. As we consistently analyse and review these factors, our company is underpinned by sound foundations – and that enables us to withstand economic crises. There have been quite a few of them during the 55-year history of Alfred Müller AG! Alfred Müller, our founder, created the basis for the company's stability – including its financial stability. He viewed reliability and fairness as high priorities, and that has provided security for our very diverse groups of stakeholders. Today, for instance, we still settle our business partners' bills within 14 days. Other success factors that also guarantee security are reinvestment of our operating profit or the decision not to pay a dividend.


You've mentioned the workforce. Alfred Müller AG is regarded as a secure employer, especially in times of crisis. How do you manage to achieve that?
Erich Rüegg: In most cases, a successful company is also a secure employer. For that, we can thank our tried-and-tested business model, which is also being followed consistently by the second generation of the Müller family: "Build two houses, sell one and keep the other."
Christoph Müller: Our family is committed to managing the company on the basis of values: our employees are very appreciative of this, and they express their gratitude by remaining loyal to the company for many years. The average length of service is about 13 years. But owners of properties and condominium owners can also rely on our lengthy experience, which is reflected in the professionalism and high quality of our work. Warranty work and maintenance jobs are carried out with no discussions. All of this is the expression of a trust-based partnership, which creates added security. Homeowners also benefit from an advantage as regards financing. Two-thirds of the purchase price only falls due for payment shortly before the keys are handed over, which is somewhat unusual in this sector: this allows purchasers to be flexible in their liquidity planning and gives them security. Nothing could give people a better feeling than the knowledge that they have chosen a sound partner!
"As regards security, there should be more emphasis on individual responsibility."
It often happens that you launch construction projects even though you do not yet have any tenants or purchasers. What gives you the courage to do that?
Christoph Müller: It might seem courageous. But if you're thoroughly familiar with the market and its requirements, this risk is acceptable. That's what happened with the construction of the second stage of the Quadrolith commercial building in Baar. The investment volume is CHF 93 million. The positive experience we gained during the first stage of marketing strengthened our resolve to go ahead with the upfront funding for the second stage. The same is true of the Residenza ai Fiori residential and commercial development in Tenero – construction of the third stage is currently under way there.
Erich Rüegg: There are some situations in the real estate business where there is very little security. The case you mentioned is one of them. It wouldn't work to wait until the first tenants have been acquired before starting to build. Prospective tenants look around the market and want to get a picture of the finished premises on site before they make a decision.
Buying a home of one's own is a dream for many people, but it also involves (financial) risks. How do you respond to a prospective buyer who is uncertain about taking on this risk?
Christoph Müller: It needs a degree of courage. But I believe that people should make their dreams come true. The most important point is to obtain information about potential construction partners in advance. They have to be reliable, and they must take their work seriously.
Erich Rüegg: Owning residential property usually means added value. In the current interest rate environment, it can actually be cheaper to own a home than to rent an apartment. However, people should be aware that the value of a property is not always bound to go up.
"In most cases, a successful company is also a secure employer."
Finally, let's take a look into the future: in your opinion, how will the issue of security develop?
Erich Rüegg: In terms of the real estate market, my view is that security for the companies operating in this sector is likely to decrease. The persistent low-interest policy and sharp increases in land prices will restrict scope for action, and that will tend to create uncertainty. My personal hope is that more secure times will come soon and that we'll return to the normal conditions that we knew until the start of this year.
Christoph Müller: We will certainly be concerned about our own security and the security of our families and jobs for a long time to come. And as regards security, my opinion is also that there should be more emphasis on individual responsibility instead of extra laws and regulations.