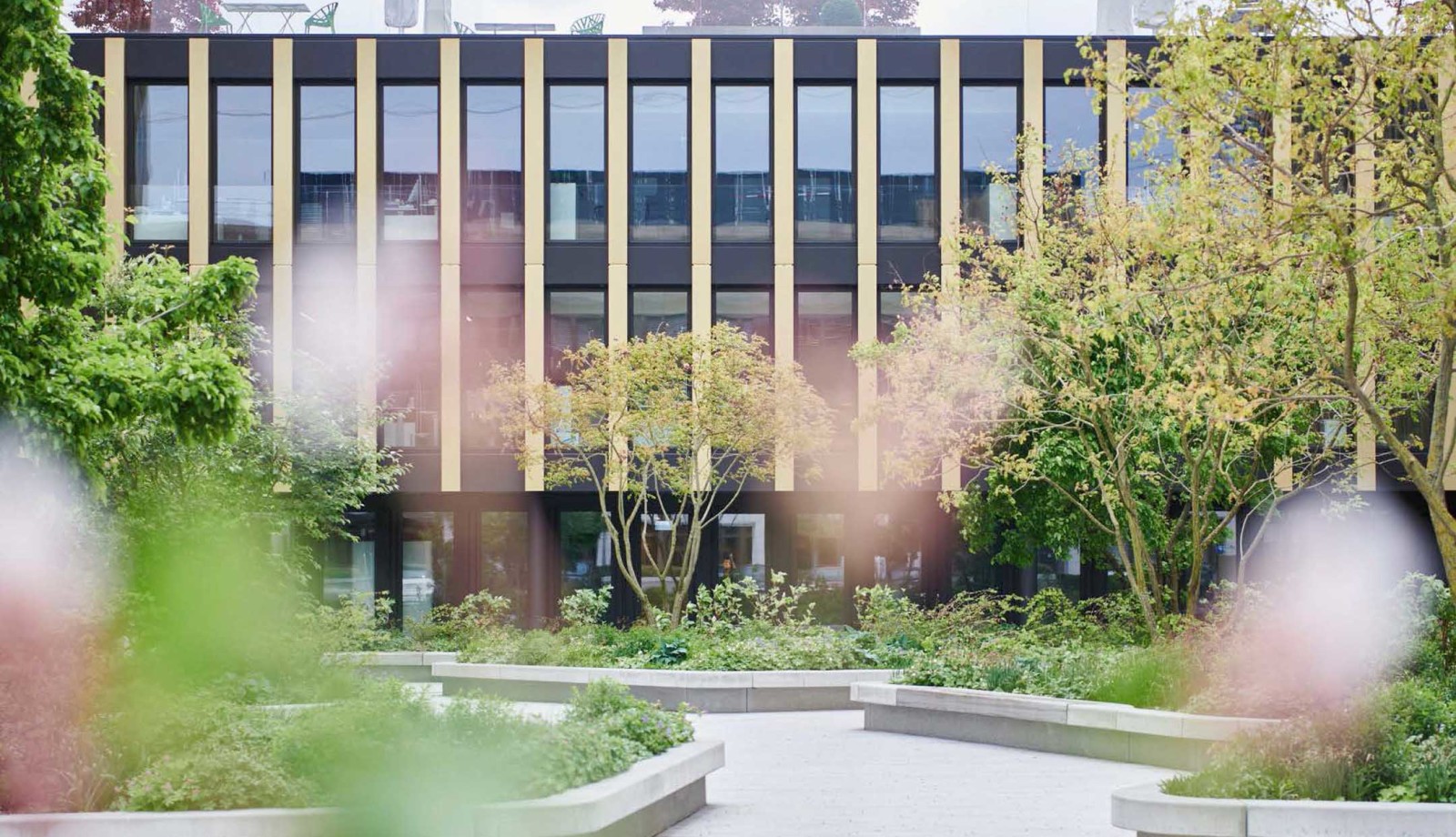 Article
The revitalising effects of green spaces
The revitalising effects of green spaces
They share an enthusiasm for beautifully designed, multi-purpose outdoor spaces: Christoph Müller, President of the Board of Directors at Alfred Müller AG, and landscape architect Karl-Andreas Appert discuss the challenges of planning open spaces and what makes such spaces work.
What are some of the different requirements of residents that must be satisfied when planning outdoor spaces?
Christoph Müller: We basically strive to design outdoor spaces with maximum multi-functionality, meaning that we tailor them to the object's primary users with all age groups in mind. Children, for example, need places to play and move about, whilst senior citizens want outdoor spaces where they can walk and sit.
Karl-Andreas Appert: And adolescents prefer places where they can go and not feel watched. Parents with young children like the opportunity to meet with other parents and their offspring. It's important to create communal areas and zones with different atmospheres and intensities of use, and to link these together in a robust overall design concept.
Juggling all of these requirements sounds challenging.
Karl-Andreas Appert: Yes, that's true, especially as the variety in planning work today doesn't end with the needs of the individual user groups. Climate change and its effects, for example, are giving us planners entirely new tasks, especially in urban areas. We must think in the long term and holistically in order to grapple with topics like longer and hotter drought periods, but also more heavy precipitation events.
Christoph Müller: Selecting plants that can manage under changing climate conditions also plays an important role. Another nut to crack, in my opinion, are the multiple layers of technical challenges that must be integrated into the design of open spaces. This includes access for fire services and waste removal.
Speaking of design: Alfred Müller AG has its own landscaping company. Does this simplify the planning and realisation of outdoor areas?
Christoph Müller: Having this competence in-house is a big advantage. In all of our building projects, the landscaping director is involved in the environmental design measures. Thanks to his vast knowledge, accumulated from over 30 years with the company, we can increase efficiency and reduce the chance of errors during realisation. He knows exactly which ideas are doable and which are not.
Karl-Andreas Appert: And that's not all. In this early phase, he also deals with essential questions on the topics of care and maintenance. This ensures that the object we design can develop in the long term.
"Did you know that planting trees can reduce the temperature of the surroundings by up to 7°C?"
How are outdoor spaces different for residential and commercial buildings?
Christoph Müller: When we plan a residential development, we aim to design surroundings that will foster social exchange. With business properties, the corporate presence takes centre stage. There are several important aspects, one of them being the representative character of the exterior spaces.
Karl-Andreas Appert: I agree. A commercial building's exterior is its business card. It should, ideally, convey the character of the corporate culture from inside out and make it visible to those passing by. Of course, the users also play an integral role. The opportunity to enjoy lunch breaks or hold short project meetings outdoors has taken on increasing importance, so naturally shaded communal areas are essential. Did you know that planting trees can reduce the temperature of the surroundings by up to 7°C?
That's an astonishing number. Is, then, the value of outdoor areas and green spaces when planning residential or commercial buildings higher than one might assume?
Karl-Andreas Appert: Yes, it is, and no less important than the planning of the object. Usable, well-designed outdoor spaces promote well-being and reduce stress. Being out in the fresh air, with all the ambient sensations like sunlight or the rustling of leaves, has been proven to promote good health and contributes significantly to a good working environment.
Christoph Müller: I can confirm that. I am very interested in natural and well-maintained surroundings. We want people to feel comfortable in and around our properties, no matter whether they are owners or tenants, whether they live there or work there.
Can you name outdoor projects that are successful, in your opinion?
Christoph Müller: I really like the Feldpark quarter in Zug. For one thing, it has that high-quality pavement using natural Guber stone. For another, the trees and the elegant wooden benches lend character to the versatile outdoor area. The inhabitants appreciate this atmosphere.
Karl-Andreas Appert: For me, it's the Helix Business Complex in Cham. The inner courtyard, accessible from all sides, creates a spaciousness that pulls you in. The large, round islands filled with plants and tall, multi-stemmed honey locusts create an attractive meeting place with shaded seating.
"I am very interested in natural and well-maintained surroundings."
What makes an outdoor space appealing, in your opinion?
Karl-Andreas Appert: I am fascinated by large, old parks with long histories and beautiful old trees, like in the Uferpark Villette in Cham. Another thing I find essential in an attractive and functioning design is a successful integration into the existing landscape. This is the case, for example, in the Winzrüti residential development in Allenwinden. The adjacent woodland is incorporated as a motif in the landscape design. There is a fluid transition.
Christoph Müller: Two points are key for me: first, a successful design creates a robust framework for a variety of uses by future residents. Second, good maintenance and planning ensure that the areas can be developed sustainably in the future.