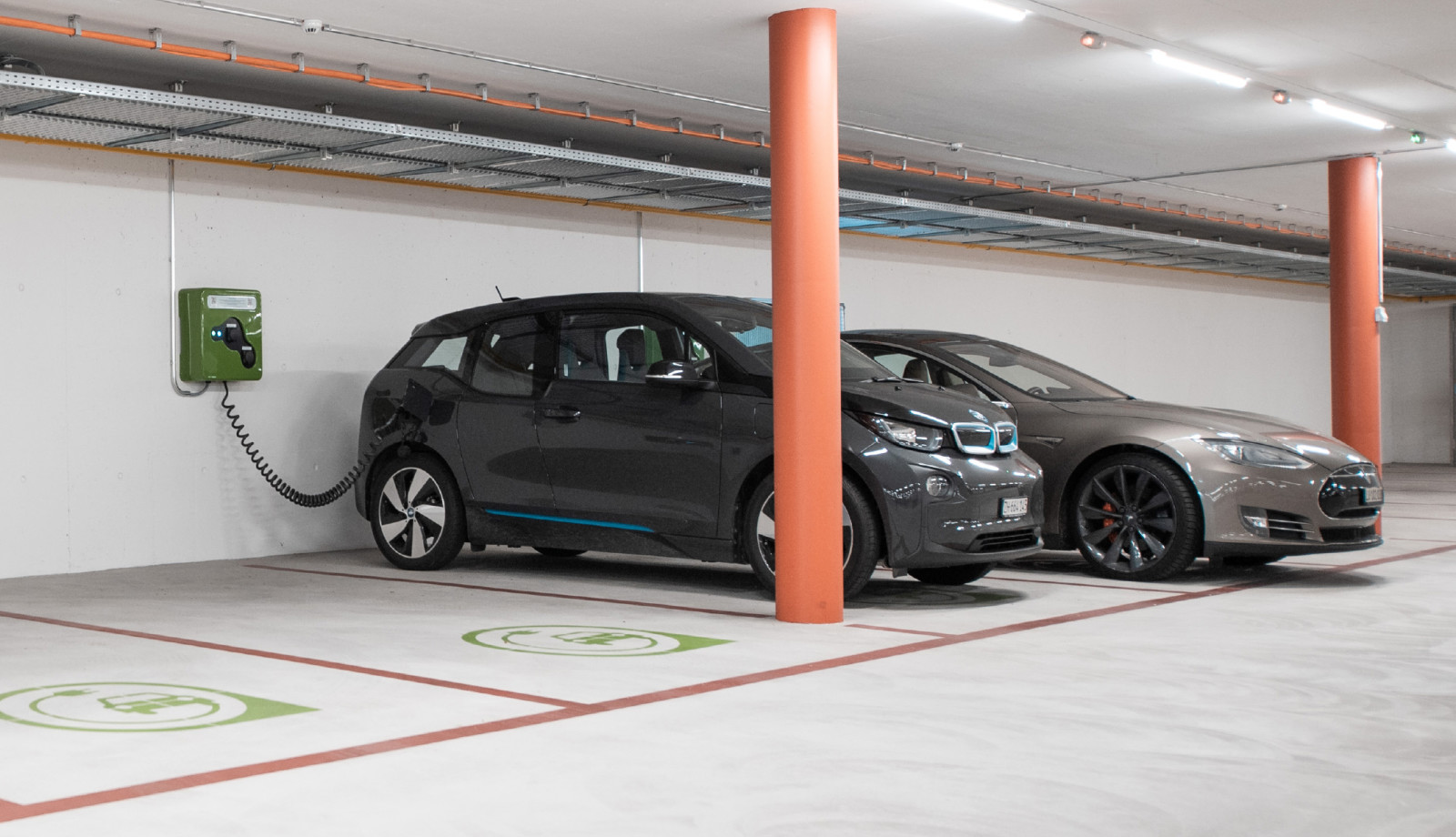 The share of vehicles with alternative drive systems is steadily increasing. From January to September 2019, 26,274 of these vehicles hit the roads. That's a 75 per cent increase from 2018. Plug-in electric vehicles currently represent 5 per cent of the total market (vs 2.9 per cent during the same period in 2018). It's time for property owners and owner associations to address the issue.
According to a study by the consulting firm EY, in 2018 the world's 16 leading automotive companies announced or launched investment projects with a total volume of 8.4 billion euros – almost double that of 2017. Whilst the trend in investing in e-mobility has risen significantly, EY states that these companies have been quite reluctant with other investments. This shows that many manufacturers are putting everything "in one basket", investing billions in the development and expansion of electric car production in preparation for the anticipated breakthrough in e-mobility.
Switzerland promotes e-mobility as well: in December 2018, representatives from the automotive, electricity, real estate and vehicle fleet industries and their associations signed a joint roadmap together with representatives from the federal, canton, city and community levels of government. Their goal is to promote e-mobility and raise the share of electric vehicles amongst passenger car registrations to 15 per cent by 2022. According to a report from the Federal Department of the Environment, Transport, Energy and Communications (DETEC), electric cars play a "key role in a modern and seminal concept of mobility".
This development also poses challenges to the real estate sector, as drivers prefer to charge their electric cars at their homes or workplaces rather than at public service stations. Alfred Müller AG has already begun the work of outfitting its properties with charging stations and urges its freehold communities to find common solutions (see statements from Michael Müller and Markus Grimm). Charging stations must be approved by the regional energy supplier to guarantee grid security. The specialist companies eCarUp AG, Invisia AG and WWZ AG (formerly Wasserwerke AG) offer the following tips and information on the topic.
Sources: Federal Roads Office, Federal Statistical Office, EY
We want to make properties attractive
Alfred Müller AG invests in e-mobility out of the conviction that this will prevail in the coming years with corresponding customer demand for charging stations for electric vehicles. By the end of 2019, we will have commissioned a total of 120 charge points on commercial properties and 60 on residential properties, with 250 charge points in operation by the end of 2020. Although we will not break even on the costs of operating the individual charging stations in the short and medium term, we're prepared to invest significant funding in technology to offer our customers attractive properties. We want sustainable buildings that will meet tenants' needs and be profitable for us. Charging stations in commercial buildings are important to us because many employees want to charge their electric cars during work hours. We rely on collaboration with our specialised partners at Invisia and eCarUp for the planning, realisation and operation of the charging stations as well as billing.
Freehold flats: the community decides
E-mobility today plays a subordinate role in our daily work as a property management firm. This may soon change as the number of drivers with electric vehicles increases in the coming years. This is why we advise those community associations that are addressing the topic now. Freehold owners who buy e-vehicles may not install a charging station at their parking spaces on their own. This requires the consent of the community, as it owns the car park as well as all cables, fixtures and connections. A charging station isn't just an electric socket: there are questions to be answered before they are built, including: Has feasibility been demonstrated? Has approval been obtained from the energy provider? Are there reserves in the power supply, and how is load management regulated? Which system will one rather have? How many charging stations are needed? Who will bear the initial joint costs – the community or the first users in the sense of a pre-investment? How are electricity costs billed? Collaboration with an electrician or other specialists is necessary in any event.
Charging stations for every application
eCarUp is developing a simple yet flexible platform for the management and billing of electric charging stations. The user activates the charging station through a free app and can always see how much electricity is flowing into the vehicle. The user also has access to approximately 3,000 public stations across Switzerland – including those on other networks. The system can accommodate just about all charging station manufacturers and thus all available technologies, allowing the owner the freedom to choose the loading concept suitable for the property. It is especially important, in view of the currently anticipated growth in e-mobility, to invest now in an expandable and sustainable system. The station operator may then decide when and by whom the charging stations are used. The price structuring (for energy and time separately) and the billing model can also be adapted to the circumstances found at each property. All options are open to consideration, including fully automated billing via credit card, settlement via report at the end of the month or automatic data transfer to a third-party system (e.g. property management software or added to the electric bill).
Hello, future!
A crucial component of our future is that transport becomes more environmentally friendly and energy is used more efficiently. The trend is clear: electric vehicles on Swiss roads will become more and more common, and more people will grapple with sustainability. Invisia is committed to fulfilling these needs: primarily a software manufacturer, it offers turnkey products and services in these areas. We are committed to a forward-looking solution especially for the charging infrastructure for electric cars that can be dynamically adapted and expanded according to market developments. Our system is thus able to accommodate electric charging stations from different manufacturers. For this, we rely on a wide network of partners, including eCarUp with its simplified payment solution. Standardised software and our transparent processes allow us to plan and build charging infrastructures within a short period of time. Invest well, goes the motto: individual electric charging stations can already be realised starting at 1,800 francs. Installation including charging management with payment solution is possible, and this also applies to large facilities with well over 100 charging stations.
One-stop e-parking
e-mobility for everyday use. Vehicles in the mid-price segment have a range of 300 kilometres – thus answering the question concerning charging infrastructure: electric vehicles should be charged where they are parked for longer periods – at home or at the workplace. Whether a residential or commercial property, let or freehold, there are three essential points to consider in the electrification of parking spaces: connected load, scaleability and usage-based billing. For this, WWZ AG has developed the complete package "ready12": we bring the electricity to the parking spaces (basic installation), making properties "e-mobility-ready". The customer orders the desired number of charging stations (for rent or purchase) from us, and we take care of the installation and connectivity through an intelligent load management system. This ensures that the load will not be exceeded when several vehicles are being charged simultaneously. Each user is given a charging key for contactless authentication and activation of the charging process. This key is personalised and ensures a usage-based billing for the electricity – naturally through WWZ. The realisation period is less than two months, and the option can be extended at any time.