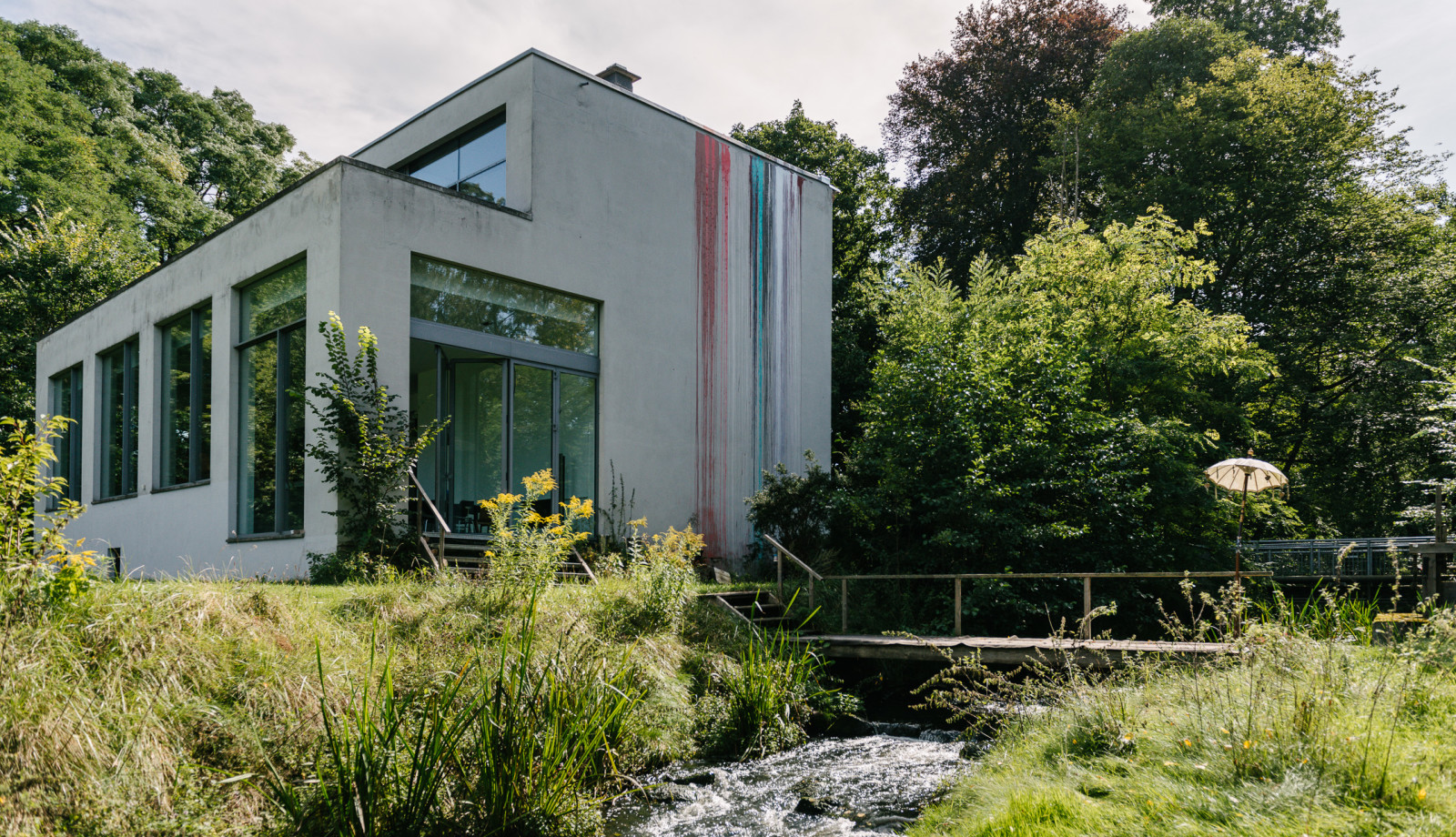 Article
The house of Michael Hecken - a combination of history and modernity
The house of Michael Hecken - a combination of history and modernity
From outside, the house of e-bike pioneer Michael Hecken looks like a historic building from the late 19th century. However, the impressive stucco façade hides a modern new building with huge floor-to-ceiling Windows.
In the small town of Biesenthal, about 30 km from the German capital, Michael Hecken and his wife Ayla live amid picture-perfect scenery. The house is surrounded by tall trees and a small stream runs gently through the grounds. The entrepreneur, who once enjoyed a highly successful career in the London software industry, now designs and sells stylish e-bikes through his company HNF Heisenberg. He's no stranger to risk. When Hecken bought the building in Biesenthal in 2003, it had been reduced to rubble and ash. But he turned it into his dream home – and transformed his life at the same time.
Michael, you decided to move from London to Biesenthal in 2003. Can you remember what the property looked like when you bought the house?
I remember it clearly. The house had burnt down, reduced to complete ruins. The walls had collapsed and the roof had caved in.
Why did you decide to buy it? Were you on the look-out for such a property at the time?
No, I wasn't really looking for a house like this one. I had actually wanted to build one in London, but the only way to get your hands on land was through auction. I had the money set aside, but when I didn't manage to buy a plot, I got the feeling that the city didn't want me. Then, when touring the outskirts of Berlin one weekend, I stumbled across this house, on its last legs. I knew instinctively what I would turn it into. In London, there are many buildings that have an old façade but the interior has been replaced by a new building with large windows. It took just 14 days from first laying eyes on it to completing the purchase.
What do you know about the history of the house?
The grounds have existed since 1360, but not much is known about its history before the 18th century. Everything that we see here today was built in 1860. My house used to be an administrative building, albeit a very simple one. In 1907, its Jewish owner added a stucco façade. But the building burned down a year before I bought it.
It was pretty decrepit when you bought it. With such an extensive renovation project, is it difficult to know where to even begin?
We spent the first 18 months clearing up. More than 1,000 tonnes of waste had to be removed, including rubble and old mill wheels made of steel. The planning phase with the architects took place at the same time. I established myself sporadically in the old barn during the conversion, but I also had an apartment in Berlin in which I could work. I travelled to the building site whenever I could.
In the case of your house, a modern new building has been added to a historic façade. How did you decide what to keep and what to get rid of?
My architects said to me at the time: 'Tear the whole thing down; we'll build a modern house in its place!' But I was keen to keep the façade, it had character. Plus, I didn't want to make myself unpopular around here by removing the beautiful mill building from the site.
How difficult was it to get planning permission for such an unusual Project?
It was very easy back then. There was an interest in preserving the mill building, and the authorities in these parts have a positive attitude towards progressive projects
Can you give us a small insight into the renovation and extension work?
Combining an old building with a new one is very complex, of course, and not as easy to plan as creating a new build from scratch. If I were to do it again, I'd come to the building site every morning and every evening. If you want quality, you have to oversee every step. But looking back, I thoroughly enjoyed the whole project. I like tinkering, as you can tell from my e-bikes. And I was motivated by the house itself – it's just so uniquely beautiful and green here.
What was your vision for the interior spaces?
I knew from the outset that I wanted them to have a certain degree of minimalism. That's how I lived as a child. My parents' house was equipped with wood furniture and a Rolf Benz sofa. At the age of 12, my bedroom had been reduced to just a grey carpet, a mattress and a stereo in the corner. And I also wanted to be able to hire out the rooms. The house is used as a venue for film sets, weddings and photo shoots, which brings in a few extra euros to put towards the annual heating costs.
In which parts of the house do you like to spend your time, and why?
I usually sit on the sofa, as I can see the whole garden from there. And I like walking around when making phone calls, something that I tend to do a lot. There's also a river outside, where I can go for a swim.
If I were to do it again, I'd come to the building site every morning and every evening.
You were once successful in the computer industry and had your own software company in London. Can you tell us a bit more about that?
I was a student for four years in London and in parallel I set up a software business that programmed websites for companies. At its height, 70 people worked there. The company thrived during the dot-com boom, but then came the crash and I had to get out quickly.
So you moved away and also steered your career in a new direction, setting up your first e-bike company, Grace, in this very house.
After moving here, I continued running the old company for two years, before joining a Swiss software company as its marketing manager. But at the same time, I was looking into whether there was anything I could do well in Germany. I was also keen to help the environment, something that I couldn't really do in the software industry. Designer e-bikes didn't even exist here back then. Success came quickly with Grace, but I had to sell the company after a disagreement with the investor. This taught me that it's better to grow slowly as a start-up and to work only with people from within my circle of friends. That's why my current company is called HNF: Hecken, Nicolai & Friends.
You're also making high quality e-bikes with HNF Heisenberg. Why did these bikes appeal to you so much?
I thought long and hard about whether to get back into the e-bike business, but there was so much energy at Grace it would have been crazy not to carry on. I was also impressed at the time by how efficient e-bikes were. A smart car weighs almost a tonne. The electric bike can do the same job of transporting someone from A to B, but it weighs just 19 kg. A large proportion of our customers are commuters who like to leave their car at home. Plus, designing the bikes is great fun – that's the aspect that motivates me most.
You obviously like tackling new projects. What motivates you to develop new ideas and take on so much risk?
Doing something is always a greater adventure than not doing it. I get frustrated when I see people who have the talent and financial means to really achieve something, but don't make the most of it. I always ask myself: shall I do it or not? Which option would be the bigger adventure?
Do you have any new ideas floating around your head?
I have lots of new designs in mind for the bikes. It's important to keep evolving. I'm also hoping to build two new guest houses here. I want to make the place self-sufficient.
Will you stay loyal to your unique house?
Definitely. Many people ask me why I don't just sell up and spend my time riding my bike. But it's not just a private house – it's a house steeped in history, a history that I want to continue in a respectful way.
Thank you, Michael, for telling us your story and showing us your unique house.
Interview: Milena Zwerenz
Photography: Daniel Müller
Production: FvF Productions UG