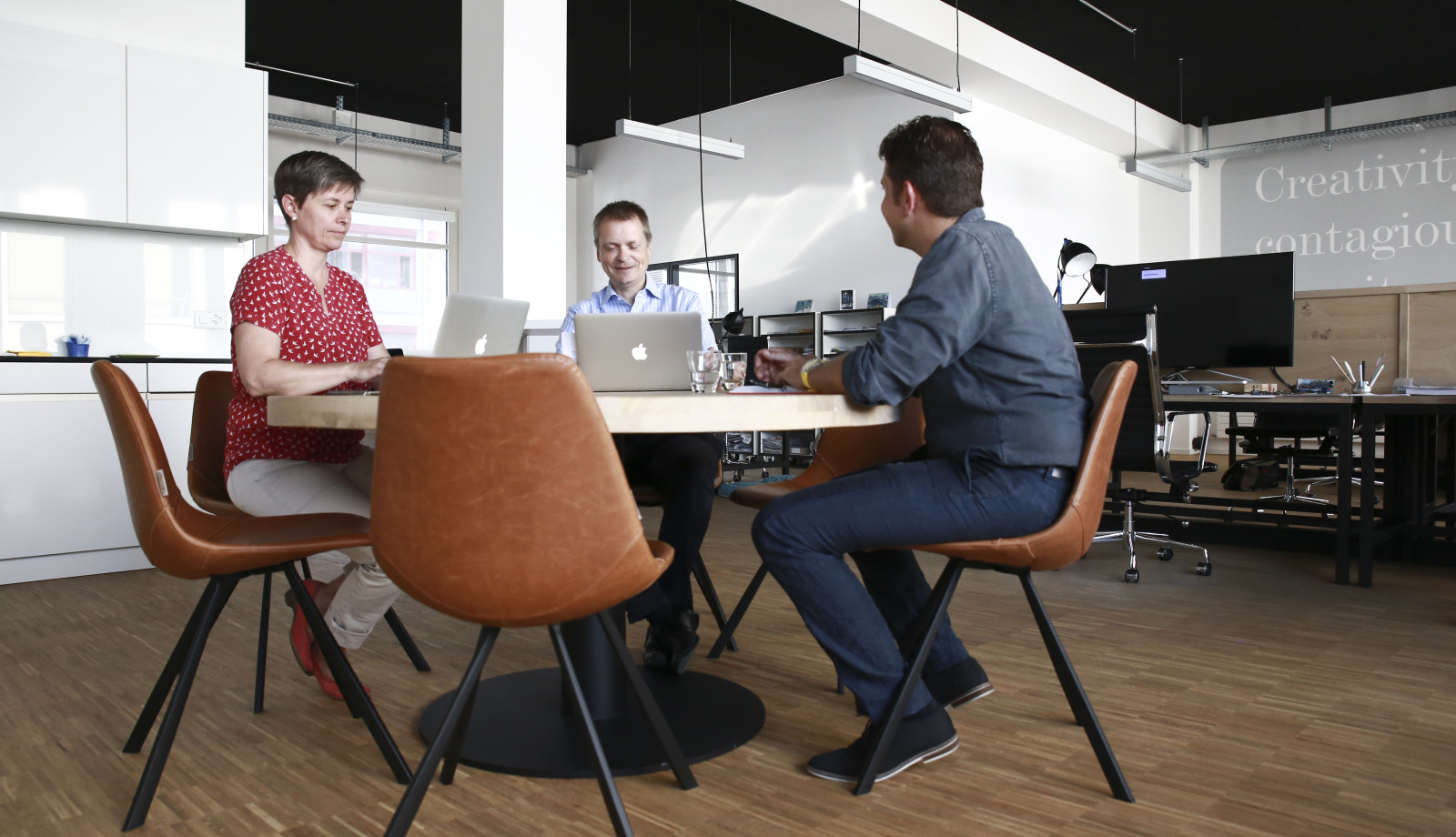 Generating new jobs for the region with a coworking service – this is the aim of the companies Alfred Müller AG and thinkNEO GmbH with their joint project in Burgdorf.
In the heart of Burgdorf, young entrepreneurs can rent modern, fully-furnished workstations for a short or longer time. With the B.Labs at Lyssachstrasse 111, thinkNEO GmbH and Alfred Müller AG want to establish start-ups that will go on to create jobs in the region. One of the first tenants is the association healthyEmmental.
The 12 vacant workstations are located just a few minutes' walk from Burgdorf railway station in a building whose industrial history is clearly noticeable, but which offers all the amenities of a new-build, modern office following extensive renovation work. In addition to their own workstation – including a network, printer and telephone – tenants have joint use of a lounge, meeting room and a kitchen with a dining table. Alfred Müller AG has extended and furnished the B.Labs, while thinkNEO rents them out and manages them. With this venture, both promoters want to support company founders and foreign companies wishing to operate in Switzerland or in the region of Bern or Burgdorf. They should be able to set up a professional office quickly and without a huge amount of investment. For Alfred Müller AG, their commitment should be seen against the backdrop of the Suttergut complex next to Burgdorf railway station: "Based on our investment there, we are interested in a thriving economic location," reinforces François Bernath, a member of the Management Board. "We are convinced we can make an active contribution to that with B.Labs."
Five workstations already leased
The offering is aimed primarily at companies in the healthcare industry, but is essentially open to firms in all sectors. Five workstations have already been leased to various companies in the healthcare sector. This was no accident, given that the idea for coworking spaces came from the association B.forHEALTH, Health Economy Burgdorf, whose objective is to strengthen and publicise Burgdorf as a location for the healthcare economy and life sciences. Alfred Müller AG and thinkNEO GmbH are both members of this association.
"Thanks to the marketing work of the association Health Economy Burgdorf, the attention of companies in the life sciences sector is constantly drawn to the attractive environment," explains Patrick Roth, co-owner of thinkNEO GmbH and Managing Director of B.forHEALTH. "Several companies at home and abroad with whom we were in contact even before the opening of B.Labs have waited to be able to get started in Burgdorf without huge investment." The promotion of the canton of Bern as a location also indicated to the Association that there was a need for an environment where people could become entrepreneurially active easily, quickly and with professional support. "I'm confident that we will be able to rent out more workstations, especially as our rates are so attractive," Patrick Roth emphasises. The experienced business consultant is already leading negotiations with other interested parties.
Support during the difficult foundation phase
The B.Labs can be used by young companies for a short time as coworking workstations or for a longer time effectively as "incubators" to survive the often difficult foundation phase. If need be, thinkNEO GmbH can be at the side of company founders in a supporting role, taking on administrative duties, helping with networking in the region or even with business development. "Many start-ups find setting up company departments such as Accounting or Patent Protection difficult," stresses Karin Roth, co-owner of thinkNEO GmbH and Managing Director of B.Labs. "With our services, we are able to help young companies develop in a professional way right from the start. We can also connect them to a strong network of local service providers."
Karin Roth is confident in the success of B.Labs: "Coworking is a relatively young yet successful trend. While there are already over a dozen of these workstations in different locations in the canton of Bern, to date there has been no similar service available in Burgdorf." In her opinion, Burgdorf is an interesting location for companies that are both technical and knowledge-based. "The presence of internationally active companies in medical technology and biotechnology makes Burgdorf a hotspot for innovation in this sector."
One of the first tenants is the association Healthy Emmental. In the video interview, its President, Yves O. Aeschbacher, introduces the association and explains (in German) why they chose B.Labs:
A workstation from 50 francs
The coworking spaces in Burgdorf can be rented by the day or for a longer time; the meeting room can also be rented by the hour – all at the following rates:
Workstation per month 580 francs
Workstation per day 50 francs
Meeting room per hour 30 francs
Meeting room per ½ day 80 francs
Meeting room per day 150 francs
These costs include the following infrastructure: high-speed Wi-Fi, printer, scanner, video-conferencing room, lounge, kitchen with dining table.
If necessary, thinkNEO GmbH is able to assist tenants with various services, including administration, trustee services, legal advice, market analyses and interim management.
Coworking space
Coworking is a new way of working that has become increasingly popular in recent years. Start-ups and especially small businesses, creative individuals, freelancers and digital nomads work in mostly large, open spaces. They can act independently of each other, but benefit from each other and work on joint projects.
Coworking spaces such as the B.Lab in Burgdorf make workstations and infrastructure (network, printer, scanner, fax, telephone, projection, meeting rooms) available for a limited time and enable a community to grow. The use of the facilities is always non-binding and is for flexible periods of time.
Source: Wikipedia
Photos and Video: Stefanie Sonderegger