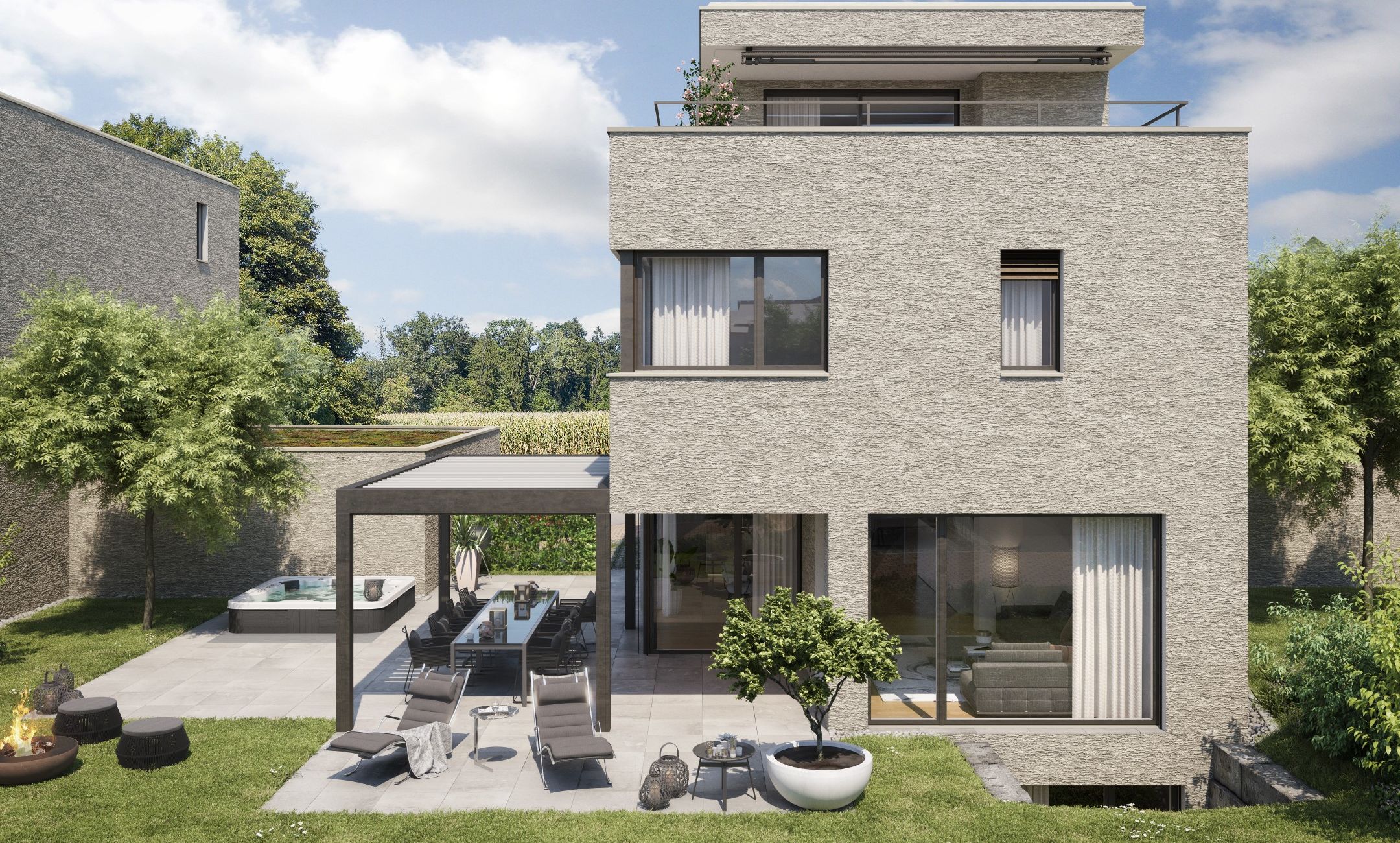 Design your very own wellbeing oasis
Single-family houses Wart Hünenberg
Location Sonnhaldenstrasse 82
6331 Hünenberg

Availability

approx. spring/summer 2025
The six single-family houses under construction – situated between St. Wolfgangstrasse and Sonnhaldenstrasse on the edge of the Hünenberg municipal area and bordering directly on fields, meadows and forests – will give rise to a veritable mini-paradise. Residents will enjoy proximity to the Zug business location, schools and shopping facilities and a multitude of leisure and recreation options.
The different layout options will allow you to actively fashion your living environment and create your very own wellness oasis.    
south-/west-facing with ample sunlight
quiet single-family district
exceptional quality of life in the low-tax municipality of Zug
the nearby recreation area of Wart is a stone's throw from the front door
a choice of different attractive basic layouts
6.5-room single-family house with an area of 217 m²
(gross floor area)
491 m² plot area
double garage and one outdoor parking space
Sale prices houses 78-84: starting from CHF 4.2 million
If we have managed to awaken your interest, we look forward to meeting you to discuss the further steps.
CHF
Purchase price
CHF

on demand
The picturesque hamlet of Wart

Shopping in the village – Coop

Shopping in the village – Limacher Gourmet butcher's shop

Rony primary school and kindergarten reachable within 10 minutes by foot

The Rony bus stop is reachable in only a few minutes by foot

Discover the local recreational area on the Reuss river

Relaxing in the Hünenberg public baths

A paradise for families is being built near the municipal boundary of Hünenberg

Enjoy carefree hours of sunshine in the beautifully laid out garden

Spacious outdoor seating area featuring a louvered roof, protecting you from the sun, wind and rain

Enjoy cosy evenings with your family and friends

Choose from a variety of basic layouts and design your ideal living environment

High-quality and select materials meeting the highest standards

Ample space giving you extra room for manoeuvre when furnishing

Your wellness oasis with freestanding bathtub

Basic layout featuring a music/family room on the attic floor

Cosy reading corner on the attic floor

Wind down in the evening – the whirlpool can be installed on the roof terrace or in the garden

A double garage and 1-2 outdoor parking spaces per house
The interior fittings will be carried out according to the buyer's choice of materials or according to the building specifications in the sales documentation. Changes in the buyer's order may result in additional or reduced costs.

shopping facilities in the village (Coop, Migros, butcher's, baker's etc.)
playschool and Rony bus stop a short distance on foot
23 min. by public transport from Rony bus stop to Zug Railway Station
3 min. by car to the motorway to Zug, Zurich and Lucerne

year of construction: 2024/2025
user-friendly, convenient carpenter-made kitchen with low-maintenance coverings in natural stone or quartz
high-end kitchen appliances from V-Zug AG with mirror-glass platinum finish
carpenter-made build-in furniture, e.g. cloakroom in entrance hall, sideboard by the stairs on the ground and first floor, dressing room in the master bedroom and built-in cupboard with integrated washer/dryer stack in the laundry room
bathrooms featuring washbasin cabinets specially designed for this project made of the surface material (Corian) with matching base units
large laundry room with laundry chute
beautifully designed garden with optimal sunlight
large outdoor seating area featuring exclusive louvered roof, the louvers are electrically adjustable and can be used to provide protection from the
sun/create shade and protect from the rain
Husqvarna robotic lawn mower
whirlpool bath from Hydropool for 5 – 8 persons, with 50 – 60 jets, different sitting and lying positions and various massage programs,
optionally installable in the garden or on the roof terrace
KNX home automation system controlling lights, shading, heating, etc.
energy-efficient living thanks to an independent solar panel installation
charging station for electric car
geothermal heat pump for heating and hot water supply
cooling of structural elements by means of free cooling via underfloor heating system